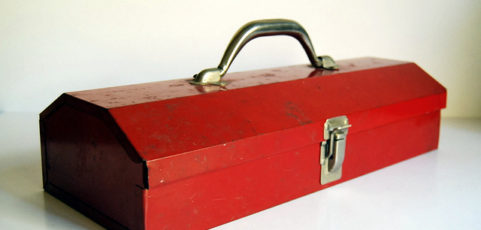 Introduction
In the time I've been working in the trades industry, I have encountered an absurd amount of aspiring mechanics and carpenters who have somehow convinced themselves that they don't need a tool box. "Sure I'll just carry them in my pocket", I remember one particularly brash 19 year old saying to me when I was working on a project in Ireland. Of course, he soon discovered that tools, regardless of the money spent on them, are prone to rusting and breaking when they are not properly stored.
A quality tool box will protect your tools – as well as your accessories, such as ball bearings and screws – from all common threats. Note the use of the word "quality" in that sentence. A tool box bought on the cheap and manufactured by an unknown brand is not going to provide your tools with adequate protection and will ultimately do more harm than good. When searching for a tool box, it is essential that you turn to a reputable brand. My personal favorite manufacturer of tool boxes is the world-renowned Craftsman.
Craftsman is best-known for its tools, but it also manufactures a large selection of tool boxes in which to store them. Many of those boxes come with tools included, so those who are new to DIY or the trades industry should pay careful attention to them. Regardless of their contents, each Craftsman tool box offers an almost miraculous level of security, durability, and convenience. There are literally dozens of quality Craftsman tool boxes to choose from, but here are some of my favorites along with one for the kids.
4 Best DIYer Portable Craftsman Tool Boxes
My First Craftsman Tool Box
Consumer Ratings

(4.2 / 5)

I know this isn't exactly the greatest tool box in the world, but it's perfect for tradespeople who want to introduce their children to the joys of their profession. I gave my son one of these for his fourth birthday and even one year later he makes sure to grab it whenever I need some "help". If you can't make anything else with it, at least you can make some memories.
Features
Holds up to 30 pieces
Includes mock tools
Plastic locking system
Pros
The tools that come included with the Craftsman My First Tool Box are, obviously, imitation. However, each tool is expertly crafted to look just like the real thing, so your little partner can always feel like they are part of the team.
The tool box itself features a lightweight design and a comfortable handle, so your child can carry it from room to room with ease.
The plastic exterior of the Craftsman My First Tool Box makes it a breeze to clean. Your son or daughter will almost definitely get it sticky, but all dirt can be removed with a simple damp cloth.
Cons
You should be sure to keep an eye on your child when they are playing with the Craftsman My First Tool Box as the set contains a number of small parts. All potential choking hazards are labeled thus, so take a couple of minutes to familiarize yourself with the tool box's contents upon purchase.
What Consumers Say about the Craftsman My First Tool Box for Kids
My two year old son loves this toy and has no trouble opening and closing the latch and top on his own. He did crack a door on the top compartment after he pounded on it for like ten minutes with the toy hammer but I guess that's just boys being boys.

We bought this for my sons third birthday party.. He absolutely loves it.. I was hesitate at first, but to be honest I had no say. My husband bought it anyways. No regrets here

.

My three year old grandson loved this tool box and all the tools. They were very well made and just the right size for him. I am very pleased with this purchase and so is my grandson!

My almost 3-year-old son loves this. The only thing we don't like is that he can't open and close the toolbox by himself. It's just too hard for his little hands.

This is a cute tool set. Nothing fancy but good for the "first" set. The tools are sturdy enough for play.
Summary
There are many toy tool boxes on the market, but the Craftsman My First Tool Box is the only one to be produced by a manufacturer that actually knows something about tools and how they work. You're never going to find a better tool box to initiate your child into the trades industry.
Check out My First Craftsman Tool Box on Amazon
Craftsman 3-Drawer Portable Chest
Consumer Ratings

(4.4 / 5)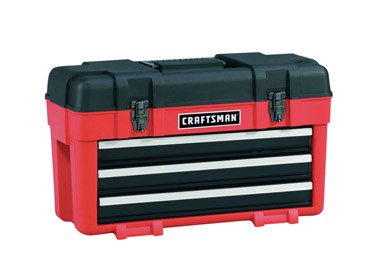 Okay, now we can get into some of the tool boxes Craftsman has designed for adult DIYers and those working in the trades industry. The Craftsman 3-Drawer Portable Chest may bear a startling resemblance to the Craftsman My First Tool Box, but I assure you that it is far superior. Although it doesn't include any tools or accessories, it features plenty of compartments to store the ones you already have in your arsenal. Let's take a closer look.
Features
3 storage drawers
Weight of 14.3 pounds
Extra top storage compartment
Pros
When you purchase a product from Craftsman, you are buying from one of the most trusted manufacturers of tools and tool boxes the world has ever seen. You can be sure that each of the 90 plus years the brand has been active has gone into crafting your chosen purchase, so a quality performance will always be guaranteed.
Much like the Craftsman My First Tool Box that we just looked at, the Craftsman 3-Drawer Portable Chest features a plastic body, which makes it easy to protect against the collection of dirt and grime. Obviously, this tool box is quite a bit more durable than the previous entry and its plastic body will defend your most prized tools from the various bumps and knocks you are likely to encounter as you travel from project to project.
This tool boasts a surprisingly effective locking system. While the locks, which frame the Craftsman logo on the front of the box, may look relatively unimpressive, they will protect your tools from all possible threats. Owing to its locking system alone, the Craftsman 3-Drawer Portable Chest has become a favorite of parents who must keep tiny hands away from their tools.
Cons
It's difficult to find any major problems with the Craftsman 3-Drawer Portable Chest. The one complaint I had after experimenting with it for a week was that it does not provide a storage space specifically designed for smaller items such as screws, nails, and bolts. This may not seem like much initially, but it will quickly become a source of frustration when you can't find a screw amidst your many screwdrivers and wrenches.
What Consumers Say about the Craftsman 3-Drawer Plastic Portable Tool Chest
For the price, this is a really nice tool box. It's not top of the line, but it's not cheap or flimsy, either. I use this one for all of my bicycle tools.

The drawers sometime don't lock and when carrying it, then the drawers fly open and dump all of my stuff out. So make sure you latch everything good.

This box can fit both my circular saw and my wen angle grinder in the top section with room to spare, the 3 drawers are nice and will fit many of my hand tools, great big box!

The first one I owned was marked Stanley. I ended up giving that one to my son, and replaced it with the above Craftsman. As far as I can tell the only difference is the color of the plastic. These are great boxes and are very sturdy.

I loved this box so much I bought a second one. I have about 600 tools (400 non sockets and wrenches), mostly Craftsman, and needed a way to be mobile. The boxes stack tightly and can be moved with a hand truck.
Summary
The Craftsman 3-Drawer Portable Chest has some minor flaws, but none that could be thought of as a deal breaker. All drawbacks of purchasing this tool box are outweighed by its many perks and unique features. Professionals should probably look for a larger model, but hobbyists and novice tradespeople won't do much better than this.
View More about the Craftsman 3-Drawer Portable Tool Chest on Amazon
Craftsman Soft Tool Box
Consumer Ratings

(4.5 / 5)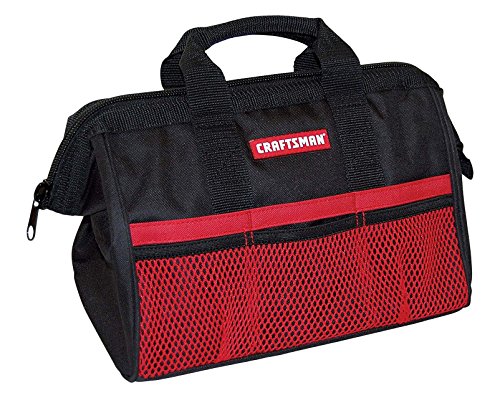 The Craftsman Soft Tool Box is another entry on this list that may seem somewhat out of the ordinary. Unlike most tool boxes produced by Craftsman and other brands, it does not feature a solid exterior. While its material design may seem like a serious disadvantage to some of our more traditional readers, it actually enables the tool box (if "box" is the right word) to be transported and stored with ease. If you hate lugging your entire tool box from site to site, the Craftsman Soft Tool Box will allow you to stock up on the necessary tools for each job and go.
Features
10 inches in height and 15 inches in length
Wide opening design
Weight of just 1 pound
Pros
If you're trying to stick to a budget during your search for the best tool box for you, you're definitely going to want to pay careful attention to the Craftsman Soft Tool Box. Most of Craftsman's tool boxes go for in or around $50, while the tool boxes produced by competing brands tend to go for the same amount. However, owing to its simple design, the Craftsman Soft Tool Box Can be purchased for only a little over $10, leaving you with plenty of cash for new tools or a six pack to celebrate a job well done.
The Craftsman Soft Tool Box will allow you to store smaller pieces of your arsenal such as screws and ball bearings without fear of losing them among your larger tools. As well as its interior storage space, this tool box boasts a total of six exterior pockets, three of which are mesh and three of which feature a more traditional design.
I know a lot of people involved in the trades industry may feel that a soft tool box cannot adequately protect its contents and would therefore be counterproductive to purchase. However, the Craftsman Soft Tool Box comes equipped with a reinforced base and additional support at all key stress points. This design ensures both your tools and the tool box itself will survive all sorts of external pressure and trauma without showing any signs of wear.
Cons
I experimented with the Craftsman Soft Tool Box for a little over a week and I must admit that I noticed a number of flaws in its design during that period. Most were minor, but there was one that came up again and again and again: the tool box has no interior pockets. The six exterior pockets of the Craftsman Soft Tool Box are the only pockets you will find on or in the case. Its interior is a single space designed to hold larger tools and pieces of equipment.
What Consumers Say about the Craftsman Soft Tool Box
I had a couple of power tools that I've been either storing loose or in the cardboard box so I decided needed another storage option. Given the relatively low price, I ordered the Craftsman 13″ Reinforced Tool Bag. I was amazed to find that it was an excellent, well constructed bag, that's actually suited for very different purposes.

This soft-sided tool box is the perfect size to hold all your grab-and-go hand tools — you know, the ones you always use for quick fixes around the house.

Works perfect to hold the household tools needed for everyday uses and even long enough to hold a hammer. It's soft and lightweight so I can carry it to the job and not have to keep going back to the junk drawer to get what I need.

I bought a few of these to prepare some "network go kits" for team members in my company who will be deploying a computer network at a new facility we bought. This case isn't huge, easily tote-able, and has several pouches inside. It was just right for a handful of tools and supplies. No quality issues and completely satisfied.

I needed a bag for a drill and accessories. This one is sturdy and the right size for the job. It was inexpensive. I can live with the logo. I think it's fun that the drill in the bag is not a Craftsman.
Summary
The Craftsman Soft Tool Box is arguably the best tool box in its price range. In fact, it may be one of the finest tool boxes available for less than $50. That being said, I can absolutely understand why some people may want to avoid it. If you are a professional mechanic or carpenter, you probably shouldn't purchase this with the intention to use it as your primary tool box. Think of it more as a carrier; a means of transporting your tools without risking a pain in your wrist or arm. Hobbyists and DIYers will be just fine using this tool box as the sole defender of their tools, particularly if they don't have a whole lot of money to play around with.
View more about the Craftsman Soft Tool Box on Amazon
Craftsman Power Latch Tool Box
Consumer Ratings

(4.7 / 5)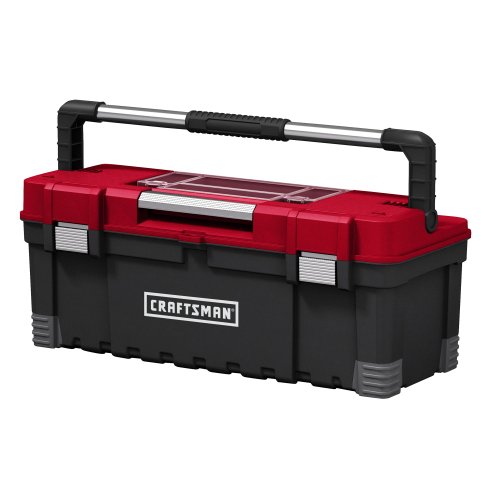 The Craftsman Power Latch Tool Box is sort of like a combination of the two previous tool boxes. It offers the durability of the Craftsman 3-Drawer Portable Chest while eliminating the need to drain your bank account, just like the Craftsman Soft Tool Box. It's a great choice for professionals and DIYers alike and is often purchased as an introductory tool box for apprentices.
Features
6 pounds in weight
Removable inner tray
9 inches in width and 10.4 inches in height
Pros
The Craftsman Power Latch Tool Box takes its name from its power latch feature, which allows the box to be opened with one hand in a matter of seconds. This eliminates the need for awkward maneuvering every time you need a new tool.
This tool box features heavy-duty metal latches, which make it almost impossible for little hands to gain access to its contents. The locking system also provides adequate protection from thieves and intruders, which you'll appreciate if you have to leave your tools unattended at night.
The Craftsman Power Latch Tool Box comes fitted with anti-slide rubber feet. While this may seem like a minor feature to some, it makes it possible to work with your tool box on any surface without fear of it falling or spilling.
Cons
Those who work outdoors with any degree of frequency should avoid this tool box as it does not offer any protection from wind or rain, meaning its contents will almost definitely be damaged should it be left out in anything other than warm weather.
What Consumers Say about the Craftsman 26″ Power Latch Tool Box
I've had one of these for years. I recently needed more space to house a growing tool collection, and immediately looked for another. It's solidly built — I have no problems using it as a stool. Has a tray inside.

I got this for my motorcycle track days and it is a perfect fit! Every essential tool I need for my trips fit inside of my new Craftsman 26 In. Tool Box. Highly recommend. I guess I will see how long this tool box will last.

Nice big toolbox that fits all of my tools with a few extra compartments.

Bought for my husband for father's day and he is very pleased. Right size and great quality.

Initially I was very pleased with this tool box, but after about 2 years, a crack as developed by the hinge. Maybe I was too hard on it?
Summary
As long as you don't get it wet, the Craftsman Power Latch Tool Box will give you years of loyal service before any literal or metaphorical cracks begin to show. With the heavenly combination of a low price and an impressive performance, it is perfect for handy men and women of all skill levels.
View more about the Craftsman Power Latch Tool Box on Amazon
Final Verdict
A good tool box is just as important as good tools, so any tool box you purchase should come from Craftsman or a similarly reputable manufacturer. If you're a DIYer with minimal tools, the Craftsman Soft Tool Box will give you everything you need to indulge your passion and more. Those who are involved in the trades industry should choose from the Power Latch Tool Box and the 3-Drawer Portable Chest, with the former being my personal recommendation.