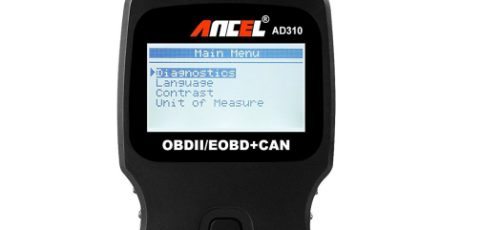 If you're looking for a code scanner for your car, the Ancel AD310 is one of the good ones around. It is one of the highest rated and most recommended car system error readers, and if you'd treat it with utmost care, it's going to last for years and save good amounts of time and money over time. Reference the Table of Contents below if you're not interested in reading our entire review.
Unit Size & Display
The dimensions are 7.4 x 7.1 x 2.3 inches. Users are happy with the ergonomics.
It has a big LCD display and has a backlight for easier reading of results. Resolution for the display screen is 128 x 64 pixels. Further, there is an adjustment for light contrast.
Vehicle Compatibility and Language Support
This scanner supports Asian cars, cars made in the US from year 1996 and cars made in Europe from year 2000. It also supports newer CAN and OBD II imported and domestic vehicles. Error codes and explanations for such codes can be read in Portuguese, Russian, Dutch, Finnish, Spanish, French, German and English languages. (It's surprising it doesn't support Korean, Japanese and Chinese.)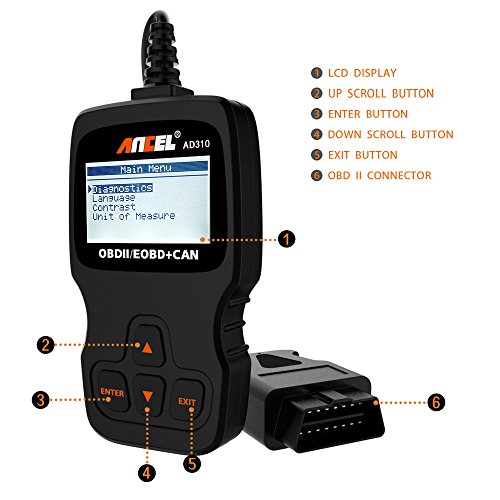 Features & Benefits
This scanner's job is to check errors, particularly in the engine. When the check engine light lights up, it immediately searches for errors. Once plugged into the OBD2 connector, it will direct you to turn the ignition on.
For specs:
Display is backlit (with adjustment for contrast)
Operating Temperature: maximum of 104 o F (not less than 32)
Storage Temperature: maximum is 158 o F (not less than -4)
Power Source: 8 – 18 V (vehicle battery provides power). Charger or Batteries are not needed. Just connect it to the OBD2 Link Connector.
Product weighs 300 g.
Features for this scanner are:
It can provide the following: historic codes, pending codes, hard memory data, and definitions.
It can turn off the system to check what's causing the instruction to check the engine. Then it clears codes. Afterwards, it goes to reset the monitors. There are errors that can be fixed using this instrument alone.
It can read real-time data stream.
It can allow you to check your freeze frame and I/M readiness.
It can retrieve vehicle information for you.
It also supports the following systems: controller area network (CAN), lookup library, built-in OBD2 fault and OBD2 protocols.
It comes with a long cable 2.5 feet in length. The cable is made of a solid insulator.
There are only four buttons for easy operations: enter, exit, up and down.
The product comes with a 3-yr warranty. It comes in a good packaging and the price is very reasonable.
For benefits:
The product is designed to be user-friendly. Even beginners can easily understand how to use it. When powered, it will walk you through a menu that is not complicated to understand. Then it will show an error code. It's that easy.
For those who are asking if this tool gives the details for the codes it gives, the answer is – yes, it does. It will explain to you in plain language what the trouble in your car is. It will even describe to you how serious the problem is, like it will say that there's a "large leak".
You can consult to check with the Haynes book what the actual problem can be. For the problem mentioned, the book might tell you that it is actually a canister leak or anything like that. It is so helpful that you know you don't have to worry so much, knowing that you have identified how small the problem is.
Another good thing is this tool also allows you to temporarily erase the error so you can go ahead and use your car, giving you more time for scheduling a visit to the repair shop. In terms of financials, it will save you money since you will not require a diagnostic check every time a problem occurs.
What Consumers Say
Here are some customer comments:
This code reader is easier to use than they expected. All that they have to do is plug and play it. One comment even called the instructions, codes and code explanations as "self-explanatory."
They recommend this tool to anybody who has an old car or even if they newer models.
It helped avoid users to go to their dealers. The tool can also easily erase stored and pending codes.
Pros & Cons
One of the pros of this product is its readability. There is no doubt that the display was designed to make instructions easily decipherable. The use of plain language is also very helpful.
Other scanners require using a mobile phone for operations. This scanner does not. For some, that's an advantage because they don't have to have extra expense for a phone to use for this purpose and that they don't have to look for the phone every time the check engine light shows up.
One con would be the small printed letters in the manual. One customer said that the kind of printing renders the manual useless altogether.
Another feature that this scanner lacks is the ability to diagnose a car's ABS system. If you have that kind of need, you have to look at units that accommodate your need.
You also have to check first if it is compatible with your car. It is not compatible with some models from Nissan and other car brands.
Conclusion
This is an honest valuation of a car code scanner that's currently one of top-performers in terms of sales and ratings. There are certain limitations for this tool. For example, it is not compatible with some car models and that it isn't designed to check all the problems that can happen with your vehicle.
It does a good job though when it comes to checking problems related with the engine. If that is all that you need for considering buying a scanner, then the Ancel AD310 is one good choice.
You'll appreciate how it can erase your worries and help you put more money for savings in times when the check-engine warning comes up. This device is the one that will tell you during those times "it isn't time yet to go to the dealer."