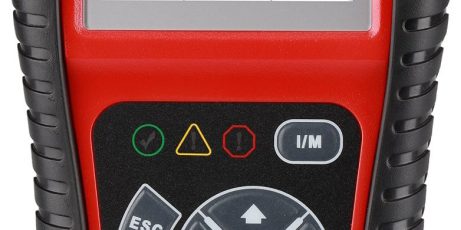 If you're on a hunt for a code reader that can effectively help you troubleshoot your car, you might want to take a look at this Autel scanner. When you search for it on the official website or affiliates selling it and other models, check the code – It's AL519. There are different codes for other models from the same company. If you're not interested in reading everything check out the table of contents below.
Unit Size, Display and Other Specs
The AL519 is easy to hold with one hand and operate. The measurements for the sides are 7.83 x 4.11 x 1.48 inches. The display type is TFT color with a 320 x 240 dot-per-inch resolution for screen images.
Operating temperature ranges from 0 to 60 degrees Celsius while storage temperature must be between -20 and 70.
External power is source from the vehicle's battery. Power supply is between 8 and 18.0 Volts.
The unit, together with its wire, has a total weight of 0.48 kg. Without the wire, weight is 0.28. That places the weight of the wire at about 0.20 kg.
Vehicle Compatibility
This scanner works on vehicles manufactured in 1996 and all vehicles with CAN and OBD2 capabilities, domestic and imported vehicles included. Vehicles released before 1996 are not covered.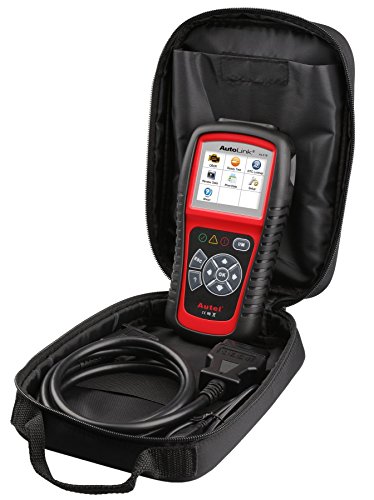 Features & Benefits
It comes with many features:
It has an I/M readiness feature that allows users to perform quick checks on their drive cycle and emission readiness.
The device is able to retrieve car manufacturer's information, pending codes, and information on the vehicle such as VIN, CIN and CVN.
It can turn off the indicator light for malfunctioning systems. It then clears error codes and resets all monitors.
This unit is compact and portable. You can carry it anywhere. It includes a case, a USB cable, an OBD2 cable, a CD and a User's Manual.
It can read and record live sensor data. Play-back function is available.
The device can also view freeze frame information and reads PCM data stream.
DTC definitions and menu are written in many languages, including French, Spanish and English.
The system for this tool is internet updateable. Also, you are allowed to print all codes and retrieved information using your PC.
Benefits:
This tool can save you a lot of time and money, especially beneficial to drivers who have no "mechanic" background. Save for the times when there is a really serious issue with your car, this scanner will save you from having to go the repair shop every time the check engine light comes on.
This scanner is able to work on issues with your car without changing systems that are not related. For example, when reading codes, it will not interfere with your ABS and SRS system.
You will also like the advantage that it doesn't require using a mobile phone for operation, and also there are no batteries or chargers needed. Just plug it into your OBD2 and you're ready to go.
It comes with software that will allow you to capture screenshots for reviewing or checking problems with your PC. This device is compatible with Windows. Check its compatibility with other operating systems.
You need to update the software that comes with the unit in the company's website, but no worries. It will take you only a few minutes. The required download is relatively small, easy to understand and very straightforward.
App/Bluetooth
This code scanner model does not use Bluetooth, so a mobile device isn't required for its operations. Rather, it connects to the OBD2 link to source power from the engine and to get data from the vehicle's computer.
What Consumers Say
There are good and bad comments, but overall, when you consider the majority of reviews and comments, this device fares well.
First, they say that the device is very handy you can carry it anywhere. As long as you have a PC and you need the codes or information printed, you can always retrieve the information needed for repair or for buying the parts to be replaced.
Another thing is this tool has been designed with the comfort of the user in mind. The display is legible and bright. The controls are so self-explanatory that you need no expert guidance to get started.
Some people think that the casing suffers from material inferiority. It's made of plastic. Others, however, would rather dismiss the "material" issue and put more emphasis on the "protection" quality of the device, which is a good aspect to pursue.
For the protection side, you'll see the outer "sleeve" of this device to be like a cushioning feature for it. The covering is somewhat loose, but that naturally offers an excellent protection for the unit by lessening the impact in case it falls. Another protective feature is the nylon case. It's a zippered case where you can keep this tool when no one is using it.
Pros & Cons
Advantages you'll get:
It will save you huge amounts of time money usually spent on visiting the repair shop. If the issue's nothing serious at all, the device can read the code and possibly fix it for you. You'll cut down on car expense and spend the money on other important needs.
There will be no interference happening on other systems of your car when it starts reading error codes and even when it is already correcting your issues.
It is guaranteed to work on all models made from the year 1996 and up. If you are a multiple-car owner, this tool is a good one to consider.
Some minor issues:
The update requirement before first use might give you trouble. If you don't have extra time for that, you need to talk to someone else, probably your assistant, to do it for you.
This device isn't a highly-advanced tool giving everything that you need to know about your car. Don't get frustrated if it can't give you the rpm of your vehicle or other gauges.
Conclusion
For all the wonderful features that this scanner has, don't expect perfection from it. It surely is one of the best readers a driver can have around. It can give you the code for simple troubles – not the complicated ones. It is good enough for many drivers who just want to avoid going to their dealer every time the check-engine comes lighting up.
Overall, it is all a good stuff to have handy inside your tool box. It deserves the high rates it's getting.