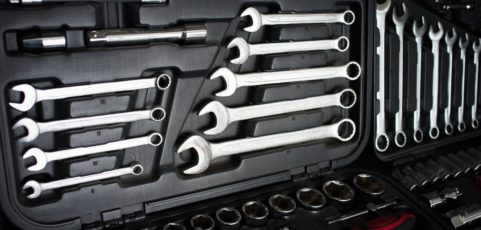 When you are setting up a business as a mechanic, it can be tricky getting all the tools that you'll need because you might not be able to afford all the equipment, such as the power tools, that are pricey. You should therefore write down a list of all the tools that you will need for the business and then go about doing a research for where you can get them at the best prices.
Thanks to the Internet, nowadays you can do that right from the comfort of your living room. You will need to have an idea of all the tools that you will need as a beginner, to repair any part of an engine or automobile.
You should note that you can get all the tools that you need at different price points, but you should try not to compromise on the quality of the tools. It is always best to go with the best quality since the tools will most likely perform more efficiently and chances are that they will last longer.
Below, we are going to look at some of the tools that should be included in the basic tool set for a mechanic. We might not go through all of them, but these are just the common ones. Please note that they are not in order of priority.
Pliers
This is a tool that is used for gripping and loosening, using arms and usually serrated jaws. This is a tool that is of utmost importance, and especially when repairing the braking system of a vehicle. It can also be used for cutting wires. There are a number of types of pliers, namely: vice grips, regular pliers, and long- and short-needle-nose pliers.
Jack
An automotive jack is an important tool that comes in handy when you need to raise the vehicle to work underneath, change tires, or do an oil change. It is important to use jack stands when using the jack, so that they can support the car and increase the safety.
Jack stands
Now that you already have a jack, a jack stand would be the next thing would be to get. The jack stand is a mechanical tool that supports the jack when raising the vehicle.
LED flashlight/headlamp
This is important for use when there is limited lighting, such as when you are working under a vehicle. It also comes in handy during emergencies that occur on the road at night. The headlamp works better than a flashlight because it is worn around your head, giving your hands the freedom to do other things.
Wrenches
These are hand tools that are used for loosening or tightening bolts and nuts. They come in different sizes and in two types—standard and metric. Metric wenches are used on nuts and bolts with metric measurement, while the standard ones on standard measuring fasteners.
Ratchets
Getting a kit with ratchets of all sizes is important. The most common drives are ¼", 3/8", ½" and they are included in most starter kits.
Sockets
Sockets are important for those hidden nuts and bolts. They come in both long and short lengths, and just like ratchets, they come in the most common sizes of ¼ inch, 3/8 inch and ½ inch. There are many types of sockets and these include metric sockets, standard sockets, and impact sockets.
Screwdrivers
Used for tightening and loosening screws, screwdrivers are a must have in a beginner mechanic tool set. They can either come as star or flat, and also come in varying length and gauges. There are different types of screwdrivers: stubbed screwdrivers, normal length screwdrivers, long, skinny screwdrivers, heavy duty flathead screwdrivers, small flathead screwdrivers and the Torx screwdrivers.
Hammers
There are certain parts that need to be hit, either to dislodge them, or push them in tightly. Hammers come in and work like magic in this instance. They also come in different types, namely the claw hammer, the ball peen hammer, and the rubber mallet.
Breaker bar
There are cases where a beginner might not be able to afford power tools, and the breaker bar comes in handy here. It is used to loosen touch bolts and nuts.
There are many other tools that should be included in a beginner mechanic tool set, but the above are some of the common ones. It all depends on what your priorities are. If by chance you're looking at starting a automotive repair shop then you should check out this 1,390 piece mechanic tool set complete with toolboxes and accessories. The Snap-On Industrial Brand Williams Mammoth Complete Mechanic Tool Set.