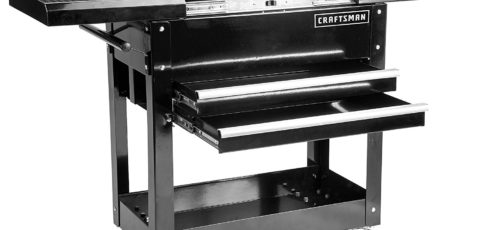 Introduction
Have you got all the tools you dream of? There are plenty tools in the market and your workspace probably has most of them. But how organized are you yet? When you're working on a project it's probably inconvenient and time wasting to constantly walk around to get the tools you need.
To save time and simultaneously provide more storage simply purchase a tool cart. These tool carts store what you need. Carts have wheels so you can move this additional storage around your workshop so you have what you need at hand.
Craftsman has an array of tool carts. The top three tool carts are reviewed below. They have some common characteristics in terms of the construction and quality. But each has a unique design to better suit the differing needs of the unique customers who need them.
A FAQ section follows the review to help you understand tool carts better. You'll optimize their use if you know what they can do for you.
Top 3 Craftsman Tool Carts & Cabinets Reviewed
Craftsman Tool Box Cart, 350 Lb Large Capacity, Steel Sliding Drawer, Black
Consumer Ratings
(4.2 / 5)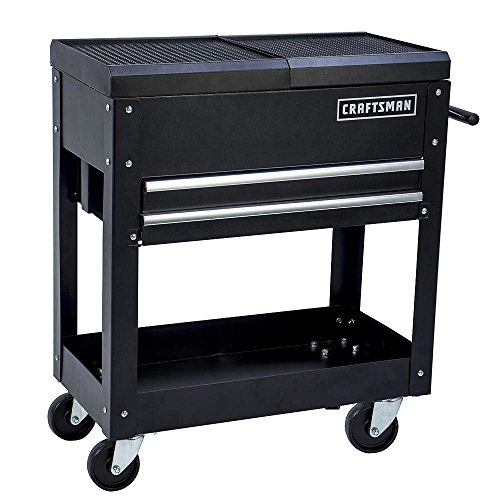 This tool cart has a two in one design. You can use it as a workspace and storage.
If you decide to use it as a workstation the tool cart can hold 350lb without damaging the overall structure. Steel construction materials were used to build the cart and give it the firm structure you need.
Other design features consist of:
A top compartment with a sliding top. When the top is closed you can use this compartment as a workstation.
Two full size drawers where you can organize the tools you need.
The lower tool tray gives you additional storage for other items.
The large swivel casters give the tool cart the ability to move around easily.
These design features offer the advantage of stored and organized tools you can find quickly.
Pros
The work area is large
The drawers slide in and out easily
Large storage spaces for you to keep all you need
Moves smoothly in and out of work areas
Cons
There is no built-in lock to keep the cart from moving around when you're working on it
The drawers don't have a locking mechanism which makes it difficult to roll the cart around because the slide open
To assemble the cart is challenging because the screw holes don't line up
The cart wobbles
What Consumers Say about the Craftsman Tool Box Cart
Great design but it's a little bit small with no lock to the lower drawers and upper area.


Great bang for the buck Didn't expect ball-bearing slides on the drawers.

Quality is high, drawers slide easily and solidly in and out. Top work surface slides apart easily but needs a firm push to get past the initial lock point which is a good thing

.
Wheels roll easily in my garage and the rough surface of my driveway.


Nice mobile cart for small to medium projects.

Craftsman 26 Inch 4 Drawer Standard Duty Ball Bearing Rolling Cabinet
Consumer Ratings
(4.0 / 5)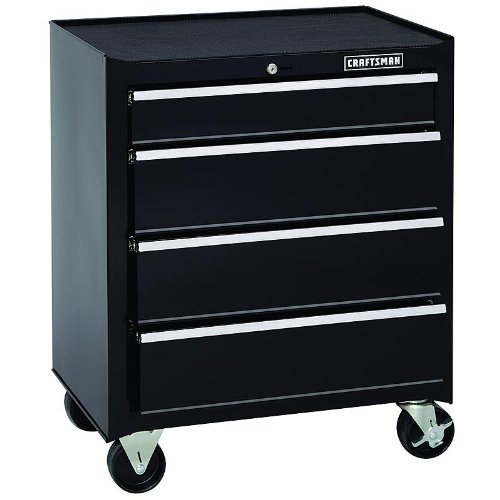 If storage is an issue for you then this tool cart solves it. The tool cart has four drawers of different sizes. They conveniently carry small to large type of tools. Examples of tools you can store are:
Screwdrivers of any size
Sockets
Large wrenches
Hammer
This tool cart features two upgrades:
The black thick chrome trim makes it easier for you to grip the drawers
The full extension ball bearing sliders make the drawers open easier and smoother
There is a locking system which allows you to move the cart without the drawers opening
It's equipped with an internal locking system
The tool cart is made with steel I-frame construction to give the cart strong and durable qualities.
The construction and the casters support 600lb. After you have stored 600lb in the cart you can still move the cart with ease.
Pros
Minimal assembly required
The cart offers plenty of storage particularly for small to medium tools
Convenient to move when you're doing work in more than one place
The wheel locks are easy to operate
Cons
The drawer slides don't stay in place
Can't hold heavy tools well
The draws don't open and close smoothly
The unit is not sturdy
What Consumers Say about the 26″ 4 Drawer Cabinet
This cabinet is made from a light metal that's spot welded. It's a little flimsy and draw slides do not stay in place if overloaded. This is fine for a DIY'er, but if your a professional mechanic go for the heavier duty ones.

As a weekend DIY mechanic, this cabinet makes my life a whole lot easier! I can't imagine life without one now. And, it looks great in my garage too.

Minimal assembly (casters and handle) required, which is definitely a plus. However, caution must be used during assembly. Apparently, there's some razor sharp edges, which I was unaware of…until I noticed several small, painful cuts on both hands after I was done. Ouch.

Easy to roll around on casters.

I've had mine now for 2 years with no issues, I love being able to wheel it around.

Craftsman 26 Inch 13-drawer Heavy-duty Ball Bearing 3-pc Combo
Consumer Ratings
(4.5 / 5)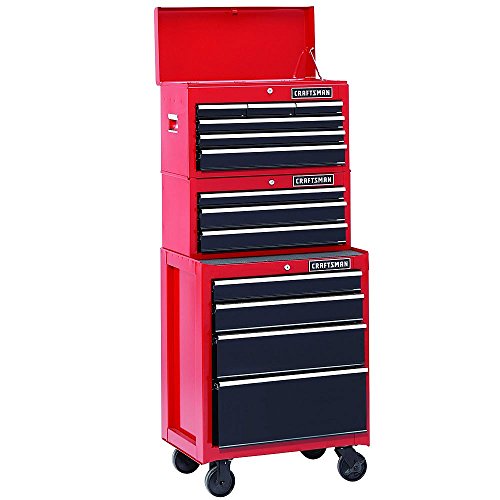 This Craftsman handcart is very tall and it functions as a portable shelf. It's perfect to keep in your home, garage or small workshop.
There are three sections to this tool cart. These sections' drawers are of various sizes to store your small parts, hand tools and power tools.
The top chest has six drawers. You can store smaller items in this section.
The middle chest contains three drawers. Most hand tools can be stored here.
The lower chest has four medium to large sized drawers. You can store power tools and larger hand tools in there.
All the sections are equipped with heavy duty ball bearings so the drawers slide open and close smoothly.
This tool cart holds a large portion of your tools and is convenient for you to move practically everything that you'd need for projects. You don't have to be selective in choosing which products to store as you would for smaller sized tool carts.
In total there are 1870" ² of storage space and each chest can hold 75lb. The chests can be removed from one another if you want to keep one on your desk.
Each chest has a keyed lock system that is two fold:
It acts as security to prevent theft
It keeps the drawers from sliding open when you move the tool cart
Pros
It helps you to organize your tools so you can locate what you need quickly
The drawers open smoothly
Simple to assemble
Locking system is smooth and effective
Cons
Each section doesn't align correctly when it's stacked
Mostly practical for home use, not commercial
The drawers are of a thin material that can easily dent when storing heavy duty tools
Wobbles when placed on the work surface
What Consumers Say about the 26″ 13 Drawer Cabinet
There is lots of room for tools.

It's very durable and I loved it!

The drawers slide easily and the wheels are easy to roll around while the box is loaded.
My son was moving it and got the wheel got caught on something (our floor has chunks missing and lots of cracks) and the entire box tipped over while fully loaded. There was some light damage, but nothing broke and every still works just fine. I'm impressed with it's durability.

Tool Carts FAQ
Why do I need a Tool cart?
You may think that having shelves and other nonportable storage facilities are sufficient in storing & organizing your tools. This does keep the workspace neat but a problem arises when you need a tool and it's not easily at your disposal.
You can plan what you need before the work starts and collect the tools you need & place them on the table. More often than not you realize a specific tool will help you immensely but it's across the room. The challenge comes when you're holding something with your one hand that you can't simply let go off without ruining the project.
This is why you need a tool cart.
One benefit of tool carts is that they store everything you need and they can be within reach.
Other benefits include:
They not only store your tools well but they too can be safely stored away.
They have different compartments where tools are organized to make the project run smoother and more effective.
The construction materials are strong so they protect your tools from damage.
What Features to Look for In a Tool Cart
There are two main features that you seek in a tool cart.
Specialty Storage
You must look for specialty storage features when you purchase a tool cart. These features make the advantages of a tool cart more prominent. Find one with many of these features for optimum satisfaction:
A toolbox tray—to hold small parts—which can be removable or lift out of place to create additional space. This tray can be placed somewhere else and the additional space created can be used for larger items.
Drawers or trays to hold small parts that slide out so you can see them all clearly.
A designated area on the chest of the cart to conveniently hang your long handled tools.
Extra bag pouches provided with the tool cart. These pouches can hold small parts of the same class for better organization.
Convenient Features
These features make your tasks easier and they also ensure that hardly any mishaps occur. Convenient features consist of:
Power latches to help you close and open the boxes built onto the cart with one hand.
Rubber grip feet on the cart to prevent the cart from moving around on the job. This is convenient when you're working on the tool cart. You wouldn't want it to roll away which results in irrevocable and costly damage.
To ensure your tools are well protected the cart must be made with steel construction materials.
For ultimate convenience the bottom of the tool cart must have casters. These casters bring more convenience because you can move the cart around where you want. This beats carrying your heavy tools around.
What Different Parts Are There That Make Up a Combination Tool Cart?
Combination tool carts provide more space than regular tool carts. They generally have layers of chests that have different sizes to organize and accommodate most of your tools.
The following is a breakdown of a combination tool cart's components.
Combination Tool Carts
Firstly these are best used for:
Large tools and toolsets. Combination tool carts are normally designed bigger to hold a complete collection of tools and power tools. There can be approximately 20 drawers so they can hold and organize different parts & components without them mixing.
Profession: Combination tool carts are useful for professional grade workshops. The convenient storage makes it easier for mechanics to have all that they need on hand. This makes for faster work and the storage also helps keep their work areas neat.
Portable Tool Boxes
Portable tool boxes are normally the top layers of the combination tool carts. These detach from the combination tool cart to move around your work area with ease. They have an average of four small to medium size drawers.
These drawers can hold smaller items and tools such as nuts, bolts, wrenches & screwdrivers.
They're practical to carry around in small spaces or homes. They carry the basic necessities to get your project going before you fetch the larger tools to help you with the job.
Tool Chests
The tool chests are generally the middle layers of the combination tool carts. They're durable and offer safe storage for your most important tools.
These tool carts have between 4-10 drawers with a maximum of 30'' in depth. You can store medium sized tools in this chest.
Professionals also benefit from this tool chest because it's organized and sturdy. When professionals are driving with this chest in their car it won't damage or cause the tools to lose its place.
What Additional Accessories Can I Obtain with My Tool Cart?
Tool carts are designed for ultimate storage and convenience. There are additional accessories—or features—you can seek to make tool carts more useful.
These accessories or features include:
Cover: This feature is found on most tool carts and its primary function is to protect the tools. Some tool carts manufacture the cover to act as a workstation. This is a practical solution if you have limited workspace.
Hand tool organizer: In addition to the tray you can also obtain a tool cart that has racks or holders. These extra features organize the cart better. Some tools can be hung to provide a better view of all the other tools.
Floor mat: This is an accessory you buy separately from the tool cart. You can acquire diamond anti fatigue mats, cushion floor mats or simply knee pads. These mats are designed for the workman who stands or kneels on hard surfaces.
Lighting: Your tool cart can also have a light feature. LED light bars or panels can light up the tool cart. This is helpful when you want to find tools quickly in a dim room.
Now that you understand why tool carts are beneficial don't delay in getting your own. The Craftsman range is made to be durable and caters to all your tool storage needs. At the end of the day you can have most of your tools close by while keeping your workstation neat. It's a two in one benefit you can make your own.