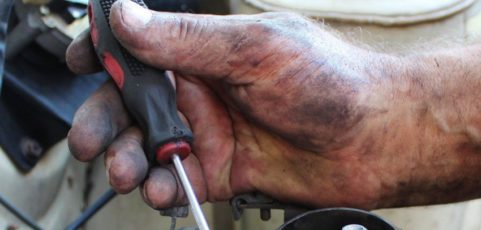 It's not nearly has fun as browsing through the tool aisles at the store, but buying a good hand cleaner is important for those of us that get greasy while working on vehicles. Let's face it, when working on an automobile it's inevitable that you're going to get greasy and probably even get some cuts and bruises along the way. I know for me, I pretty much bleed just about every time I find myself "playing" mechanic on the weekends.
When it comes time to clean up after installing a new performance upgrade or doing a basic oil change you'll want a good hand cleaner that cuts the grease with minimal scrubbing. Most of us have probably been guilty of trying to use our body wash to clean our greasy hands, which usually results in never ending scrubbing and the lose of a layer or two of skin. So we've did some digging and found what we've come to find to be the top 5 best hand soaps for greasy hands. You've probably heard of few.
Best Hand Soaps for Greasy Mechanics Hands

Important Notice: The state of California's Proposition 65 entitles it's residents to special warnings for products that contain possibly harmful chemicals known to the state of California to cause cancer and birth defects or other reproductive harm. If products expose consumers to such chemicals above a certain threshold level set by the state of California, then WARNINGS must be present on such products. Some of these stated products have these warnings.
Gojo 0955 Natural Orange Pumice Hand Cleaner – 1 Gallon
If you haven't heard of Gojo, now is your time to learn about it. Consumers have said that it "magically turns greasy hands into clean hands". Gojo Natural Orange Pumice liquid formula uses pumice scrubbing particles within the soap to aid in the cleaning process. Even better it doesn't have a weird chemical smell, instead it has a fresh orange citrus smell that might cause you to become hungry. On a serious note, the pumice particles help break down the grease quicker which leads to less scrubbing.
Although some say the 1 gallon container is large, it's a great value that you'll likely have around for awhile. With Gojo's current list price it's cost makes it one of the cheapest Mechanic Hand Soaps on the list, costing 13¢ per ounce. This soap also works great on many other household cleaning needs such as tile floors, cleaning up scuff marks and even some laundry stains to name a few. Be sure to double check the manufacturers suggested uses before trying anything out of the norm.
Permatex 25219 Fast Orange Pumice Lotion Hand Cleaner with Pump – 1 Gallon
Comparable with the Gojo, Permatex Pumice Hand Cleaner works well is a mechanic hand soap that's probably in garages all across the country. This pumice lotion is fortified with aloe, lanolin and glycerin to help condition the skin helping to gently clean the grime and grease from the skin. The petroleum solvent-free formula is biodegradable and contains no harsh chemicals. This is especially good if you have any cuts or abrasions, because it does not cause stinging. There are no smelly odors, only a pure refreshing natural citrus smell.  With Permatex 25219 current list price, it is the cheapest option on our top five Best Mechanic Soaps list. It's cost comes out to be just 11¢ per ounce.
It works great to remove resins, grease, tar, oil, printers ink, grime, epoxies, rubber cement, paint, gasket rtv and tile cements just to name a few. The manufacturer also recommends several other uses for this product. Besides cleaning greasy hands it works great on laundry stains, tile floors, scuff marks, cleaning pet odors and several other household cleaning needs. Just double check with the manufacturer before trying it on something out of the ordinary.
Lava 100836 Professional Line Heavy Duty Hand Cleaner with Moisturizers – 4 oz. Bar

Better known to many as the "green bar", Lava Heavy Duty Soap Bars have been around for a long time.  Lava is one of the more grittier soaps offering a good cleaning power. Some consumers even say that the sharpness of pumice particles might make you reluctant to scrub. But that helps thoroughly clean away the grease, dirt, oil, paint, ink, grime and adhesives with ease. Moisturizing formula is built in helping to keep your hands soft. Lava soap bars are made of Eco-friendly bio-renewable resources. One of the only negatives of the Lava bar soap is the mess it might leave behind on your sink. Nothing a little extra rinsing of the bar or having a good soap bar holder can't help with.
The Lava bar soap is the most expensive soap on our top five Best Mechanic Soaps list. One 4 ounce bar comes out to cost $1.17 per ounce. That seems a bit steep? Well that is if you buy just one bar. Amazon offers multiple pack deals which can cut that cost down to 43¢ per ounce, which still keeps it at the most expensive. Not to mention you'll have several extra bars of soap to store and let's face it, not everyone has room for extra storage.
Permatex 14106 Grease Grabber Heavy Duty Coconut Hand Cleaner – 4 lbs.
Permatex Grease Grabber Hand Cleaner is a gelatinous paste scooping type cleaner that's formulated with "poly" scrubber that work much like pumice particles and help cut away at the tough deep grime and grease. Grease Grabber really lives up to it's name and grabs the grease. It doesn't contain any harsh solvents and is fortified with moisturizing smoothing emollients. This helps keep your hands soft and healthy. There are no foul boiler room type smells with this hand cleaner, pick from two fresh smelling scents, coconut or lemon lime. It is recommended to use a tablespoon of Grease Grabber with a little bit of water, but many consumers recommend skipping the water until you're ready to rinse.
It's suggested to clean the following well: dirt, grime, grease, hydraulic fluids, oil, adhesives, asphalt, tar, paint and inks. Permatex Grease Grabber's cost is middle of the road when compared to the other hand cleaners on our top five Best Mechanic Soaps list. At it's current list price it cost 36¢ per ounce. But considering it gets hands shockingly clean, this price is worth it.
Stockhausen STOKO 30362 Hand Cleaner
Although Stoko 30362 Hand Cleaner isn't as well known as the other automotive hand cleaners on the list, it's highly rated by it's consumers and is widely used commercially by mechanic shops. Many shop owners have said this industrial strength hand cleaner works better than the leading consumer brands. It's a particularly aggressive soap the does not use any pumice particles. Instead it contains all natural walnut shell pieces used as scrubbers in the soap. It has a low solvent content with a good skin compatibility that doesn't dry our your skin. Sorry no appetite enticing fresh smells with this one, consumers say that it doesn't have the most pleasant oder, but it's not so bad that you can't get used to it.
With Stockhausen STOKO's current list price, it comes in at a cost of 39¢ per ounce putting it in the mid to high range of cost when compared to the other hand cleaners on our top five Best Mechanic Soaps list. Depending on how greasy and grimy your hands get while working on your vehicle, this one might be a bit overkill. But if you just simply want the best Mechanic Hand Soap then, this is the best as rated by consumers.
So there you have it, our list of the Top 5 Best Hand Soaps for Greasy Mechanics Hands. Even though these are the best of the bunch, sometimes they're just not enough for stubborn dirt. Especially when it comes to cleaning under your fingernails. Even the most grittiest hand cleaners can't get all of the grime that gets stuck under your nails. Below as a bonus we're suggesting one the best selling hand and nail cleaning brushes that go great with all of the above hand cleaners.
Eppco Heavy Duty Two Sided Hand & Nail Brush
This brush is excellent for any handyman, mechanics and gardeners. It's designed with a comfort grip and available in an assortment of colors. The brush has a great balance of firmness to clean well with but to not too firm causing you to scratch off layers of skin. On the top it has another brush set designed specifically to clean out the grime from under your fingernails.