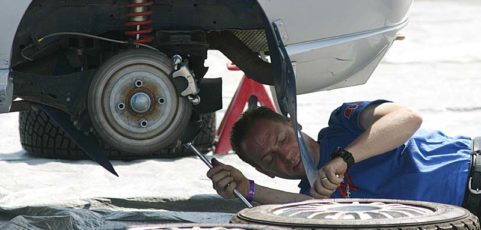 Introduction
If you're a do it yourself-er, or run a small mechanic shop without a lift, then chances are you've used or need to use a creeper. Laying on your back on cold concrete, dirt or gravel is uncomfortable and inconvenient. While working underneath your vehicle scooting around can literally be a pain. It'll slow you down too, drastically reducing your working speed.
The original Mechanics Creeper was invented in 1941. Click Here if you want to read about the Patent.
Creepers are arguably the best solution for automotive mechanics that don't have access to a lift. It'll make a big difference when you can hover around instead of scooting everywhere or having to get up and down repeatedly. You can get flat solid creepers to lay on, ones that fold up into chairs, roll around stools with tool trays and even top side step up creepers that help you work on tall trucks getting you into those hard to reach places without trying to sit in the engine compartment.
Below is a guide we've put together to help you learn about all of the ins and outs of all the different kinds of creepers there are to use while working on vehicles. Hopefully it'll help you make a decision as to what is the best one for your particular needs. Following this is our 6 tips for finding the best creeper for your first time, or if you know what you're looking for then "scoot" down the page to see what the top 5 best creepers of their respective categories are, click here: List of Best Creepers.
6 Tips to Finding the right Creeper
I remember the first mechanics creeper I had every used. It was my fathers that he had used when he own a AAA towing company. It was basically a piece of plywood with support wood around the edges, small wheels screwed into each corner and a small leather pillow that was stapled down to act as a head rest. It had to of been at least 20 years old and that was 20 years ago!
If you've owned a mechanics creeper already, then you likely bought it on an impulse and probably just purchased whatever you could find, not considering that their might be things about it that would end up driving you crazy after using it just a few times. While that's were this page comes in handy, let us help save you from some of the frustration that we've already experienced.
Probably the most important thing of all, your creeper needs to be comfortable and move around easily. The last thing you wanna do is to have to scoot around under the car, likely jamming a wrench into your back while trying to grab that pesky "10mm" socket that rolled away. Haha, been there right?
1.How well does it roll around?
Creepers are designed to roll around, so doesn't this seem a bit silly? Well depending on the space you're planning to use a creeper in, it may not perform well. Today there are three main types of wheels used on creepers. Older creepers like the one I used as a kid, used steel wheels. They were smell steel disks literately, attached to small axles bolted right to the frame.
Well today's average creepers are similar, but with urethane wheels and ball bearings instead of axles. The wheels are still small, about 2″ in diameter. These wheels themselves are pretty durable, but they'll get stuck on electrical cords, air house, tools and even the tiniest cracks or pebbles. If you're using one of these creepers on a nice smooth surface with little obstacles, and maybe even have someone to hand you tools so they aren't in the way then one of these cheaper average creepers would work just fine for you. However you will have issues with surfaces like asphalt or old concrete that has lots of cracks. The higher end creepers of today have larger wheels around 4-5″. They'll easily rolling around and over things that your garage floor is likely to have laying around.
2.Will it fall apart?
Believe it or not there are some creepers made with a pressed cardboard backing. If it gets wet then it's toast. Let's face it while working on a car, they're likely be some fluids leaking onto the creeper weather it be grease, oil or blood it's bound to happen. You really shouldn't even consider one made like this.
A little better creeper will be made with thin plywood backing. Plywood is much stronger than pressed cardboard and it'll hold up better to the average oil spill too. Just don't let it stay soaked for a long time. However these can still break pretty easily, especially with an accidental kneeing of an unsupported area. I remember this is what finally did my dads old creeper in that I talked about above.
The better creepers have hard plastic or thicker 1/2″ plywood backings, some are even made of metal. These hold up well and last a long time. Of course this doesn't mean you can use it to lug around a transmission, but who would do that anyway? You'd be surprised.
3.Will it become unreliable?
If you intend on using a creeper often, then you'll come to find that just like with a lot of other garage tools, a creeper can quickly become stained, cracked, chipped, etc. You get the idea, a creeper is going to take some wear. You want to make sure the frame is solid, with a hard plastic or heavy duty vinyl sheeting backing. These types of creepers will stand the test of time. The wheel are usually not an issue, but they tend to break off. Without the proper support and reinforcement on the frame where the wheel is attached will eventually turn into a bent or missing wheel all together.
4. Will it tear up my clothes?
This might seem like a silly question too, but creeps have been known to literately eat peoples shirts. I remember once I had a 6″x 4″ piece of t-shirt tore right off the side into the middle wheel. Sometimes clothing will get bound up in a wheel so tightly that you might end up having to cut it out of the creeper wheel. But at least t-shirts make good shop rags. You can eliminate a mechanics creeper from eating your clothes by getting one that has enclosed wheels.
5.What extra features does it have?
Some creepers are literately just a flat solid surface with wheels and some are so comfortable from being adjustable that you could curl up under a car and take a nap. Lets talks about all those wells and whistles and see if they're really needed.
First, adjustable headrests; unless you're working on a lifted 4×4 you'll likely not have enough clearance to even use such a feature. Although in some cases they might come in handy. I recall a time where I had to remove my teenage brother in laws 6-speed transmission from his 94 Camaro Z/28 to replace his clutch. Well, boy I'll tell ya I had the worse neck pains that night from holding my head up trying to see all the bell housing bolts up the transmission tunny. An adjustable headrest in this case would of come in handy so I didn't have to use my neck muscles to hold up my head.
Second, tool holders; these come in handy to hold just a few basic tools. This is particularly good if you're just doing an oil change or making changing an O2 sensor. Not many creepers have this feature.
Third, wheels locks; at first you're probably thinking why would you want a wheel lock if a mechanics creeper is suppose to let you "hoover" around under the vehicle. Really the wheel locks are good for two reasons. It's useful to lock the wheel so the creeper is held in place while you bend down to get on it. The worse is having the creeper fly out from under you while trying to sit on it, and it has happened before. The other reason is if perhaps you're working in your driveway which has a bit of a slope. Although it's likely that you could just hold yourself in place with your feet. Sometimes you're feet may become airborne while to loosen an over tightened or rusty bolt and having a wheel lock on in this instance would be helpful.
6.Is it comfortable?
Creepers aren't meant for taking naps on, but you want them to be comfortable none the less. You could be spending several hours laying on depending on the job. Some of the creep brands even throw in the word, ergonomic. Maybe that is just a fancy way of saying it's comfortable. Some of the hard plastic creepers have no padding at all, but they are ergonomically formed to fit the body lines and they're pretty comfortable.
The more traditional style flat creepers are covered with padded foam with leather like vinyl. The padded ones tent to get ripped making the hard plastic ones more durable.
Our Mechanics Top Pick
The Bone Rough Rider 7031 Mechanic's Creeper is possibly the king of the creepers. It works where no mechanic and taking one before, off-road, in farmers fields, in the dirt and on gravel. Most people who've been working on vehicles have probably been forced outside a time or two in a less than ideal situation. That's when the Bone Rough Rider shines the most, off-road. The large wheels and 3″ of ground clearance give you the mobility you need for most outdoor situations.
The wheels are molded with heavy duty oil-impregnated steel center bearings. They are mounted to thick steel caster frame with dual race adjustable ball bearing swivels. At each corner the wheels are shrouded which eliminates you ever having to worry about your hair or clothing getting caught in the wheels. The body is molded from high grade polypropylene copolymer which is resistant to common garage solvents, gasoline and oils. All these high quality construction gives it a 400lbs capacity. Even better, The Rough Rider has a limited lifetime warranty, possibly making it the last creeper you'll have buy. Oh and it's made in the USA!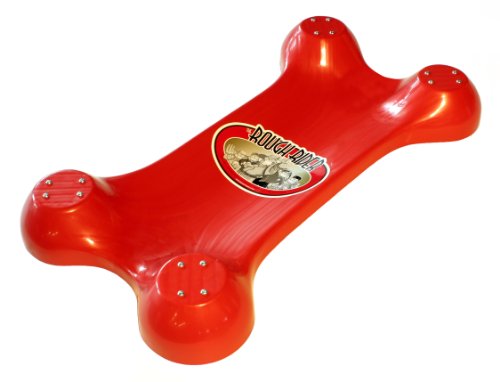 If this one is too intimating for you or is just simply overkill then you should check out the other two Bone options from Dale Adams. The original one, which is made for normal garage surfaces is called The Bone. If you're not planning on ever having to go off road and keep it in the shop at all times, then The Bone will work for you. Then there is a smaller version called The Bone-ster. This one is shorter, sits lower to the ground and uses smaller 3″ wheels. This is again ideal to be used in shops on smooth surfaces and works well for smaller people and/or spaces.
Top 5 Solid Mechanics Creepers
Top 5 Convertible/Fold-able Mechanics Creepers
Top 5 Mechanics Seat Creepers
Top 5 Mechanics Top Side Creepers