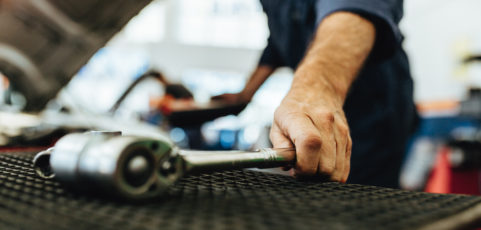 If you plan on working on projects around your home, you know that you need to have the right tools on hand. That same theory applies if you work with your hands and tools for a living, and one tool you'll definitely need is a good quality ratchet.
Choosing the best ratchet comes down to the type of chores you need to complete. You likely want something that can be useful in completing a number of different tasks. To help you find the one that works best for your projects, we reviewed and compared five ratchet sets.
Best Ratchet Set Reviews
1. GearWrench 81230F Four-Piece Ratchet Set
GearWrench created the original five-degree ratcheting wrench back in 1996 and has been a trusted supplier ever since. Each year, GearWrench expands its line a bit more, introducing new products. The GearWrench 81230F Four-Piece Ratchet Set has a low profile and that tools have tear-shaped heads for improved leverage and access.
Product Highlights
With each ratchet in the GearWrench 81230F Four-Piece Ratchet Set, you can work quickly, as they offer a total of 84 teeth. That also means you'll get tight turns. In short, you'll expend less energy and get more out of the tool.
This ratchet set also has a 180-degree flexible head which means you have access to fasteners that are usually hard to reach. Pair that with the low-profile head and there are few fasteners if any, that you shouldn't get to while using this ratchet.
The return wing arc on this ratchet is just 4.3 degrees, so you don't need to use a lot of muscle to get the job done. In terms of comfort, the handles are ergonomically designed which makes for an easier hold. It is available in both cushion grip and chrome.
The finish is also of a highly visible chrome which makes for easy cleanup and a sharp, attractive look. This ratchet is available in offset, flex-head, stubby, and long handle. It is also available in both flex-head and fixed head.
The Good
We really like the smoothness of the turning action of the ratchets. It also has a great weight in your hand and the flex heads provide for easy work even in tight spaces.
We also like that plenty of options are available. If you know the type of jobs you'll be doing, you can choose the best style for your needs.
The Bad
Unfortunately, the on-and-off switch tends to get stuck and lockout. The chrome also seems to chip off.
We also found that if you happen to drop the ratchet, it is likely to break. While the ratchets do work great and give you a nice, tight turn, they don't seem to stand up to a durability test if they have even a small fall. The finish is really nice but doesn't maintain its sleek look once it's been chipped.
Pros:
Tight turns for quick work
Flex head option for easy access
Ergonomically-designed handle
Cons:
Lacks durability
The on-and-off switch can get stuck
Poor customer service
2. GearWrench 81230P Four-Piece Ratchet Set
The GearWrench 81230P Four-Piece Ratchet Set offers great clearance along with pretty impressive speed for effective work.
Product Highlights
The GearWrench 81230P Four-Piece Ratchet Set provides several features for great access. Each ratchet has a flex head that boasts six different positions. Speed is also impressive with this set.
You get 120 positions as well as double-stacked pawls, which give you a narrow swing arc. Thus, you can reach fasteners even when you have limited access. You don't have to work quite as hard but still get the results you want.
You get three different drive sizes with the GearWrench 81230P Four-Piece Ratchet Set. That includes ½", 3/8", and ¼". You also get a 3/8" drive stubby ratchet. They all have a full polish finish. There are also on and off markings on the head to give you great visibility in nearly any working conditions.
The head has a tear-drop shape with a low profile, helping you gain access to tight spaces. In addition, the handle is quite long and designed ergonomically so that you stay comfortable while working.
You'll also get a good grip and the ratchet itself is quite easy to clean given its finish, which is full polish chrome. Along with the ratchet set, you receive a foam storage tray. This is a great addition and can keep your set altogether and protected.
The Good
We really like that the gears are quiet and smooth. You shouldn't find that you will struggle at all while using this set. The durability is also second to none. You can just really tell that this set is well made and built to last.
We also love that the on and off are stamped right on the wrench, along with three degrees. We find this really helpful if we forget how far we need to go to catch a tooth.
The Bad
We found that the ¼" ratchet tends to stick, making it almost useless. We don't like the way the finish looks either. It almost looks like a dirty chrome or as if it has water spots.
Scratches and dings are to be expected after use but the chrome itself just doesn't look right. We also do not like that there isn't a lock function; if you set it at a position that is angled, it will still move.
Pros:
Smooth operation
Great construction and durability
Quiet operation
Cons:
Doesn't lock
Lackluster chrome finish
¼" sticks
3. ARES 42000 Three-Piece Ratchet Set
The ARES 42000 Three-Piece Ratchet Set offers a great option for anyone working in particularly close quarters. ARES provides quality tools and is highly regarded by users. In addition, ARES provides a Performance Assurance Limited Lifetime Warranty on their products, including this ratchet set.
Product Highlights
The design of the ratchet allows for easy work even in the most confined spaces. You get an enhanced grip given the knurling, which means keeping a good and comfortable grasp.
There are a total of 90 teeth which means you only need a four-degree swing arc to achieve the maximum amount of torque. You can change the direction of your drive by just flicking the thumb switch on the back of the head. This provides you with 20% more access when you are working in tight spaces.
You get three pieces with the ARES 42000 Three-Piece Ratchet Set. They are ½", 3/8" and ¼". They are all made from Chrome Vanadium steel and have a mirror polish chrome finish.
That finish is designed to resist any corrosion and rust and will maintain its high visibility. This product exceeds ASME torque performance standards.
The Good
We like the durability of the ARES 42000 Three-Piece Ratchet Set. It doesn't seem like it could be built any better. The operation is quite smooth and we like that there are 90 teeth.
We can access what we needed even in really tight areas and without using too much muscle. In addition, the handle is really comfortable. The knurling is a nice added feature while the grip is solid.
The Bad
It would be better if the handle on these ratchets was just a bit longer. If nuts are particularly tight, the lever just needs to be longer to get them loose. Without a longer handle, you end up having to exert too much force to do any real loosening.
In addition, the head is a bit thick. This can limit access a little bit which is too bad since so many other features with this set allow for better access.
Pros:
Excellent durability and construction
Smooth operation
Comfortable handle or knurling
Cons:
Head is a bit too thick
Could use a longer lever
4. Craftsman Three-Piece Thin Profile Ratchet Set
The Craftsman Three-Piece Thin Profile Ratchet Set gives you a great deal of torque, even in tight spaces.
Product Highlights
There are several unique features to the Craftsman Three-Piece Thin Profile Ratchet Set. You get a comfortable handle along with a quick-release button and three drive sizes. You get the ½", 3/8" and ¼" drive sizes. The three sizes given will accommodate almost all of the sockets you use regularly.
You get 84 teeth with this ratchet set, which means you only need a 4.5 degrees arc to get working even in really tight spaces. The ratchets have a thin profile to offer the ultimate level in utility and access.
You can also maintain the highest level of efficiency given the reverse level and quick-release button. These are features that are a bit rarer in these sets but can make work so much easier for you. You'll be able to exchange your sockets easily and effectively.
The handle on this set has a comfortable grip with a paintbrush-style. Your hands shouldn't tire or get uncomfortable, even after working for long periods.
The finish on these ratchets is a nice chrome and they feel good in your hand while working. The look is sleek and attractive and the finish seems to stay really well.
The Good
We really like the finish on these ratchets. They have a nice quality and it shows. The action is also really smooth and quite quiet.
Overall, this is just a great quality ratchet set. They stand up to use even if you plan on using them every single day. We also really like the quick-release mechanism, which allows us to get the job done quicker and easier overall.
The Bad
Even though these feel good in your hand while you're working, they are a bit heavy. They also have a pretty long handle, which is good in many instances, but this handle seems a bit too long for carrying around. They are a great set to keep in one place but if you are carting them around with you, they might start to feel cumbersome.
They also don't seem to be as thin profile as they are marketed but they still allow you to get into tight spaces pretty easily. If they were just a little bit thinner, they would be just about perfect.
Pros:
Excellent durability
Quick-release mechanism
Smooth and quiet operation
Cons:
Could have a thinner profile
Heavy
The handle is a bit too long
5. GearWrench 81206P Three-Piece Ratchet Set
The GearWrench 81206P Three-Piece Ratchet Set allows you to work quickly and easily, with increased access.
Product Highlights
With the GearWrench 81206P Three-Piece Ratchet Set, you get a design that includes double-stacked pawls which give you 120 positions. This gives you the ease of access to fasteners, increasing your overall productivity. The 120 positions you get with this set exceeds the torque performance requirements set by ASME.
You get three ratchets with this set namely ½", 3/8", and ¼". The set comes with a foam tray with a custom fit. This is a nice added bonus since it keeps your ratchet set together and protected.
There is a teardrop-shaped head with each ratchet included in this ratchet set, which gives you a low profile; another feature that makes access easier. The finish is full polish chrome and is quite easy to get clean.
You will also enjoy the on-and-off switch which is mounted flush. Thus, it won't limit you in tight places.
The long handle the ratchets in the GearWrench 81206P Three-Piece Ratchet Set is one of its best features. It is ergonomically designed and will give you a comfortable, solid grip. Your hands shouldn't get tired, especially since the weight of the ratchet is nearly perfect.
The Good
We liked the enclosed head design of the ratchets as it helps with dirt resistance and prevents any infiltration. The handle is another feature we love. It is really comfortable to use and doesn't make your hands tired, even after prolonged use. We also like that the GearWrench 81206P Three-Piece Ratchet Set comes with a nice case.
The Bad
The ¼" ratchet skips teeth pretty frequently, which means it isn't all that useful. Secondly, despite the handle being marketed as long, and it is, it could still benefit from being just a tad longer. This would really help with any access issues.
Finally, there seems to be a good amount of resistance with the ratcheting action. We're not sure if that is just a part of the dual pawl design or something else but over time, it can get pretty pronounced.
Pros:
Comfortable handle
Enclosed head
Easy to get clean
Cons:
Too much resistance
¼" skips teeth
The handle could be longer
Buyer's Guide
While you want to keep your particular needs in mind when choosing a ratchet set, you also want to bear in mind a few key universal features. Knowing what to look for when purchasing your ratchet can make the buying process easier. As such, we've highlighted a couple of key features to keep in mind when you are making your final decision on picking a ratchet set for your needs.
1. Tooth Count
The tooth count on any ratchet is what will determine the speed at which you can tighten a nut. This is why this feature is so crucial when shopping for a ratchet.
As you spin the ratchet, you will hear a clicking noise. Each click represents one of the ratchet's teeth.  The more teeth you have on the ratchet, the shorter the distance you have to spin the ratchet. That also means the less power you have to use to get the ratchet to do what you want.
For example, if you are using a ratchet with 32 teeth, you will take more time to get a nut tightened than if you were using a ratchet with 75 teeth. In general, the more teeth on your ratchet, the less time it will take you to complete a project and the less effort you need to use.
2. Drive Sizes
Several different sizes are available when it comes to choosing a ratchet. They are measured in inches, with the most common sizes being ½, 3/8, and ¼.
Those are the sizes you are most likely to find in a ratchet set, but there are plenty of sizes available to suit specified needs.
In general, the smaller sized ratchets are best for work that requires a good deal of precision. Larger ratchets, on the other hand, are perfect for jobs such as nuts on a vehicle.
3. Socket Release
A socket release is not standard on all ratchets but can be a really useful feature. You want the ratchet to hold tightly to the socket since that is how you tighten the nut.
However, you also want to be able to release it on demand. That is precisely what a socket release will do for you. With a socket release, you just hit a button and the socket is released.
FAQs
1. How Many Teeth Should a Ratchet Have?
The sound most people associate with a ratchet is clicking, which is what you hear each time a tooth passes the ratchet.
Within the ratchet is a wheel that has teeth. Those teeth allow you to rotate the wheel in order to tighten nuts. The more teeth, the less physical effort you have to personally put in to tightening nuts.
In addition, the more teeth the ratchet has, the less movement you generally need on your return stroke. So, for example, a ratchet that has 90 teeth is going to work a lot faster than one that has 32. If you are looking for something to make your work faster, you want as many teeth as you can find.
2. How Does a Ratchet Work?
A ratchet lets you move either in a rotary or linear direction without allowing any motion to occur in the opposite direction. The tool is widely used, particularly by mechanics.
3. What Are the Types of Ratchets?
Ratchets are available in different drive sizes in order to operate the various sized sockets. Those drive sizes include 3/8 inches, ½ inches, and ¼ inches.
Most ratchets use a geared drive. Those that have more teeth allow you to use a smaller swing when operating the tool. This is particularly helpful when you don't have a lot of space to move the handle.
Models that don't have gears use a roller bearing to operate and they require only small movements to turn fasteners. Flexible-head ratchets also referred to as jointed, allow you to adjust the handle's angle so that you can maintain easier access to tight working spaces.
Finally, many ratchets use a lock to keep the socket from sticking on to a fastener or from falling off. With these, there is usually a quick-release button that will disengage the lock.
4. What Is a Quick Release Ratchet?
A quick-release ratchet typically functions using a lockable ball detent. You are required to press on the back of the tool head to release the socket.
The problem often associated with a quick-release ratchet is that if you accidentally push the button, you could have the socket fall where you don't want it to. For example, it could fall right into an engine bay or in other busy workspaces.
They do have their benefits, though. They make changing socket sizes easier, especially if you need to make frequent changes when working on a complicated project. The tool is also useful if you are swapping out a whole bunch of accessories.
5. How Do You Use a Ratchet Set?
If you want to check what direction the ratchet is turning, hold on to the socket with your left hand and move the handle from left to right using your right hand. If you are looking down at the ratchet's head, you should turn the socket in a clockwise direction to tighten a fastener. If you want to loosen a fastener, you want to move the socket in an anti-clockwise direction.
Final Verdict
Each of these ratchet sets could easily be considered the best. However, our top choice for the best ratchet set goes to the Craftsman Three-Piece Thin Profile Ratchet Set.
This set is durable and feels great in your hands when you're working. The quick-release function is quite unique and can really help if you are trying to move quickly.
We also love the look of this set and its finish proves that it is made to last. You get great efficiency with this set, even if you are working in tight spaces.