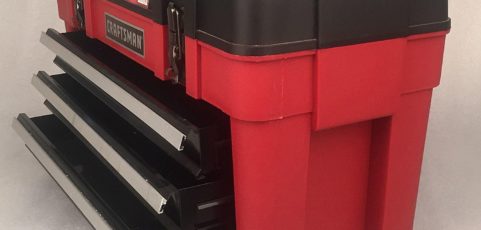 Introduction
Have you ever tried carrying multiple tools in your hands? If yes, then you probably experienced how it usually fails. Perhaps some tools kept falling or they were uncomfortable to hold.
To avoid those troubles you need a tool box. A tool box carries everything you need when working on a DIY project. You don't have to be selective anymore or waste time walking around fetching the items you need.
Reading this article you can decipher which tool box is most suited for your needs. Craftsman manufactures the reviewed products. This brand has a good reputation of making high quality products. Along with some portable tool box reviews, we've thrown in some ideal tool sets that can be used to fill up these portable tool boxes.
Best Small Craftsman Tool Box and Tools That's Portable Reviewed
Craftsman 18 Inch Cantilever Tool Box
Consumer Ratings
(4.4 / 5)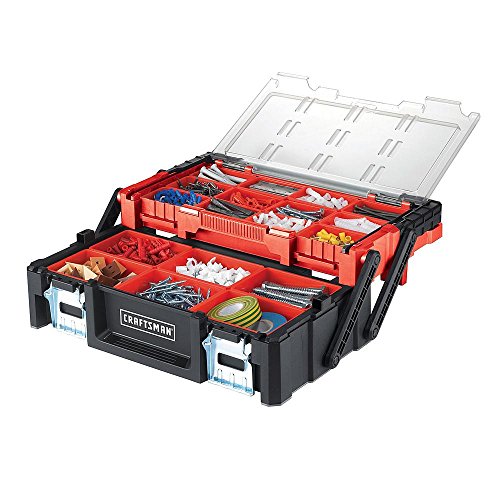 Small parts mixing together in some tool boxes are inevitable even when you spend time organizing them. This can lead to frustration because of:
Wasting time looking for what you need. Are you always looking for smaller parts and trying to match grooves to the requirements of your project?
Realizing you don't have an essential piece because you can't keep track of the tools and parts. You may run out of certain resources such as screws because of the lack of organization.
This tool box is what you need if you want one that supports an organized working style. This organization feature leads to greater productivity because you can avoid the above frustrations.
All 18 pieces in the tool box have their own individual sections. This helps you see the moment when something needs to be replaced. This saves the trouble of you looking for a part you don't have.
The tool box's compartments are removable. This saves space on your workstation. If you only need to work with bolts you only need to put the compartment on your station and not the entire tool box.
Items you can carry in your tool box includes:
Screws
Brads
Nuts
Bolts
Washers
Nails
Marking tape
The tool box is lightweight and effortless to carry. It's made of strong plastic for durability. The tool box is designed to be carried horizontally. There are support legs and an ergonomic metal handle. You can grab the tool box and go without you accidentally breaking the handle from the casing.
There are metal latches and hinges to keep the tool box intact while you carry it.
Pros
Perfect to hold small parts that need proper storage when being moved
Bottom compartments can be removed to store larger items
The tool box is well balanced to carry
The tool box shuts firmly to prevent accidental slippage
Cons
Doesn't accommodate any heavy tools.
There is a gap between the cover and the compartments so some parts can mix into other compartments.
All the compartments fit together for a secure hold inside. If one compartment is lost the others inside are loose. This allows parts to get mixed.
The handle locks into place and you may need another tool such as a pry bar to release it.
What Consumers Say about the Craftsman 18″ Cantilever Tool Box
It works great just what I needed to organize my network tools and supplies.

Awesome small parts storage box.

This tool box is very lightweight and won't accommodate any heavy tools.

This tool box would be fine for small parts such as nails and screws.

Awesome to use as a bait and tackle box!

Craftsman 254 Piece Mechanics Portable Tool Set with 75 Tooth Ratchet
Consumer Ratings
(4.5 / 5)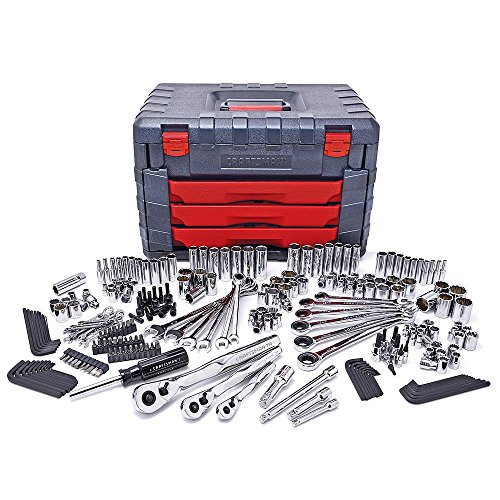 This tool box completes your tools and parts collection. A tool box that has 254 pieces increases your chance of finding exactly the part you need for a specific job.
Most of the tools in the tool box have an alloy steel construction. This material ensures that your tools are durable and withstand harsh or continuous use. A lifetime warranty is extended to all the parts guaranteeing their durability and longevity.
The 254 pieces help you to work faster because you practically have everything on hand. All the pieces have individual compartments or moldings resulting in organized storage. This also leads to you working faster because you won't spend time looking for parts as you would if they were all mixed together.
The sizes of the tools allow you to work in large areas or small spaces with ease. This variety is much more beneficial than simply having one standard size available.
The tool box consists of:
134 sockets in 1/4'' 3/8'' and 1/2''
One spark plug socket
10'' ignition wrenches
One magnetic holder
38 screwdriver bit set
12 nut driver bits
40 hex keys
Three quick release 75T ratchets in 1/4'' 3/8'' and 1/2''
Four extension bars
12 ratcheting wrenches
The measurements of the sockets are in metric and inches. They're deep and fit into the three ratchets well.
The tool box's casing is made with durable materials. The result is perfect for protecting your tools from possible damage. If your tool box is always exposed to dust—without you using the tools—the dust won't cause some of the tools to rust. The casing leads to a higher durability and longevity of the individual tools.
Pros
The tool box allows for organizing tools well making it easier for you to quickly retrieve the item you want
The tools are practical for everyday use
Tools are useful for motor repairs
All tools are sturdy when in use
Cons
There aren't enough larger size parts
There is a gap between the top tray and the chest which causes some parts to fall out
The tool box can get damaged easily
The inner shelves aren't locked in place which can cause smaller parts to spill out
What Consumers Say about the Craftsman 254pc Portable Tool Set
Excellent Product for DIY'ers. I recommended it 100%!

Tools are perfect for every day jobs big or small wrenches super great

.

It's rugged plastic and so far had not broken but the sockets can be easily strewn about while being rough with transport. The fixed racheting wrenches are great, Lifetime warranty is a big plus but warranty pampley states all hand tools covered, doubt they would cover the case that holds them. In summary, overall worth the money!

So far its a pretty nice set. Everything seems to be well made and complete.

I found the set to be very nice. The plastic tool box is alright. There is a gap between the top red tray and the chest part. When I got it a couple of the sockets had fallen out and were in the shipping box. I recovered all but one. All and all the tools are great. I mean the craftsman of course there great.

Craftsman 17 Piece Screwdriver Set
Consumer Ratings
(4.7 / 5)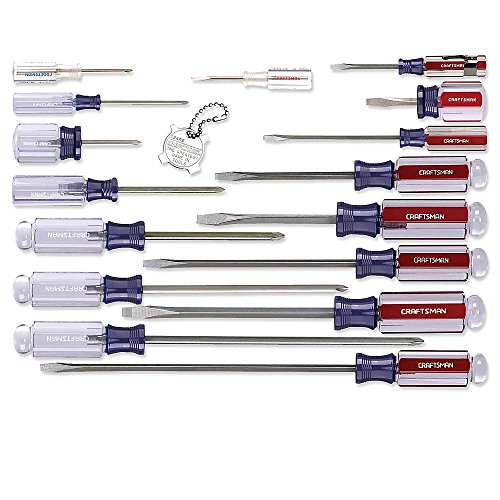 Wouldn't you love it if all screws were one standard size? This saves the hassle of you potentially not having the right screwdriver to tighten or loosen a screw. You know a non perfect fit only make a job more tedious.
This 17 piece set ensures you have a screwdriver for every occasion. This means no more compromises. This set is perfect to keep around your home, workshop or to use at the job site for optimum efficiency.
The blades for the screws are made with alloy steel. They were heat treated to guarantee maximum strength and finally coated with a satin nickel finish to make them corrosion resistant.
The set consists of seven Phillips and 10 Slotted Screwdrivers.
Philips screwdrivers: The drives are designed to ensure a tighter tolerance and fit. The sizes include:
# 0 x 1 1/2"
#0 x 2 1/2''
#1×1 1/2''
#1×3''
#2×4''
#2×6''
#2×8''
Slotted Screwdrivers: They have serrated tips to hold the screws firmly
3/32''×1 1/2''
1/8''×2''
1/8''×4''
3/16''×1 1/2''
3/16''×4''
3/16''×6''
3/16''×9''
1/4'' ×4''
1/4''× 6''
Four in one pocket SD
All the screwdrivers have chemical resistant handles which provide comfortable grips even when working in the toughest conditions. You create a proper level of torque to ensure the screws tighten or loose as you desire.
A tool bag is included for you to store all 17 pieces and prevent misplacement.
Pros
The drives are durable and they remain sharp after many jobs
The versatile range makes it easier to find a perfect fit for screws needed on DIY projects
This set is perfect for completing your tools collection
Perfect to use in auto repairs
Cons
The drives can be flimsy
Some of the tips aren't secured in place
The handles are made with plastic which can chip easily
The smaller screwdrivers can't be held comfortably in the hands because of their size
What Consumers Say about the Portable Craftsman 17pc Screwdriver Set
Except for small electronics, these screwdrivers will get you in and out of anything ever. They are high quality with a decent grip and a perfect variety of size from pretty darn small to miniature prybar. Sears sells a 13 screwdriver holder that is pretty much meant for this set and except the smallest ones and a couple of the medium size ones, it holds most of them and keeps them well organized. Great buy and you get the Sears guarantee so that's a plus. The only other screwdriver I would buy is a ratcheting one to lessen fatigue during big projects.

Classic Craftsman screwdriver set. This set was just what I needed to fill out my tool chest. It has both phillips and flat head screw drivers in all sizes for almost any job. I've gotten use out of the smallest size all the way up to the largest. Plus, with that Craftsman lifetime warranty, you can't go wrong.

True craftsman tools good set, since sears is closings most of its stores these sets were 100% warranty no question ask it broke you received a new tool no limit no recipe. Craftsman is a premium tool I do not know if the lifetime warranty is still in effect to the company that owns this company. With that being said this set will last you many years if used properly great price.

Why didn't I buy this earlier? I sort of had a hodgepodge screwdriver kit before and it was always a headache to find just the right size for the job. Ever since I got this, I haven't had that problem anymore. They look really nice, and they're sturdy.

Craftsman 16 Inch Tool Box with Tray
Consumer Ratings
(4.7 / 5)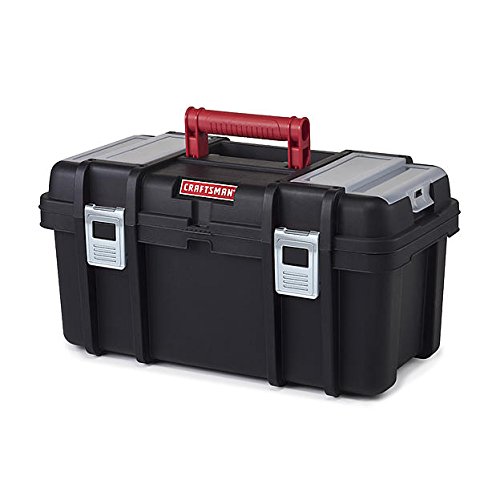 When you're at a job site or completing a home DIY project you'd want all the small bolts and parts to be stored ready at your disposal.
This craftsman 16'' tool box is what you need if you want to store all you need in an organized manner. The bins that store your parts ensure you can find what you need quickly without rummaging through a messy tool box. Getting what you need in one swift motion contributes to you completing tasks quickly.
You can store almost anything in the tool box for example:
Bolts
Screws
Washers
Nus
Small wrenches
The bins are removable so you can carry what you need to the workstation instead of carrying the entire tool box.
The box is made with high grade rugged polypropylene resin. This hard plastic construction ensures the box withstands any harsh conditions while protecting your tools. The tool box is scratch resistant and resists chemical solvents & acids. These features reduce the risk of rusting, peeling or rotting.
If ever you don't want to use the tool box anymore you can recycle it. This ensures it doesn't do any harm to the environment.
The tool box is also designed with a lid stopper to prevent the lid from closing at inconvenient times. There is also a padlock to prevent the lid or shelves from opening while in transit.
Pros
Cleans well with a wipe of a cloth
The tool box withstands harsh impact
The tray is secured in place and doesn't fall to the bottom
Compact design means it can be stowed away in confined places
Cons
The handle is short which makes it uncomfortable to hold and carry
Not useful for holding larger items
The box isn't very stable so any gush of wind will topple it
What Consumers Say about the Craftsman Portable 16″ Tool Box
The tray on top works well and doesn't fall through when loaded.
Plastic carrying case seems strong, I've dropped it a few times and it hasn't cracked.
It's perfect for a small set of tools you might need on the car for light over the road repairs.
This compact tool box fits almost anywhere.

Craftsman Mixed 28 Piece Screwdriver Set
Consumer Ratings
(4.9 / 5)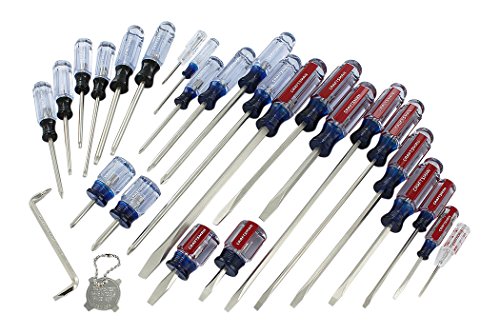 A benefit of this 28 tool piece set is you'll have screws which fit uncommon screw bits. You can open or close almost anything without damaging it because you didn't compromise on the tool size.
All the screwdrivers are designed to deliver three benefits for you:
User friendliness
Durability
Accuracy
The butyrate handles are color coded for you to find the right one easily. They are also large and curved for you to have a proper grip. This enables maximum turning power.
The blades are made with alloy steel and are heat coated to endure constant & harsh use. The tips of the blades are shaped to fit tight or awkwardly placed screws. The tips are serrated to prevent slippage no matter how hard you push the screwdriver.
The set consists of the following:
Eight Phillips screws
#0 x 1 1/2"
#0 x 2 1/2″
#1 x 1 1/2"
#1 x 3"
#2 x 1 1/2"
#2 x 4"
#2 x 6"
#2 x 8"
12 Slotted screwdrivers
1/8''×2''
1/8''×4''
3/16" x 1 1/2"
3/16" x 4"
3/16" x 6"
3/16" x 8"
3/16''×8''
3/16''×9''
1/4''×4''
1/4''×6''
5/16''×8''
Four in one pocket keychain
One offset screwdriver 1/4''×2''
Six Torx Screwdrivers
T10×3''
T15×3''
T20×3''
T25×3''
T27×4''
T30×4''
For your added benefit a carry case is included to protect your tools.
Pros
Ideal for small jobs or tightening something that's loose
The Torx screws are useful for more uncommon screw bit types
The handles don't chip or scratch
Suitable for home repairs or DIY projects
Cons
If your hands are greasy they'll slip away from the handles because of the smooth plastic surface
The alloy steel is not durable enough for hard or continuous work
The tips aren't magnetic
The tips can dull quickly
What Consumers Say about the Craftsman 28pc Portable Screwdriver Set
I have been using Craftsman tools for years and I still love their Screw driver sets! The fit and finish is always top notch and they feel great when using. I've never had a issue and if I did Sears will always replace no questions asked! Thank you craftsman!

Craftsman quality, worth the money. Don't buy low quality Chinese junk.

Can't go wrong with craftsman.

Great deal on a great selection of quality tools.

Conclusion
There is no denying that these tools are extremely useful for almost all mechanic and DIY needs. This is why they're top rated. Many people trust the quality of Craftsman because they know the tool boxes and sets bought from this manufacturer help them work with precision and speed.
Will you become one of these happy customers too? It's a smart move and worth the investment. Simply pick the set where the contents most align with your requirements. The tool boxes' extensive organizing features make them even more practical than most products on the market. Get your work area organized today!