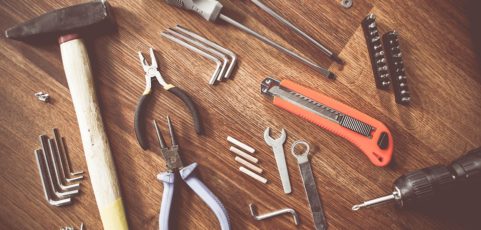 Any do it yourself-er has probably come to realize there are countless types of tools for every type of job you can think of. If it's something that might need fixing, you can bet there is probably a specialty tool for it. When it comes to working on your vehicle, you could easily spend tens of thousands of dollars before you know it. If you have the money then more power to you, check out this Mammoth 1390 piece mechanics tool set and you'll have just about every mechanic tool you'll ever need. But you're probably here because you're looking for some cheap tools, cheap power tools, cheap tool boxes or cheap tool sets.
Let's face it, most of us probably don't have $30,000 to spend on a complete tool set like that one. But, we've got you covered with our budget friendly tool list below. These are the tools needed for all the basic automotive jobs and they are still a decent quality but won't break the bank. We'll go over budget friendly socket sets, wrenches, screwdrivers, flashlight, allen wrenches, cordless drill, pry bars, pliers, a floor jack combo set and even a storage box where you could store all your new tools.
Important Note: These are all the basic cheap tools that you should need for around the house DIY or weekend automotive mechanic jobs. Keep in mind that most of these tools are not professional grade products. They are all highly rated, but by consumers who like you probably only use these tools a handful of times per month. Keep that in mind and if that is what your intended use is for these tools then they should work just fine in helping you tackle just about any job in the garage and around the house.
Reference the table of contents below if you want skip to a specific tool.
Stanley 60-100 10-Piece Standard Fluted Screwdriver Set
Consumer Rating
(4.2 / 5)
Stanley is a tool company owned by Black & Decker and a well known household brand that specializes in making "cheap tools" or "budget tools". The screwdrivers in this set have hardened tips and are made of heat treated allow with a rust resistant nickel plating. These handles might not be offer the most grip you can find but for the price these will work just fine. This set includes 1-point and 2-point Phillips, 4 slotted, 2 stubby and 2 pocket sized screwdrivers. Stanley backs this set with a lifetime limited warranty.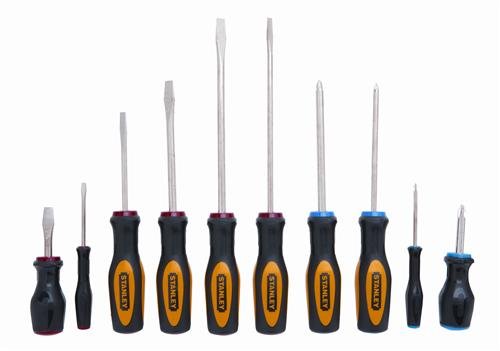 GRIP 89358 MM/SAE Combination 24-Piece Chrome Wrench Set
Consumer Rating
(4.4 / 5)
This cheap wrench set is ideal for most DIY homeowners. Grip has made their wrenches with precision machined open and boxed ends with drop forged heat treated alloy steal. The raised panels on the ends provide extra strength. The sizes in this set include: MM-7, 8, 9, 10, 11, 12, 13, 14, 15, 18, 19, 22 and SAE in inches-1/4, 5/16, 3/8, 7/16, 1/2, 9/16, 5/8, 11/16, 3/4, 13/16, 7/8, 1.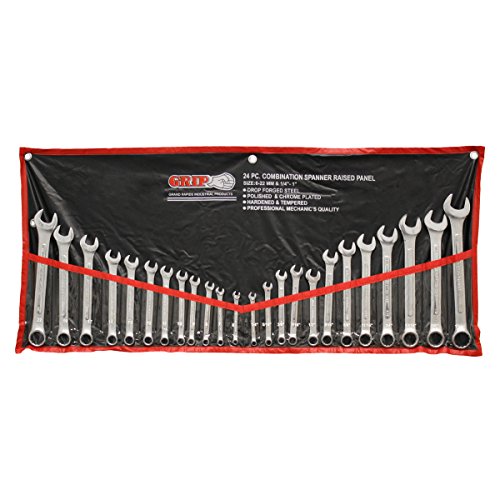 WORKPRO W001306A 7-Piece Pliers Set
Consumer Rating
(4.4 / 5)
WorkPro Pliers offer a good overall cheap hand tool set which are made of hardened steel with a polished finish and matte comfort grips. Consumers have complained about the grips slipping off, but for the price you really can't complain. Included in the set are 8″ groove joint pliers, 6″ long nose, 6″ slip joint, 4-1/2″ long nose, 6″ diagonal, 7″ linesman, 8″ slip joint pliers.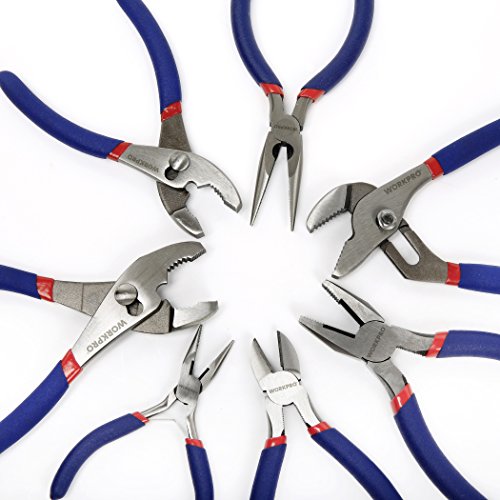 Stanley 85-753 22 Piece Long Arm SAE & Metric Hex Key Set
Consumer Rating
(4.8 / 5)
The Stanley Key Set wrenches have chamfered edges giving you a better fit reducing stripped fasteners. The black oxide finish is rust resistant and these come with a durable caddy. Marked slots for each key will keep them organized and secure. This set is backed by Stanley's limited lifetime warranty. This set includes the following sizes: SAE: .05″, 1/16″, 5/64″, 3/32″, 7/64″, 1/8″, 9/64″, 5/32″, 3/16″, 7/32″, 1/4″, 5/16″, 3/8″. Metrix: 1.5mm, 2mm, 2.5mm, 3mm, 4mm, 5mm, 6mm, 8mm, 10mm.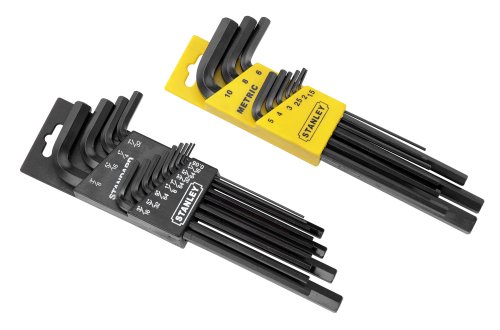 Stanley STMT71648 40-Piece Socket Set
Consumer Rating
(4.4 / 5)
The Stanley 40-piece socket set is a great cheap tool set to consider for light use and it meets or exceeds all ANSI standards. The Stanley 40pc set comes with max-drive which provides 15% more torque than previous models. The sockets and ratchets are constructed with heat treated alloy steal. This set is backed by Stanley's limited lifetime warranty. This set contains the following:
1/4″ Drive Pear Head Ratchet

1/4″ Drive 3″ Extension Bar

1/4″ Drive Sockets (6pt):
SAE:5/32, 3/16, 7/32, 1/4, 9/32, 5/16, 11/32, 3/8, 7/16, 1/2
MM: 4, 4.5, 5.5, 6, 7, 8, 9, 10, 11, 12, 13, 14
1/4″ Drive Deep Sockets (6pt):
SAE:5/32, 3/16, 7/32, 1/4, 9/32, 5/16, 11/32, 3/8, 7/16, 1/2
MM: 4, 5, 6, 7, 8, 9, 10, 11, 12, 13, 14

3/8″ Drive Pear Head Ratchet

3/8″ Drive 3″ Extension Bar

3/8″ Drive Sockets (6pt):
SAE: 1/4, 5/16, 3/8, 7/16, 1/2, 9/16, 5/8, 11/16, 13/16
MM: 6, 7, 8, 9, 10, 11, 12, 13, 14, 15, 16, 17, 18, 19
3/8″ Drive Deep Sockets (6pt):
SAE: 3/8, 7/16, 1/2, 9/16, 5/8
MM: 10, 12, 14

3/8″ Drive Spark Plug Socket (6pt) – 5/8″

1/2″ Drive Pear Head Ratchet

1/2″ Drive Sockets (6pt):
SAE: 3/8, 7/16, 1/2, 9/16, 5/8
MM: 13, 14, 15, 16, 17
Combination Wrenches:
SAE: 3/8, 7/16, 1/2, 9/16
MM: 8, 9, 10, 12

1/4″ Drive Spinner Handle

1/4″ Drive Bit Adapter

1/4″ Drive Specialty Bits (55pc)

17 Nut Bits:
SAE:5/32, 3/16, 7/32, 1/4, 9/32, 5/16, 11/32, 3/8, 7/16
MM: 4, 5, 6, 7, 8, 9, 10, 11

28 Hex Keys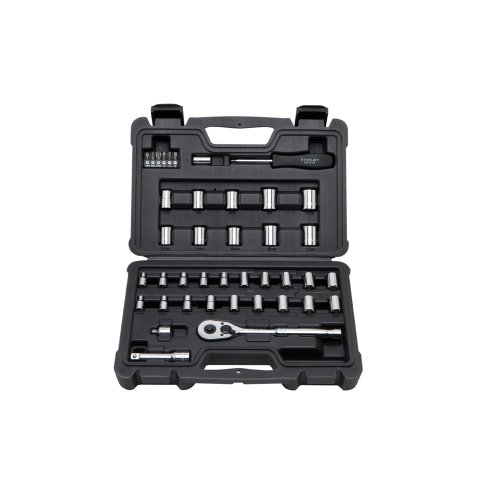 Black & Decker LD120VA 20-Volt MAX Lithium-Ion Drill w/ 30 Accessories and Bag
Consumer Rating
(4.4 / 5)
This drill is a cheap power tool that is ideal for drilling and screwing into wood, metal and plastic. It comes with a soft-grip handle and lithium-ion battery which holds a charge for up to 18 months. There are several different power settings so you shouldn't strip a screw head. The kit comes with a durable plastic and vinyl base with an adjustable shoulder strap for easy storage and portability. Included are drill and screw-driving bits, nut drivers, and magnetic bit tip holder.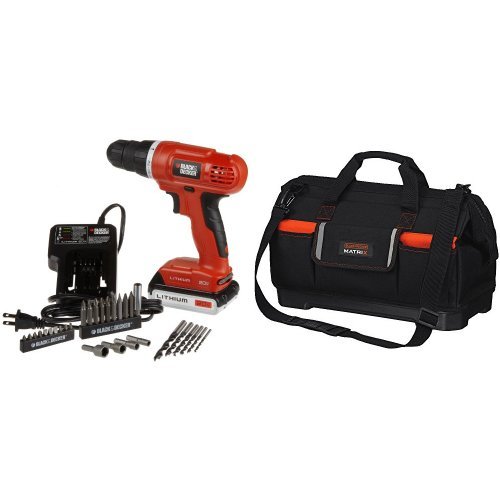 Performance Tool W2020 4-Piece Pry Bar Set
Consumer Rating
(4.5 / 5)
Pry bars are must for many mechanics jobs, the bent ends provide more leverage. These are made of drop forged steel with black coated shaft which are rust resistant. Including in the set are 8-inch, 12-inch, 18-inch and 24-inch sizes.


Performance Tool W85030 2 Ton Floor Jack, Creeper and Jack Stand Combo Set
Consumer Rating
(4.4 / 5)
This set has everything the average needs to lift up a vehicle and work safely and comfortably underneath it. The floor jack has a capacity of 4,000lbs and a maximum lifting height of 13 inches. The jack stands in this kit have 2 ton capacity themselves and can be adjusted from 10 3/8″ up to 16 3/8″ and they meet all ANSI requirements. Along with that is a basic 40 inch long "cool weave" creeper with a 350lbs capacity. It's made of weather resistant material and is fold-able for easy storage. This set is ideal for anyone that just needs to change tires, replace brakes, do an oil change along with many other minor under carriage jobs. This floor jack is a great cheap mechanic tool for most DIY maintenance tasks.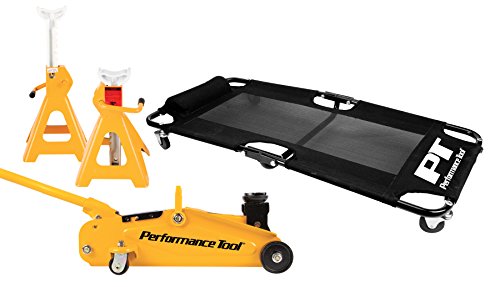 ThorFire LED Work Light Portable Flashlight
Consumer Rating
(4.3 / 5)
The ThorFire LED work light features a 360 degree rotating hanging hook and magnetic base. This makes this little LED flashlight very versatile for most any automotive task at hand. The magnetic base is extremely handy, anyone who has worked on cars before knows that when extra light is required it can be a pain, literately. The light might be really hot and you could easily burn yourself, not with LED's, they burn almost cold to the touch. We usually use lights to achieve proper lighting and sometimes lights will slide off wherever you put them. With the magnetic base you'll likely find a place to secure it while working on most any vehicle. There is a 18 month hassle-free warranty on the ThorFire LED work light. This is one of the best "cheap flashlights" you can find online.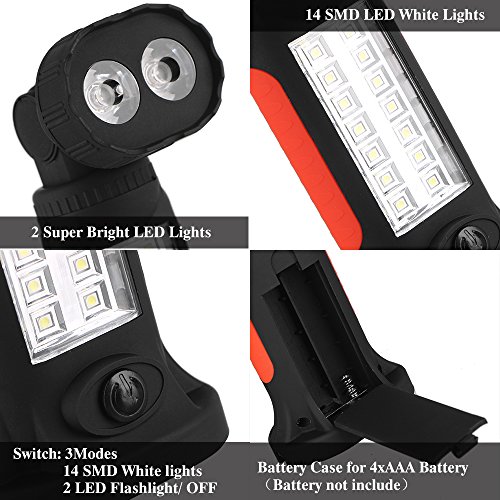 Stanley 020800R FatMax 4-in1 Mobile Work Station 
Consumer Rating
(4.5 / 5)
This 4-in-1 portable cheap tool box used for tool storage that is ideal for most homeowners. It'll hold most of the above mentioned tools. It also comes with a bonus tool and parts light organizer(STST14021). The coolest feature is how this storage box opens up into a mobile work stations. This is especially great feature for when you get the call that involves someone broken down somewhere. You can take all your tools out with you and look like a hero when you can fix the problem, assuming it's a small one.