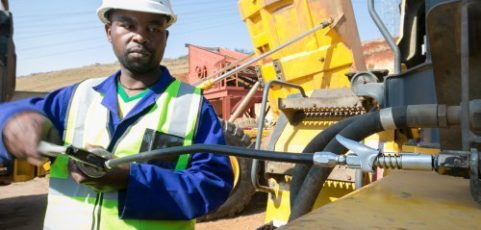 Zerk Grease Coupler Fitting – Easy Lock-on, Clip-off – Stays on – Grease goes in, Not on the machine!
Consumer Ratings
(4.7 / 5)
If you've used a Grease Gun before, then you know they are usually very messy, sometimes hard to clip on and remove from the fittings; really can just be a pain in the butt. There is a solution to the mess and that is the LockNLube grease coupler. This coupler can used with the standard mini, pistol grip, cordless and pneumatic grease guns.
Since buying it a few months ago I've only had to use it a couple of times, but it has nearly eliminated messes and the struggle of getting onto the fittings. Installation is easy with the large thumb-tab, once it's pressed the jaws are exposed. You simply have to line up the zerk fitting and release the thumb-tab and the coupler will literately pop right on. It is just as simple to remove from the fitting, just press down on the thumb-tab and it'll pop right off. Thanks to the coupler's locking design, it doesn't pop off once you start pumping the grease gun.
The coupler works especially well to reach into the hard to reach places where getting into with a grease gun is nearly impossible.
LockNLube Coupler Specs
Universally Fitmet
Locking designs stops it from popping off
Rebuildable (rebuild kit included)
Solid metal construction

Four hardened spring steel jaws are resilient under high pressure – max 10,000 psi.

Grease goes IN, not ON the machine. No more grease mess everywhere.

Ends the waste and the mess.

Fits standard Grease Guns – 1/8" NPT fitting.

Fits all SAE and Metric Zerk fittings.

Pros & Cons
First, the negative and really the only one is the coupler itself is somewhat bulky to fit in tight spaces.
Second, for the automotive or lawn mower mechanic it's a must, this works well with steering linkages, cutting decks, bushings, axle fittings, end links, sway bars and other suspension parts. The coupler works great with powered grease guns as well and the hardest part is to wait for all the new grease to start coming out.
For many mechanics and maintenance technicians this LockNLube coupler is a must.