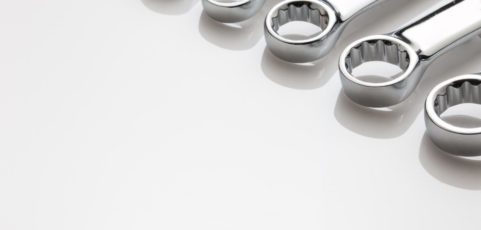 We are living in an age where everyone owns mechanical equipment, such as a vehicle. This is because it is almost a must to own one if we are going to get ourselves from one point to  another. In other cases, these vehicles can be used for businesses such as cabs and car hires, or delivery trucks.
Owning mechanical equipment means that at some point, you will need to have some mechanical knowledge, whether it is a simple thing such as fixing a flat tire or tightening loose nuts. Most vehicles come equipped with the basic equipment to repair some of these minor things, but at times things could get pretty complicated and you might require additional tools.
Regardless, it is still important to have the right tool for the job at hand.  You might find that you need a wrench of a certain size and yet you do not have it. In the end, you find yourself paying someone to do a job which you could have done yourself if you had the proper tool. This is where having the right equipment comes in handy.
There are many companies out there that are manufacturing these tools. Some of them manufacture wrenches to be sold piece by piece, and there are those that sell them in sets.   Generally, it makes better sense to purchase wrenches as a set.
This would be more convenient because you would have all the sizes for all the nuts, and in the long run, it would turn out to be less expensive. Now that you have decided that you are going to purchase a set, it is time to identify the best wrench set to buy.
In this article, we are going to look at the Performance Tool W1069 SAE/Metric Polished Combo Wrench Set, 22-Piece with Rack. This is a set that comes complete with all the wrenches and an easy to handle storage rack.
This performance tool set comes complete with an 11-piece metric wrench set and an 11 piece SAE wrench set, creating a 22-piece combo set. This 22-piece wrench set comes in a fully polished chrome vanadium steel construction and storage rack.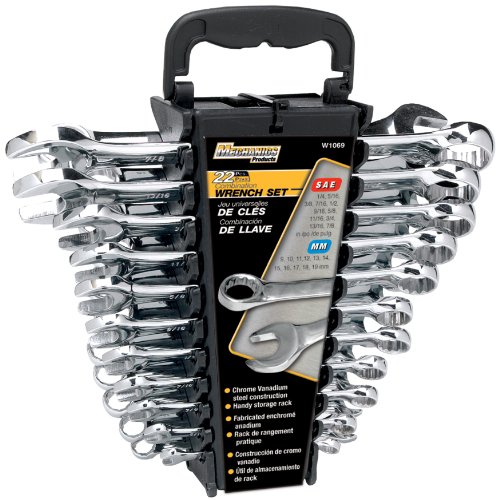 Features
Polished chrome vanadium steel construction
The storage rack
Metric: 9, 10, 11, 12, 13, 14, 15, 16, 17, 18 and 19mm.
SAE: ¼, 5/16, 3/8, 7/16, ½, 9/16, 5/8, 11/16, ¾, 13/16 and 7/8 inches
Weight: 5.2 lbs.
Dimensions: 10" x 10"
Pros
They are affordable.
Comes with all the necessary pieces needed for your garage
They are excellent for light jobs around the home or in the garage
Cons
The handle of the holder breaks easily
Some of the wrenches rust despite the claim of polished chrome vanadium steel plating
Cannot be used on very heavy mechanical jobs as they tend to break
Verdict
There are many things that we could do with this SAE/Metric polished combo wrench set, however, we would not get them if most of the work we intended to use them on was very heavy as they would probably break before the work was done.
Also, if you get the set,  keep them in a dry place at all times. The steel plating could turn to rusty wrenches if they come into contact with water or moisture. Our overall take on this wrench set is that they are not the best that there are on the market.
There are many other wrenches that could do a better job, but at a different price tag. If you do not have the money to buy the more expensive wrench sets, you could get this one to hold on to as you save for another one.
If you have light mechanical jobs, or do not use wrenches much, then this could actually be the right set for you. At the end of the day, it all depends on what and how you intend to use the wrench set.