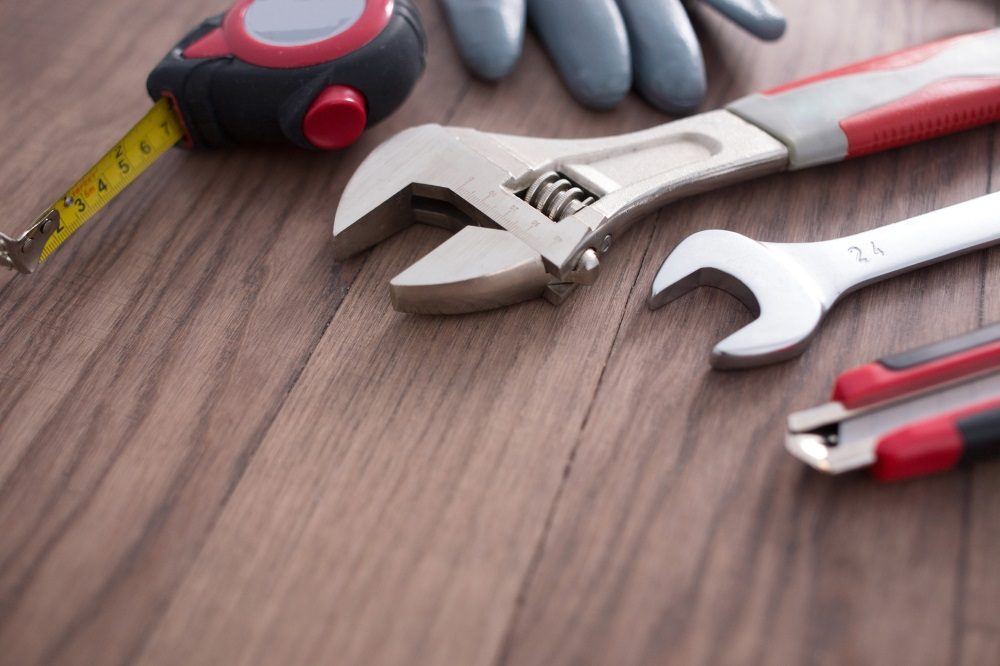 The Performance Tool W1801 Mechanic's Tool Set is manufactured by the Wilmar Corporation, under the brand name Performance Tool.  Wilmar is known to provide high quality products matched with superior level of service to meet the customer's expectations.
They are known to offer an extensive range of quality automotive tools. Let's take a closer look at its Performance Tool W1801 Mechanic's Tool Set that contains 123 feature rich tools.
The tool set contains 1/4" and 3/8"ratchets and accessories. They also include pliers, hex keys, 4 in 1 screwdriver with bits, precision screwdrivers, adjustable wrench, Philips and slotted screwdrivers. All these tools are held together neatly in a compact tool box.
Each tool is built as per both the SAE and Metric sizes. The tools are highly versatile and they can be used for different types of repair work in the home, workshop, garage, boat or RV.
This Performance tool kit contains all the essential tools you would need to perform regular repair work, or carry out the DIY projects.
The 123 quality tools come neatly organized in a compact and sturdy looking box. However, the tool box is not as reliable as it looks because it is made of low quality plastic. When we opened the box, we found the tools have their respective slots but they started falling off their positions.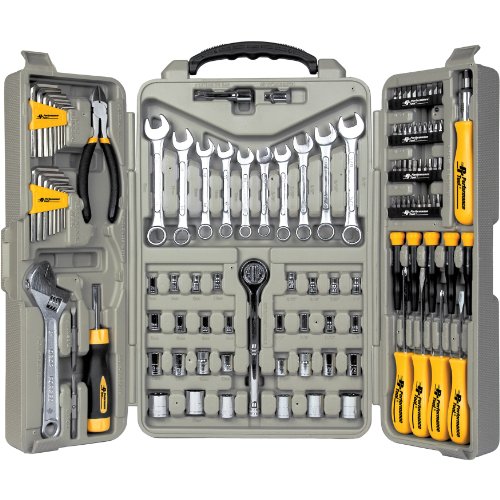 Features:
This mechanic's tool set contains drive ratchets and accessories
They are both SAE and Metric size combination
Tools come in a blow molded case
Tools can be used for repairs around your workshop, home, garage, auto, RV or boat
Pros:
The tools are good quality for doing repair work around the house or workshop. It also works like that perfect 'road hazard kit' you can rely on if your car or truck breaks down in the middle of the road. So, if your truck's brake needs a quick fix in the middle of nowhere you can be rest assured that you have a good-to-go mechanic's tool set stored for such unfortunate incidents.
We liked the design of the tool case that has a special slot for every tool. The outer case is sturdy and compact to hold all the tools together. As the case is small sized, you can easily store it in your vehicle and it won't take a lot of space.
The Performance mechanic's tools set offers good value for money and it helps in getting the job done efficiently. It is reasonably priced – 123 pieces of tools for just $64.97 (price at the time of review) is reasonable enough.
As the price is low, this mechanic's tool set makes the perfect choice for beginners who cannot afford the expensive sets. This kit offers quality tools at an affordable price. As a result some people prefer to buy two sets, one to keep at home for house repair jobs and one that they can store in their car or truck.
The tools come with visible marking which means that you can easily identify them in the box and this makes picking the right one easier when working on a job.
Cons:
Customers who have bought this product are not very happy with the blow mold case which is flimsy and easily damageable. In many cases, the hinges of the tool box came out after a few uses.
The rubber grip handles on the cutters and pliers are not fitted properly and they might come off when you apply more pressure.
This mechanic tools set lacks an adapter which is required to make the ratchets work with smaller sockets. However, there's an empty slot in the tool box which is perhaps meant for holding the adapter.
If you are buying this set for professional use then you will be disappointed with the quality of tool case. The number of tools provided in the box is also not sufficient for professional use, and a real mechanic would need more quality tools for his work.
However, it makes a decent buy for homeowners looking for a kit they can use around the house for home improvement jobs.
Verdict:
Overall, the Performance Tool W1801 Mechanic's Tool Set is an extremely versatile tool kit that can be used for various purposes.
However, this is not an all inclusive tool set and it lacks many important tools. It is more like an affordable yet decent addition to your tools collection. So, we would definitely not recommend this product for the professionals.
If you are a beginner looking for a reasonably priced tool kit to start your career with then this makes a good choice. These tools are definitely not the best but they are not low quality either. After some time, you can upgrade to a more expensive and high quality set that contains all tools you could possibly ask for.