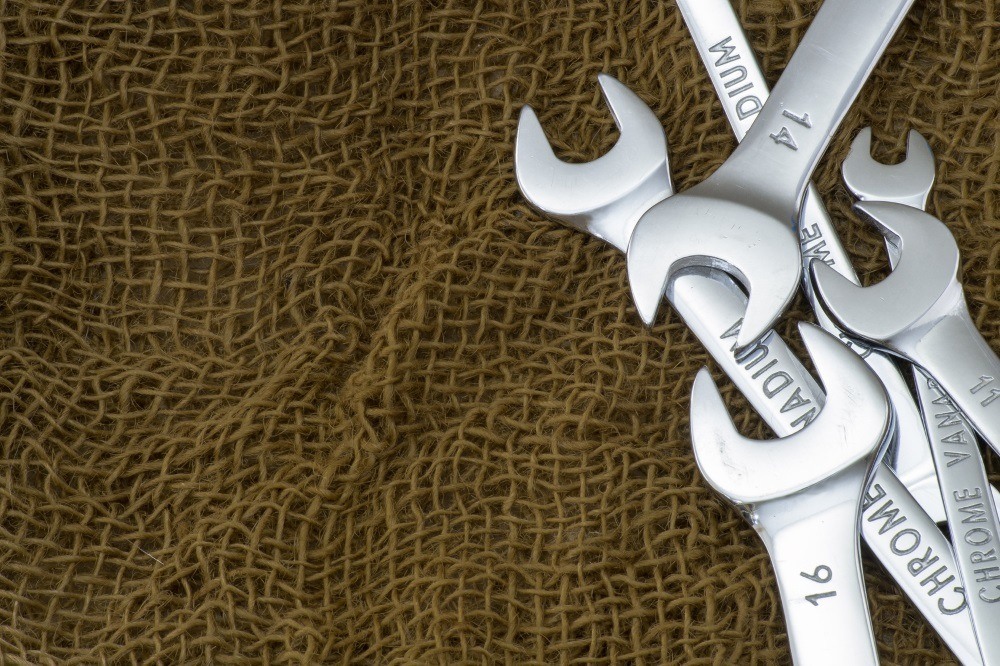 The Stanley 92-839 Black Chrome and Laser Etched Socket Set contains laser etched sockets in different sizes. Stanley is a well known brand of tools, and it history traces back to 1843 when Stanley Works was established by Frederick T. Stanley.
With a legacy of exquisite craftsmanship, consistent quality and performance, Stanley has created an indelible niche for itself in the industry.
Each tool has a black chrome covering that gives it long lasting performance and enhanced corrosion resistance. The tools set meets the ANSI (American National Standards Institute) standards established for sockets and ratchets
What we really like about Stanley sockets is that they feature a unique Max-Drive design. It has a radius corner design that gives 15 percent additional torque. It helps in tightening the fasteners with ease and it also makes turning of rounded corners comfortable.
The advantage of this technology is that it reduces fastener wear as there's no contact on the outer 5% of the fastener. As a result, the fasteners last for really long. This feature reduces slipping on the rusted or frozen fasteners.
The Stanley sockets are made from high alloy steel, and they are heat treated for long lasting performance. The exterior surface of the tools is polished with high quality chrome. The selected high-torque ratchets come with a quick-release mechanism that enables one-handed use.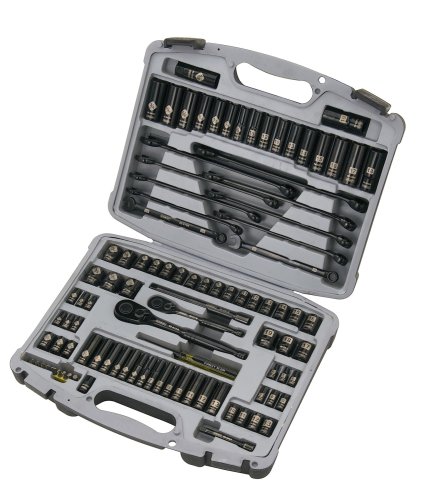 Features:
The tool box contains 99-pieces laser etched socket sockets and ratchets
The sockets are made as per the ANSI standards
It features a max-drive design that gives 15 percent additional torque
Black chrome polish on the outer surface provides corrosion resistance
It comes with a tool case for easy storage and travel
The product comes with limited lifetime warranty
Pros:
Stanley's socket set gives good value for money as you get a high quality set of tools at a reasonable price. This is a good beginner's set as you don't have to invest a lot, yet you get a decent kit to begin your career with.
The tools are sharp looking with chrome finish that helps you identify 'your tools' in a workshop. So, whether you are looking for a starter socket set or a kit to add to your collection, this one works fine.
You can use this tool box for DIY projects at home or workshop. You can also store them in your truck or car for emergency use.
The tools come with the Stanley's promise of lifetime warranty. So, if you are first time buyer, you can completely rely on your purchase. In case something breaks you can always get it exchanged for a new one.
They also have a good return policy, so if you are not satisfied with the product you can express your grievances and customer service will help you.
Cons:
The tool box is flimsy and poorly built which is perhaps the biggest disadvantage of this product. It is not adequate to hold the tools together compactly which poses a problem when you are working in a workshop.
As you open the box, not just one or two but several tools will drop off making it difficult to put them back together. Keeping this tool box in a truck or car also poses the same problem because as the vehicles jerk, the tools will get jumbled and you will have problems organizing them.
Now, if you can find a fix for this problem then you are good to go! Some customers who bought this product suggested using a bubble wrap or foam padding to keep the tools intact.
Although the tool set contains a wide range of sockets and ratchets, they do not include 15/16″ deep socket. The kit is similar to the one offered by Husky. In fact Husky offers a better option of 19mm deep socket, while this one only has an 18mm socket.
At the time of writing this review, the price of the Stanley 92-839 Black Chrome and Laser Etched Socket Set was $82.99 on Amazon. We found the price slightly higher for the set.
Verdict:
The tool box contains some really high quality and impressive looking tools that can be used at home or workshop for various types of projects. The ergonomic design and extra torque make these feature rich tools efficient for use.
The outer box is however not up to expectations. Most customers who have bought this product complained that the box was flimsy and it could not hold the tools compactly together. However, this might not be too big an issue if you keep the tool box flat. If you want to carry them around at different job sites then this might pose problems.
The price of this product is slightly higher when compared to other brands offering similar products, but those who trust only Stanley find the set worth the price.