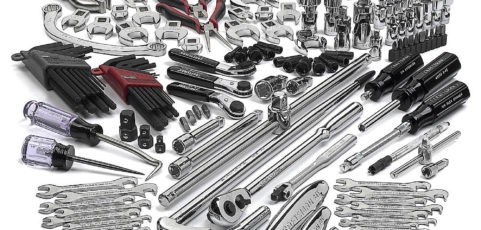 Introduction
In certain activities quality must come first. This is true with tools where quality determines safety. Craftsman is a brand many users trust for this reason. The brand has exceptional quality in all its products ranges. Craftsman understands its customers' needs and have made product ranges to suit most people's requirements.
Below are the five best Craftsman mechanics tool sets we've reviewed. Each of the tool kits showcase different types of tools. This allows Craftsman to be the number one choice for people who are professional mechanics, handymen or just want a toolbox to keep at home for small home and car repairs.
Top 5 Best Craftsman Mechanics Tool Sets Reviewed
Craftsman 230-Piece Mechanics Tool Set
Consumer Ratings
(4.6 / 5)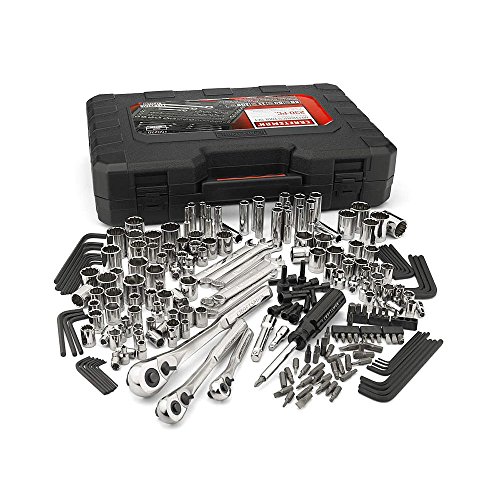 This mechanics set offers you 230 tools. All of them are made of alloy steel and have a silver finish. The strong construction ensures every tool is durable.
The durability helps you to work on any project without a challenge.
In the box set you'll receive:
Three quick release ratchets which are available in 1/4, 3/8 and 1/2'' drives.
116 sockets in both inch and metric measures.
A universal joint and two extension bars.
Six combination wrenches in inches and metric. You can use these wrenches in circumstances where the ratchets won't fit.
A magnetic handle with 12 nut drivers in inches and metric.
40 screwdriver bits to give you greater versatility in terms of projects you can try out.
40 hex keys.
The different sizes and measures increase the chances of you finding the exact tool that will be perfect for your project. You don't have to compromise and select a tool which is either too big or small that can potentially damage what you're working on.
All 230 pieces are packed neatly in the carry case provided. Most tools have their own compartment which makes it easier for you to get the tool you need. You don't have to rummage through the whole lot.
All the tools—except for the screwdriver bits—have lifetime warrantees.
Pros
The carry case layout is well organized to help you identify if any tools are missing
The tools assist you in repairing almost anything including cars, bikes and home appliances
The nuts can fit other screwdrivers without damaging them
Cons
The wrenches are too small
The tools don't stay in position when the unit is closed
The screw driver doesn't have a strong magnet to securely hold the nuts
The wrenches are loose in the case
What Consumers Say about the Craftsman 230pc Mechanics Tool Set 50230
EXCELLENT tool set, I did buy the complete screw driver set as well as the SAE wrenches – Quality sockets and ratchets, I did need to buy some extensions , If you need a good deal , don't pass this up

A bargain for tools. Every person needs a good tool set and this is priced low for the Craftsman brand and quality. Good case and fast delivery.

bought this product for my husband….he loves it so much…hes a mechanic and enjoy getting tools which he often loses but i can tell u… he wont let this good stuff out of his sight…all he ever needed and its reasonable.

Great set for the weekend warrior. It was a great addition to my garage.

My fiance bought this set for me as a gift and I couldn't be more happy! It's got everything and considering the price you just can't beat it guys! Don't hesitate to buy this!

Craftsman 311 Piece Mechanics Tool Set with 75 Tooth Ratchets
Consumer Ratings
(4.0 / 5)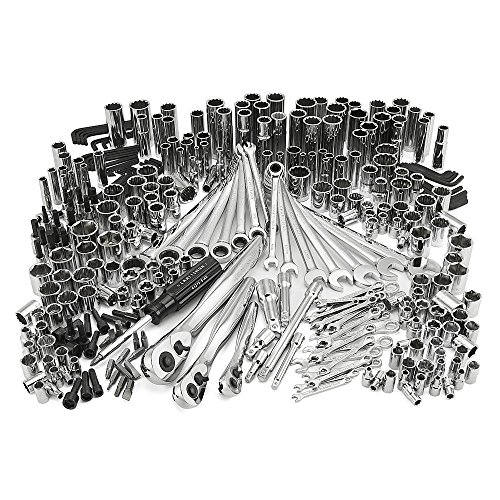 This tool set is perfect for those professions who work with tools every day. The 311 pieces included in the kit empowers you to handle almost any job.
The tools not only provide great versatility but they're also designed to help you work faster and better.
The tools in the kit include:
Three 75 tooth ratchets in 1/4, 3/8 and 1/2'' drives. Each ratchet has a thinner profile and a full polish finish.
The three ratchets have quick release functions. Changing sockets usually slows the work down, so this feature that releases the ratchet helps you work more efficiently.
182 drive sockets.
Six extension bars.
Four spark plug sockets.
40 hex keys that are available in inch and metric measurements.
15 screwdriver bits sockets.
54 wrenches.
14 ratcheting wrenches.
There are six, eight and 12 points for the sockets. The unit types are SAE and metric.
All the tools are made of alloy steel with a silver finish. The construction of the tools gives them their level of durability. You'll never have to replace any of the tools. Craftsman vouches for this durability and offers lifetime warrantees on all the tools.
Pros
The tools enable you to handle almost any job.
The tools are sturdy.
The variety of the bits allows versatility in what you can accomplish.
An ideal buy for anyone who wants handy tools.
Cons
The tools are lightweight which gives an impression of low quality.
Although the tools are said to be durable some of them can damage easily to the point where the tools aren't functional.
There is no carry case.
Some sockets aren't designed with the part that latches onto the ratchet. You'd need to create it yourself.
What Consumers Say about the Craftsman 311pc Mechanics Tool Set
First off, bought this a few months back. this is a great deal for the price, over 200 sockets, 3 fine tooth ratchets (not crazy about them) and different odds and ends like hex keys and midget wrenches. the ratcheting box and open end ratchets seems incomplete, but over all, for the money it's a great value. Another thing is to make sure to count and make sure you get all the sockets you pay for, I ended up with an extra one.

Overall this is a very nice set. I would recommend this tool set, but must say that the quality of the brand is not what I have come to expect from it. I have only used for small jobs around the house, don't know how they would hold up in a shop environment.

This is a very extensive set of tools containing many of the larger sized ones which are seldom included in sets. Awesome purchase!

Love this set. So many items for the price you pay. Some people may not like the way the ratchet handles are shaped, but they are incredibly solid and smooth turning. The wrenches only go up to 3/4″ but that's the only fault I'd be pressed to find.

Pretty good value for the money the only thing is i would like more deep sockets and more wrenches . But its a great setup for the mid grade weekend warrior !

Craftsman 254 PC Mechanics Tool Set
Consumer Ratings
(4.4 / 5)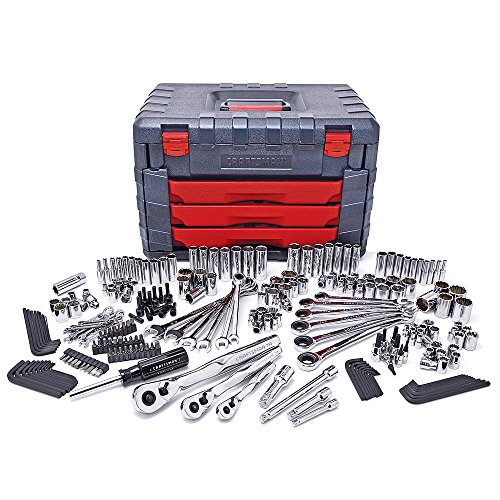 This tool set is perfect for mechanics or handy men who want a complete collection of tools. This set has many sizes and tools that aren't available in other sets.
It's designed to effectively help you with any DIY jobs you tackle.
All the tools are made with alloy steel. This gives the tools the robust quality you seek. A lifetime warranty is offered for all the tools. Luckily the tools are strong so you'll probably never use this claim to the warranty.
The tools are also designed to give you flexibility in how you want to attempt work. With multiple sizes you can work in small or large spaces.
The tools you'll receive include:
22 wrenches:

10'' ignition
12 ratcheting wrenches

154 sockets display both inches and metric measurements. They're standard and deep sized & fit well into the three ratchets.
50 bits.
One drive tool.
Four extensions.
Three quick release ratchets. All are 75 tooth ratchets in 1/4'', 3/8'' and 1/2''.
40 hex keys
Pros
The tools are highly durable
They stay in a secure position even when you let go of them
Can be used by anyone whether you're an amateur or professional mechanic
The tools can help you with car and house work
Cons
The tools aren't secured in their compartments. This makes the tool box untidy.
The ratchet handle is too bulky which brings discomfort when working with it.
The toolbox can break easily.
You can lose tools easily because the inner shelves slide open too easily.
What Consumers Say about the Portable Craftsman 254pc Mechanics Tool Set
Very nice set, tools are quality pieces, even the bits are tough. Don't strip like the China stamped bits ya buy elsewhere. Would have given five stars but I'm not crazy a b out the case. It's rugged plastic and so far had not broken but the sockets can be easily strewn about while being rough with transport. The fixed ratcheting wrenches are great, Lifetime warranty is a big plus but warranty simply states all hand tools covered, doubt they would cover the case that holds them. In summary, overall worth the money!

I found the set to be very nice. The plastic tool box is alright. There is a gap between the top red tray and the chest part. When I got it a couple of the sockets had fallen out and were in the shipping box. I recovered all but one. All and all the tools are great. I mean the craftsman of course there great.

I have loved the Craftsman brand (my father's brand). Sadly, Craftsman was just sold to SWK. Everything in the box looks great, except one major item: MADE IN CHINA. One other complaint: The hex and combo wrenches should come in a decent plastic clip/holdr/case. They are simply loose in a plastic bag, no specific slot for them.

Great set! Trays even fit in my roller drawers! My initial set had a stripped out 1/4 inch but customer service contacted me the day after my set arrived (just to see how I liked the set) and squared my set away asap!! Happy with it!

Great price, good quality, love the box for the organization, only complaint is the high number of small tools and the lack of just a few very common larger sizes. speed wrenches are nice, yet the sizes are questionable.

Craftsman 165 pc Mechanics Tool Set # 38165
Consumer Ratings
(4.5 / 5)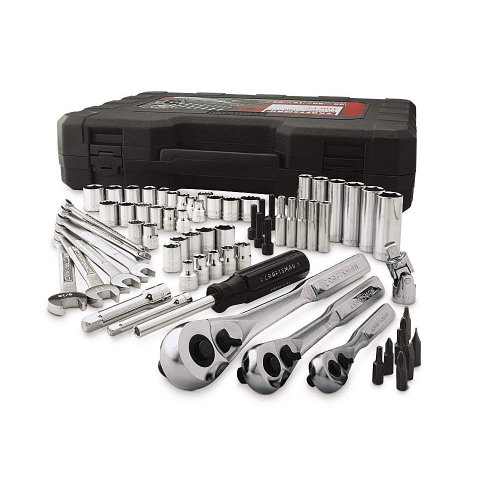 This Craftsman mechanics kit has one of the lowest tool counts. You should still consider this tool set because it has all that is necessary to complete the task. It may actually be ideal for people who simply needs an emergency kit that shouldn't take up too much space.
All the tools are made of alloy steel and have a silver polish finish. The construction material also contains plethora. This design makes all the tools durable to serve you well for many years.
There are fewer types of each tool, but the tool list still covers most standard tools:
12 wrenches
92 sockets
Two additional tools
31 screwdriver bits
One drive tool
Two extensions
22 Hex keys
Three quick release ratchets
The carry case has compartments for most of the tools. These compartments' layout is organized for your convenience. It helps you to be prepared before starting the job. You won't waste time sorting through the tools to find the one you need.
Pros
The tools have a high quality feel and are durable
The inches and metric sizes make it easier to find the tool size you need
There is a variety of sockets which makes finding the right size for the project easier
This tool set is perfect to replace lost or worn out tools because it has everything you need
Cons
Sockets are loose when attached to the ratchets
The carry box is not durable so you may need to acquire another one to carry your tools
There is hardly any use for the ratchets because the sockets aren't secured in them
Some of the tools aren't available in sizes you may require such as 1"
What Consumers Say about the Craftsman 165pc Mechanics Tool Set 38165
Nice kit, the Allen wrenches are in bags but everything else fits well and snug, definitely recommend as a replacement for those who haven't replaced their old mismatched set of tools in a while

They are not the same as the ones I had that were made in the United States, but still they are of excellent quality. And the best thing is that, like the previous ones, these also have guarantee of life. Excellent buy

Our son's hobby is his car but he has continued to borrow his dad's tools. We just got him this set and he loves it. Every size he'll need is there. The pieces are all so nice.

This set has everything you need if you are a craftsman. My husband couldn't be happier. The only complaint I have is the design of the case, we opened ours up and everything just fell out. The inside lock flap almost seems as if it is on the wrong side. It should be on the side of the sockets to keep them from falling out but instead it is on the side with the wrenches. This is silly because all of the wrenches are already locked in place.


Best tool set. Has majority or the items that are usable. I hate those kits that inflate the piece count with allen wrenches and screwdriver heads. The deep sockets are the best addition to this kit.

Craftsman 108 Pc. Mechanic's Tool Set – 009-38108
Consumer Ratings
(4.6 / 5)
This craftsman set is one of the smallest in its class with only 108 pieces. This tool set has everything you'd need for general small jobs regarding cars and homes.
The construction materials are similar to all other quality Craftsman tools sets. It proves you can trust this set as well.
The carry case holding all the tools is compact and light weight for easy storage & transportation. The compartments are organized so no tools overlap each other.
What's also unique about the layout is that all the sockets are aligned to make a border inside the case. This makes it easy to determine if all the sockets are there before you call it a day and pack up.
Other tools are placed in the border such as the wrenches, ratchets and screw to make the carry case tidier.
The useful tools you'll receive include:
Six point socket wrenches and accessories
35 1/4'' drive tools
34 2/8'' drive tools
39 specialty tools
1/4'' and 3/8'' quick release ratchets
One 6'' extension breaker bar
One magnetic screwdriver bit handle
Two open end wrenches
11 1/4'' drive and deep metric sockets
10 3/8'' drive and deep metric sockets
Sic 3/8'' deep metric sockets
10 screwdriver bits
12 nut driver bits
14 hex keys
Pros
The tools are very sturdy
The assortment of sockets means you'll find one that matches your current project's requirements
Easy to store behind or under car seats
The carry case is also robust
Cons
The chrome peels off easily on some of the sockets
The 1/4'' driver tool works in one direction only
Rust can easily form if the tools aren't maintained
The ratchets are small so you don't have a proper grip on them
What Consumers Say about the Craftsman 108pc Mechanics Tool Set 009-38198
The Craftsman Tool set I purchased for light maintenance on my vehicle have received high praise from others that have seen them in use! I have used Craftsman Tools for over 30 years! My Father was a Diehard Craftsman user, handed down some of his tools to me when I was in need. I cannot say Anything bad about the quality and dependability of these or Any Craftsman Tools I have used over the years! I handed down some of my tools to my Sons when they were in need of Great Tools. I was given a gift of a competition brand of Tools, thinking they just might do the job… they of course broke after a couple of uses. My fault for even thinking they would last! I will never purchase anything other than Craftsman Tools for any reason whatsoever! I have found this toolset to be both handy and dependable down to the last single piece! Thank you for making and selling such quality products!

this is really a well thought out socket set. you have basically all you would need along those lines with a nut driver too. everything stays in the case pretty well too. the fit, as always with craftsmen is perfect. the only pieces that could have been added are a knuckle joint, resizer and a couple of extenders. it only comes with one the way it is but even without those, it is a well set up socket set.

Very nice set. Two things cost the product a star: 1) The case isn't terrific, and parts will fall out. The fix is to take your time opening it, and remember to open it right side up. 2) The ratchets maybe don't fit the hand as well as they should. For the money, though, it's hard to complain. I use this set often, most recently on a brake job. Worked great. For those concerned, my set was made in China.

Can't go wrong with Craftsman! Kit was given to teenage son and I told him that this is one of those gifts that will last him a lifetime. 25 years from now it's possible he'll still be accessing this tool set to put Ikea funiture together.

Good set for a novice mechanic, does not have all the bells and whistles of a large set, but easy to fit in the trunk of my car in case of an emergency.

Mechanic Tool Set FAQ
How to Maintain Your Tools
Your tools are made with strong materials. These materials make them robust and resistant to damage and breakages. But tools are still subject to some rust forming. Rusted tools are most likely useless. For this reason, tool maintenance is essential.
Clean Your Tools
Your tools may get dirty when you use them. At the end of the day when you're packing your tools don't forget to clean them.
Don't use any harsh materials when cleaning them because it can strip away the tools' protective layers. Refer to the manual guide of your kit for suggested products to clean the particular tools.
Lubricate the Tools
Pneumatic or regular tools need to be lubricated regularly. When the tools are lubricated they'll function better and it reduces the wear & tear element.
Lubricating tools also protects against:
Use lubrications made especially for tools because they add to the protective layer.
Inspect Tools Regularly
Inspect your tools regularly for any signs of damage or faulty functioning. These effects will prevent you from completing your next tasks properly. A prime example is when a faulty screw driver makes you screw the nut in skew.
Replace any damaged and faulty tools to limit frustration and possible damages to your assets.
Always Store with Care
Tools are designed to not break or damage easily. They're hardly designed and built to be protected against rust or corrosion. For this reason, your tools must be stored in a way that protects them from dirt and rain. These elements easily cause rust & corrosion.
If you use your tools infrequently you must at least inspect them for signs of rust or corrosion every now and then. You'll see signs of rust forming so you can adjust storage conditions if necessary.
There are two commonalities between all the mechanics tool kits mentioned above. They're made with strong durable materials and they offer most of the tools general projects need. Craftsman has maintained the quality of all their products throughout its years of supplying the tool market.
Conclusion
What are your tool requirements? A tool kit will assist you with your daily tasks with an extensive range for specialized projects. A durable, diverse Craftsman Mechanics tool kit can be your solution with a good balance of quality and affordability.