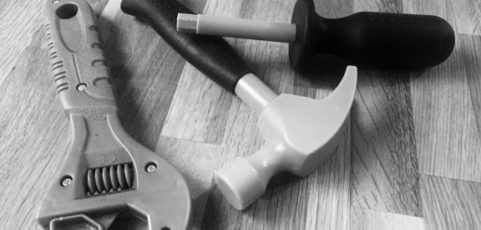 Introduction
Children and tools often do not mix since such events can likely result to the young ones getting hurt. But what if you can find a way that will allow your child to 'help' you complete simple household tasks or projects?
This is not a gimmick. The answer is simple. Just give your child his own tool set – something that looks and feels just like Dad's own tools while adjusted to fit smaller children's hands.
In this review, we will introduce five different tool set brands that you can choose from, depending on you and your child's needs.
Top 5 Kids Real Tool Sets
CP Toys Adjustable Tool Belt with Real Tools

Consumer Ratings

(3.9 / 5)
Constructive Playthings (CP Toys) has been in the business of making safe and durable children's toys and tools for many years. One of their most popular products is the Adjustable Tool Belt with 4-Piece Real Tools set (model RTL-11).
The set includes a 10-foot tape measure, a 7.5 inch flat head screwdriver, a 7.5 inch Philips screwdrivers, and a 7 inch hammer – all in a red and gray color scheme just like a grown man's set of tools. These tools can be placed or hung around the leather tool belt except for the hammer. It is constructed too big and cannot fit into the belt's hammer loop.
Aside from that, the CP Toys Tool Belt and Tool Set are non-toxic and safe for children since they are made from BPA and PVC-free materials.
This tool set and tool belt combo also works as a costume accessory for children who wish to dress up like Bob the Builder or other handy cartoon characters. And since the tools are all real, your child will not complain about having unrealistic tools.
The CP Toys Adjustable Tool Belt and Tool Set are ideally made for children ages 8 and up. Some younger children may play with the set as long as they have adults supervising them.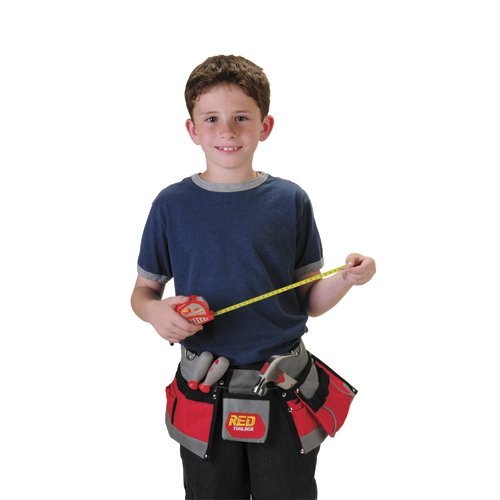 Grizzly Children's Tool Kit
Consumer Rating

(4.5 / 5)
Another popular tool set for children is the Grizzly Children's Tool Kit (model H5855). In this list, the Grizzly kits take top prize for having the highest number of included tools. It has eleven (11) pieces of tools. They are:
Tape measure
Square
Philips screwdriver
Slotted screwdriver
Hammer
Safety glasses
Level pliers
Wrench
Ruler
Carry case
Another fun thing that kids will enjoy is that the Grizzly Children's Tool Kit comes with an unassembled wooden tool box. Kids will need to construct it using their new tool set. A great start to using their tools, isn't it?
The grizzly Children's Tool Kit is also recommended for kids ages 8 and up. Younger kids will need to be supervised when using these tools. Note that all tools are real and will work just like the real thing. The only difference is their size and weight in order to fit a younger person's hands.
The use of this 11-piece tool set is a good way to enhance your child's fine motor skills and creativity during their play time or during supervised project time.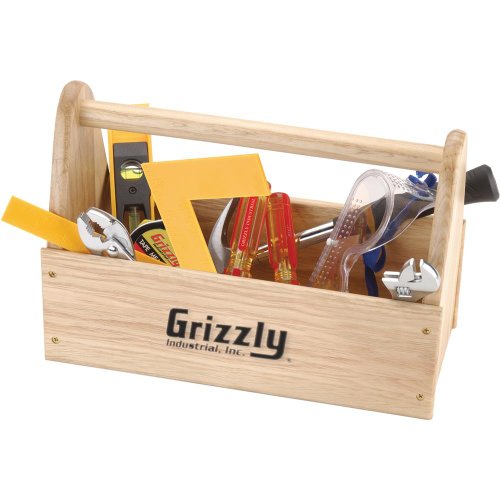 Grip 9-Piece Children's Tool Kit
Consumer Ratings

(4.6 / 5)
If you want a children's tool set specifically geared towards much younger children, then Grip's 9-Piece Children's Tool Kit is especially is for you (and your kid). The Grip 9-piece tool kit is especially made with double injected grip handles to fit the tiny hands of children aged 4 years old and up.
A Grip 9-Piece kit includes:
12 foot x 5/8 inch tape measure
6 inch slip joint pliers
5 inch long nose pliers
7 oz claw hammer
4 inch flat screwdriver
4 inch Philips screwdriver
Scissors
6 inch adjustable wrench
Comes in Blue or Pink
Just like with other tool sets, adult supervision is needed when using the Grip Children's Tool Kit. Special instructions should be made prior to the use of the scissors and other sharp-edged tools as well. And if you deem these items dangerous, you may always remove them from the kit and only allow its use when your child is older to avoid mishaps.
The Grip 9-Piece Children's Tool Kit may fit those precocious children who follow around their moms or dads and insist on helping with woodworking or basic projects. This is a great tool set to get them started on the craft instead of devoting their time on less active forms of play.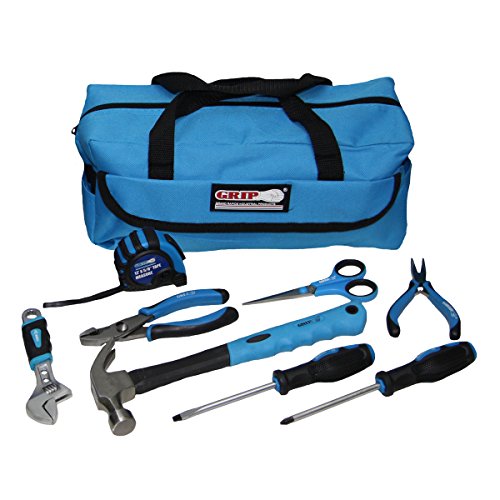 Grizzly Junior Working Too Length 12-Piece Set
Consumer Ratings

(4.9 / 5)
The Grizzly Junior Working Too Length 12-Piece Set (model H3044) is primarily a tool belt kit. It does not have the main tool kit essentials like screwdrivers and pliers. Instead, it includes a coterie of other things that are essentially found in a handyman's tool belt. Specifically, the Grizzly model H3044 tool set includes:
Safety goggles
10 inch ruler
6 oz claw hammer
6 inch try square
4 oz bottle of chalk
Pocket vinyl tool belt with 2 pouches
10 inch tape measure
Adjustable hard hat
9 inch magnetic torpedo level
Chalk line/plumb bob
Leather gloves
Suspenders
A kid wearing a Grizzly Junior Working Too Length Tool Belt with all its accessories and suspenders would definitely feel like a real handyman. All tools are real and well-made – a definitely a plus since it adds to the tool's reality.
On a side note, the suspenders that come with the set may be too short or too long, depending on your kid's height. So you may need to adjust it to ensure accurate fit.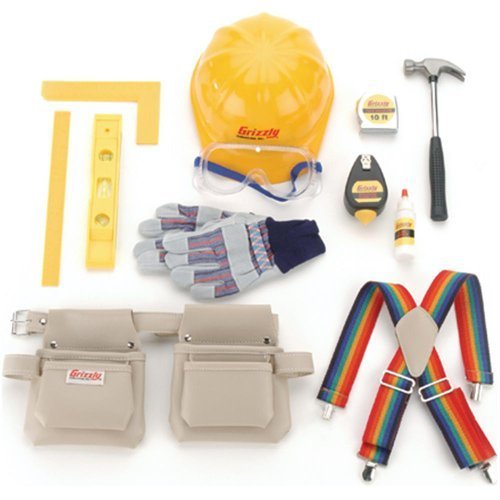 Active Kyds 9-Piece Kids Tool Set

Consumer Ratings

(4.9 / 5)
The main draw for the Active Kyds 9-Piece Kids Tool Set with Real Tools is the combination of tools found inside it. When other brand's contents are often of the same tool type/function, Active Kyds 9-Piece Tool Set consists of a realistic combination of tools just like what an actual handyman or craftsman has. These are:
Carry case
LED Flashlight (1 AA Battery Powered)
10 feet tape measure
Fiberglass hammer
Philips screwdriver
Flathead screwdriver
Adjustable wrench
Adjustable pliers
Flat-nosed pliers
Active Kyds Tool Sets are suitable for children aged six to thirteen (6-13) years old. They are constructed with rubber grips and protective covering (in the case of the tape measure) to ensure they do not cause injury or accidents. They can even be used by adults to do basic household chores. Parents can also purchase leather tool belts as an add-on.
As mentioned earlier, the Active Kyds 9-Piece tool set comes with a plastic carry case where each tool has its own specific nook for safe-keeping – a great way to teach kids organizing their things.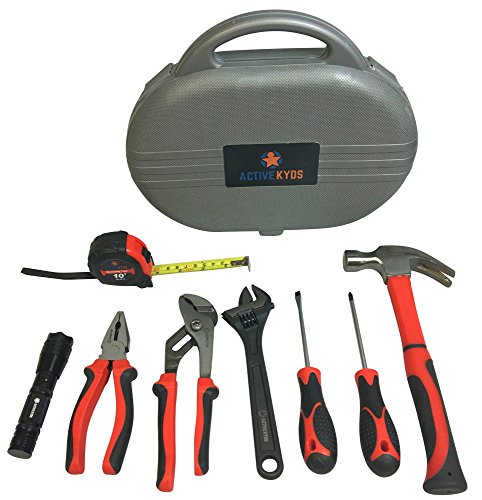 Conclusion
Children, with their own set of workman tools, do not necessarily spell trouble. In fact, it may be the opposite. With the right set of child-sized tools, your kid can help out in doing basic household or automotive chores. And along with the right set of instructions, you do not only lighten your own load, but your child will also gain confidence and learn to work hard.
Any of the children's tool sets mentioned in this list will do the job of fostering a creative play outlet for your kid. It's up to you to choose which set will fit your budget and your child's needs.