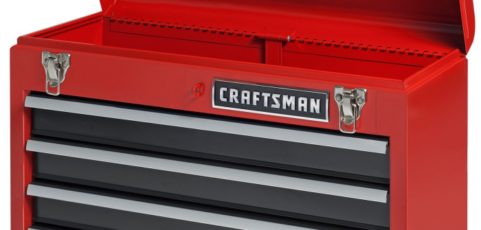 Introduction
Whether you're a full-fledged ASE certified mechanic or just a hobbyist who gets busy on the weekend, you need a safe place to store your tools and equipment when not using them. You can spend hundreds of dollars on the finest wrenches and screwdrivers your local hardware store has to offer, but it means nothing if you leave them out in the open air, where they can rust and fall and be toyed with by small hands. A quality tool box may seem hard to find, particularly if you don't have a whole lot of money to play around with, but Craftsman probably has what you're looking for.
Craftsman History
After almost a century in business, Craftsman is today viewed as the premier manufacturer of tools in the world. Its wide array of ratchets, wrenches, and similar devices has helped turn many a young mechanic from a novice into a master. However, while the brand's tools are lauded as the best money can buy, its tool boxes are often overlooked, with many tradespeople not even realizing Craftsman manufactures such products.
Craftsman Quality
Much like its tools, Craftsman's tool boxes are built to last. Even the cheapest Craftsman tool box is composed of durable material, rendering it resistant to almost all exterior force (though some models are more resilient than others). Craftsman tool boxes generally offer multiple storage compartments, allowing you to separate your tools and organize them in whatever manner is most convenient to you.
One of the main reasons I converted to a Craftsman's tool box after using a generic model for several years was the peace of mind that Craftsman's models provide. They offer a level of security not seen in many rival tool boxes, which is essential in an age where more and more tradespeople are losing their tools to petty thievery.
Top 5 Small Craftsman Tool Boxes
Craftsman 3-Drawer Metal Portable Tool Box
Consumer Ratings

(4.6 / 5)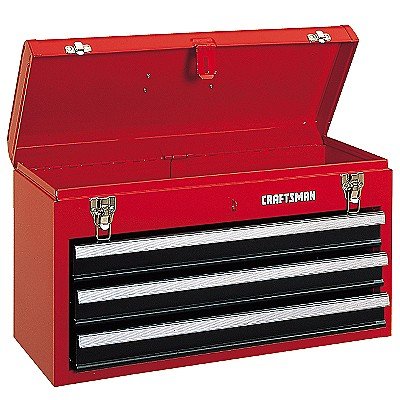 The Craftsman 3-Drawer Metal Portable Tool Box looks like the platonic ideal of a tool box. You can imagine a construction worker in the early 20th century swinging it from side to side while walking to work in New York City's morning steam. Carefully designed by Craftsman to be comfortable and easy to carry despite its heavy-duty metal body, it is ideal for hobbyists who frequently transport their tools.
Features
Heavy-duty draw bolt for added security
Ergonomically designed handle for comfortable carrying
Hasp and staple padlocks
Pros
As the name suggests, the Craftsman 3-Drawer Metal Portable Tool Box features multiple compartments in which to store your tools. This allows you to organize your tools in a manner that suits you while simultaneously minimizing the risk of your tools colliding against each other when the box is in motion.
All three drawers of the Craftsman 3-Drawer Metal Portable Tool Box will lock automatically as soon as the lid is closed, which is perfect if you're the forgettable type.
A cover hinge ensures the lid of the box remains open when it is in use, so you won't lose any time opening and closing the box every time you need a new tool.
Cons
Unlike a lot of multi-drawer tool boxes, the Craftsman 3-Drawer Metal Portable Tool Box does not contain a space specifically designed to store ball bearings, so you'll have to throw them in with your screws, nails, and similar accessories.
What Consumers Say about the Craftsman 3-Drawer Metal Chest
Excellent, heavy duty tool box. High quality sliding drawers. The drawers do not come out unless you open the top lid first. Good feature in case you are moving it around.

Great tool box strong , sturdy and very well made holds all my tools very nicely shipping was fast and packing was neat can't go wrong with craftsman very happy customer.

I was looking for a new toolbox to dedicate to my bike tools and was quite surprised when I found this one. It is nearly identical to the 4-drawer Craftsman Toolbox I bought about 30 years ago, which still looks and works great.

I think for the money this is the best portable tool chest I could find/buy. Keeps tools organized with the drawers so that you don't have to hunt for them. Painted on the inside too so hopefully it won't rust as quickly. Nice looking as well.

Best tool box ever, keeps all my heavy wrenches organized in the drawers and separate from my smaller tools. The drawers open and close smoothly, and they lock closed in place when the lid is closed so they don't slide open when carrying the tool box.
Summary
Because it is lacking in certain areas, the Craftsman 3-Drawer Metal Portable Tool Box isn't the greatest choice for professionals (don't worry, they'll be plenty of tool boxes for you a little later on). However, it is ideal for any hobbyist or novice trades person with a developing arsenal and minimal tools to store.
More Info about The Craftsman 3-Drawer Metal Chest on Amazon
Craftsman 4-Drawer Chest With Large Top Compartment
Consumer Ratings

(4.6 / 5)
The Craftsman 4-Drawer Chest with Large Top Compartment is pretty similar to the 3-drawer tool box we just looked at it. Both tool boxes include many of the same features and look almost exactly the same, spare the extra drawer on the 4-drawer model. However, while the Craftsman 3-Drawer Metal Portable Tool Box is most suited for use by hobbyists, the 4-Drawer Chest with Large Top Compartment is more geared towards professionals.
Features
Four storage drawers
Automatic locking when not in use
Top compartment for extra room
Pros
The Craftsman 4-Drawer Chest with Large Top Compartment features heavy-duty metal construction, meaning it can withstand all sorts of punishment without showing even the slightest sign of wear and tear. Like the previous tool box, it features that classic red finish.
All four drawers utilize a series of stainless steel slides to open and close. This essentially guarantees the smooth movement of each drawer for years on end.
The Craftsman 4-Drawer Chest with Large Top Compartment features automatic locking, so you never have to worry about your tools being unguarded when you're not using them. Furthermore, if you are the paranoid type, this tool box can be sealed with a padlock for heightened security
Cons
When you go with the Craftsman 4-Drawer Chest with Large Top Compartment over the Craftsman 3-Drawer Metal Portable Tool Box, you are essentially just paying for an extra drawer in which to store your equipment. Despite this, this tool box sells for almost $10 more than its 3-drawer counterpart.
What Consumers Say about the Craftsman 4 Drawer Chest with Top Compartment
This is exactly what my husband needed it was a good surprise he loves it I highly recommend to everyone to buy this at the fraction of the price it's a keeper.

Sturdy but light weight and Good arrangement on the drawers for normal hand tools. I put rubber feet on the bottom to keep it from sliding.

This fits my 23pc screwdriver set, 6 pliers, 20oz hammer, staple gun/staples, bone wrench, tape measure, as well as many other tools. VERY heavy when fully loaded, but the handle can "handle" the weight.

Hand tool organizer. I've always liked Craftsman products. This is no exception. It's heavy when fully loaded. Not recommended for portable use.

I have this box to use as a stationary box at work…. it has a nice top section and the drawers slide nice. I like the lock latch for you to put your own pad lock on. I would not use this box to throw around in a back of a pickup…. if you want a throw around box, spend more and get a heavier gauge steel.
Summary
Truth be told, Craftsman has manufactured better professional tool boxes than the 4-Drawer Chest with Large Top Compartment. However, this model is ideal for young professionals or seasoned veterans who are overrun with tools and need an extra storage container.
More about the Craftsman 4-Drawer Chest on Amazon
Craftsman 13 Inch Tool Box With Tray
Consumer Ratings

(4.3 / 5)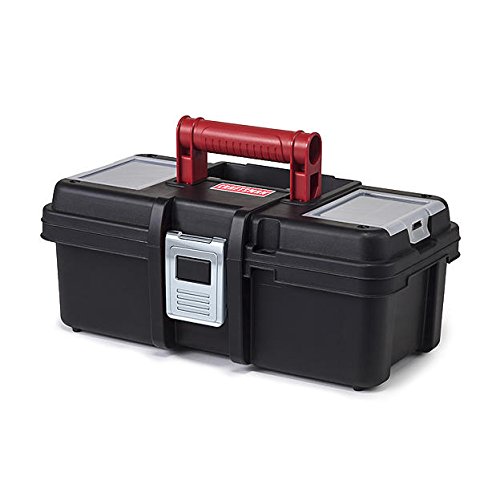 The Craftsman 13 Inch Tool Box with Tray is one of the more simplistic Craftsman tool boxes to appear on this list. Unlike the previous tool boxes, this model does not feature steel construction and is instead composed of plastic. However, its plastic shell provides phenomenal protection, making it a great choice for housing your tools beneath the sink or in your home garage.
Features
Dual integrated lid compartments
Inner removable utility tray
Metal lid stopper to keep box open when in use
Pros
Despite being manufactured by an internationally beloved brand, the Craftsman 13 Inch Tool Box with Tray sells for the price of a generic tool box. Available for less than $20, it's a great choice for anybody who wants to experience that legendary Craftsman dedication to quality without breaking the bank.
With multiple storage compartments located within the box and two integrated lid compartments, this tool box makes it possible to store your tools and your accessories in the same place.
Because of its plastic body, this tool box is remarkably easy to clean. Any dirt or grime which develops on its exterior can be easily removed with a cloth, preventing rotting and peeling.
Cons
The Craftsman 13 Inch Tool Box features a metal lock, which is designed to increase the security of the case. However, the metal doesn't work too well with the plastic body and can be a bit of a challenge to open.
What Consumers Say about the Craftsman 13 inch Portable Tool Box
This toolbox is perfect for small tools and stuff. It is sturdier than a lot of the other junk plastic tool boxes being sold today.

This is of adequate quality, and will probably last a very long time. I give it five stars.

Perfect little box for all my little tools!

I purchased this for smaller tools (although it could easily hold regular sized tools too). The box seems sturdy. The clasp/lock is metal which means it likely won't break but is a bit rough.

There are two small flat compartments on the top of the lid which are great for small screws/nails but not sure the plastic lids will last with wear. Overall, decent for the price.
Summary
The Craftsman 13 Inch Tool Box probably won't have any value to you if you're a professional, but hobbyists and DIY enthusiasts will have a difficult time finding a tool box more suited to their needs. With countless storage compartments and a sturdy outer shell, this tool box is practically a miniature garage.
Check out More Info about the Craftsman 13 inch Tool Box on Amazon
Craftsman 6-Drawer Heavy-Duty Top Tool Chest
Consumer Ratings

(4.5 / 5)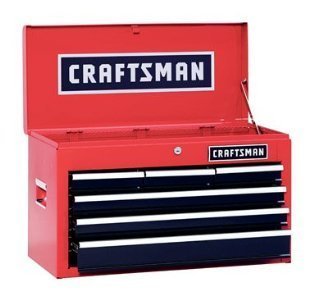 If you weren't sold on the 3-drawer and 4-drawer tool boxes we looked at earlier on, this model may be more up your alley. The Craftsman 6-Drawer Heavy-Duty Top Tool Chest is designed specifically for professionals and promises all the convenience and storage space you need to adequately provide your services while continuing to win clients.
Features
6 storage drawers
Heavy-duty construction
Recessed aluminum side handles
Pros
The obvious benefit of purchasing the Craftsman 6-Drawer Heavy-Duty Top Tool Chest over the 3-drawer or 4-drawer models that I showed you earlier on is the extra storage space it provides. Unlike its predecessors, this tool box features a drawer exclusively designed for ball bearings.
Among its many compartments, the Craftsman 6-Drawer Heavy-Duty Top Tool Chest features a couple of split drawers, which are intended to house those small parts that become impossible to find when stored among wrenches and screwdrivers and other large tools.
While most Craftsman tool boxes offer quality security, this model goes above and beyond. This tool box features a keyed internal locking system, which provides increased security by ensuring only those who have the necessary keys can gain access to it.
Cons
Many Craftsman customers have complained that this unit is not level when left to stand on its own. Even on a flat surface, you can expect this tool box to wobble, which is far from ideal if you're trusting it to store your most valuable and delicate tools.
What Consumers Say about the Craftsman 6 Drawer Heavy-Duty Tool Chest
I have owned the lower unit for years but never had the match for top. This was a perfect fit at 29 inches and looks and works awesome. I do not understand the negative comments as all the drawers and locks work perfectly. I would not be afraid to purchase this unit. You will not regret it at all. I cannot believe how much I can load into it. Buy it.

Love this toolbox, is great for new DIYers and it's big enough to grow with you as you add more tools. Is solidly built and has a great look.

This is a great box. It's a step up from the lower line(junk). Don't buy below this item, don't go any cheaper. This is the best for the least.

I have been wanting a tool chest since buying my new house and found this little gem. Came assembled and with sturdy Styrofoam packing, so no damage on it.

Matches perfectly with the Craftsman 26in 4-drawer Heavy Duty Ball Bearing Rolling Cabinet. Overall, fit and finish are good. Drawers are sturdy and slide in/out easily. Perhaps best of all, NO assembly required!
Summary
The Craftsman 6-Drawer Heavy-Duty Top Tool Chest has long been a favorite of professionals the world over and only continues to grow in popularity. Particularly dedicated hobbyists will also benefit from purchasing it, but they should be warned that it is the most expensive tool box to appear on this list.
View more Info and Reviews of the Draftsman 6 Drawer Tool Chest on Amazon
Craftsman 18 Inch Tool Box With Tray
Consumer Ratings

(4.5 / 5)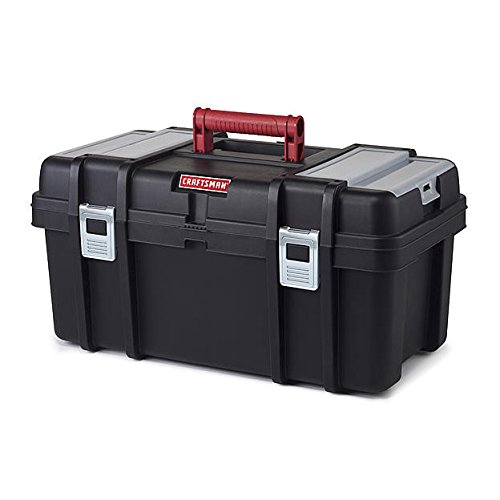 The Craftsman 18 Inch Tool Box with Tray is quite similar in design and presentation to the 13 inch tool box I showed you a couple of entries ago. The most notable difference between the two models is the size, with this one offering five more inches of storage than its predecessor. If you have a large amount of tools to store or plan to continue to build your collection, this model is the way to go.
Features
Durable and easy-to-clean exterior
Removable lid
Ergonomically designed handle for easy and comfortable transportation
Pros
As the name promises, the Craftsman 18 Inch Tool Box with Tray comes fitted with an 18 inch tray for extra storage. The tray, which can hold everything from bolts to screwdrivers, is fitted with a handle of its own, so it can be easily removed to grant access to the larger tools in the deep compartment below.
Similar to its predecessor, the Craftsman 18 Inch Tool Box with Tray boasts a sturdy plastic body that requires virtually zero effort to maintain and can be easily cleaned with a damp cloth.
Weighing in at just over four pounds, the Craftsman 18 Inch Tool Box can be carried from job to job without any discomfort in your wrists or arms.
Cons
Unlike many of Craftsman's most beloved products, the Craftsman 18 Inch Tool Box with Tray is not manufactured in the United States of America.
What Consumers Say about the Craftsman 19 inch Tool Box
Basic tool box for different random tools and has some screw/nail slots to boot.

Good quality and many compartments (my husband loved it too).

The tool box was just what I needed and nicely fits all of my tools with some space left over. Very pleased with the organizational compartments on top as well.

These are the nicest 19″ boxes I've had yet. The box has a nice big handle with a comfortable grip for easy carrying and the top has two separate compartments with lids for storing or organizing small items.

The box also somehow seems more cavernous than my other boxes of similar size. The two front latches seem solid so shouldn't unexpectedly open and spill the contents. All in all this is one nicely designed tool box.
Read more about the Craftsman 19 inch Tool Box on Amazon
Summary
The Craftsman 18 Inch Tool Box with Tray is essentially its 13 inch predecessor on a larger scale. Those who wish to someday earn a living from their love of DIY will benefit immensely from purchasing this model over its 13 inch alternative as it promises the room needed for the development of an arsenal.
Final Verdict
If you go with a flimsy tool box for the sake of saving $20, you will see your tools damaged by the slightest bump. If you resign yourself to paying a little extra, however, you can be certain that your tools will be protected against all threats.
Any of the Craftsman tool boxes featured here will serve you well, although a professional should pay careful attention to the 6-Drawer Heavy-Duty Top Tool Chest. A hobbyist with a limited budget will be just fine with one of Craftsman's plastic tool boxes and will have multiple sizes to choose from.