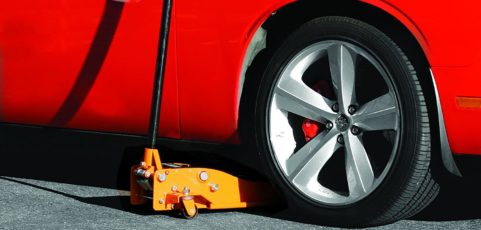 If you're an automotive mechanic or weekend do it yourself-er then you likely already know how helpful the convenience of having a properly working floor jack is. But when it comes time to picking a good low profile floor jack it can be a hard decision when you have so many different brands to choose from, not to mention you probably cannot afford to spend nearly a thousand dollars on one that is overkill for your needs.
Things to Consider Before buying a Car Floor Jack
Before buying a floor jack, you'll want to ask yourself these questions:
Do I need a floor jack that is light weight?
Do I need a floor jack that is for light duty jobs?
Do I need a floor jack that is bigger and heavier for heavy duty jobs?
How low does the floor jacks clearance need to be?
Should I choose a steel or aluminum floor jack?
How high does the floor jack need to lift?
How much am I willing to spend on an car floor jack? 
If you take the time to answer those questions first, then you'll be prepared to look through all the available car floor jacks and find just what you need. If you're willing to invest a couple hundred then you'll have a decent floor jack that'll serve you for many years to come. Keep in mind that 1 Ton = 2,000lbs and in most cases a 2 ton floor jack will support the loads of many DIYer's needs.
Finding the right Car Floor Jack for Lowered Vehicles
It's often a hassle to get regular floor jacks under sports cars and other types of lowered vehicles. If you're a DIYer when it comes time for maintenance you can't safely lift your vehicle and you may have to drive the car up on a piece of wood or try to use a ramp which in many cases the front bumper doesn't even clear. That's where a low profile floor jack is right for the job to safely lift your lowered vehicle without damaging it or yourself.
Below is a list of the top 5 low profile floor jacks that won't break the bank. You should never work under a car without a secondary form of support and that's where a set of good Jack Stands and Wheel Chocks will help keep you and your ride safe.
If you're searching for a auto garage standard low profile car jack then you'll have several viable options to choose from. Just keep in mind weather you have a classic car, muscle car, sports or import that there some specifically designed ultra low profile options available. Below is a list of the top 5 low profile floor jacks that we've found on the market today, all of which have 4 out of 5 star or higher ratings from hundreds of consumers and cost around $150-$300.
Top 5 Low Profile Car Floor Jacks
Arcan ALJ3T Aluminum Floor Jack – 3 Ton Capacity
Consumer Ratings (4.6 / 5)
The Arcan ALJ3T Floor Jack is one of the best low profile floor jacks you can find for under $300. With it's low side shirts and minimum lift height of 3 3/4 inches, it's a good option to use on most any lowered vehicles. The dual hydraulic pistons provide a smooth fast-rising lift and it's built in dust shield protects from dirt contamination. Maneuverability is easy with it's ball-bearing mounted wheels and protective saddle pad to protect your vehicles frame and other components while lifting.
One of the only negatives of the Arcan ALJ3T reported by consumers is that the robber jack pad doesn't last as long as the jack itself does. This is common among most floor jacks because there is were all the pressure of the vehicle is set while the jack is in use. The manufacturer has inexpensive replacement parts available.
Arcan ALJ3T Specifications
3-ton capacity

Only weights 56 pounds

2-pc. handle offers easy storage

Reinforced lift arm for added strength, chassis torsion control and durability

Quick lock feature for engagement and disengagement of handle halves

Dual pump pistons for fast rising action from 3.75″ to 19.4″

Piston dust shields to prevent hydraulic dirt contamination

Bypass and overload valves prevent over-extension of hydraulic ram and jack use beyond rated capacity

1-year warranty
Complies with 2009 ASME PALD Standards
Built in handles on the sides for easy carrying
Arcan XL2T Low Profile Steel Service Jack
If you're considering this jack but need it to be even lower, then check out the Arcan XL2T Low Profile Steel Service Jack which has a 2-ton capacity. It has an extra long 32″ chassis and can fit under 2.75″ high vehicles raising them up to 24″. Since it's a longer jack and made of steel it weights nearly 100lbs, which doesn't make it very portable. But if you have a very low vehicle and a little extra garage space then the Arcan XL2T might be a better option.

JEGS Performance Products 80006 Professional Low-Profile Aluminum Floor Jack
Consumer Ratings (4.4 / 5)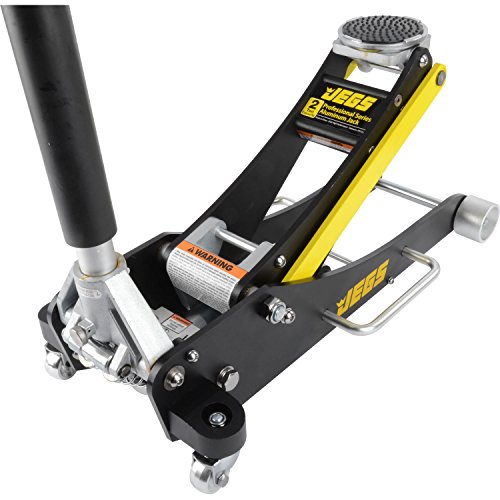 The JEGS Performance Low-Profile Aluminum Floor Jack is another great option with a great price and plenty of quality. This is made of lightweight aluminum only weighting 49lbs making it easy to maneuver and carry. It's still capable of lifting 2-tons from 3.5″ up to 19.25″. Like the some of the other jacks a padded saddle helps protect your vehicles frame and other underside components from getting damaged.
JEGS 80006 Aluminum Low-Profile Floor Jack Specifications
Lightweight Aluminum construction
Saddle rotates 360°
Minimum Lift Height: 3-1/2″ (great for lowered vehicles)
Maximum Lift Height: 19-1/4″
50″ two-piece handle with sleeve (protects vehicle during use)
Knurled grip reduces slippage
Dual side handles simplify maneuvering/positioning
Rubber lift pad prevents marring
Chassis Length: 26-1/2″
Chassis Width: 13″
Seals protect hydraulic system from dirt contaminants
Overload & bypass valves prevent jack from being used beyond its rated capacity
Sunex 6602LP 2 Ton, Low Rider Service Jack
Consumer Ratings (4.4 / 5)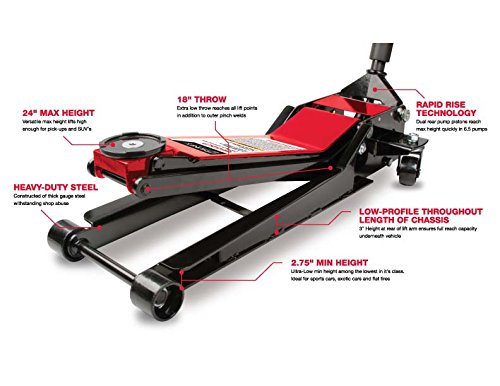 The Sunex 6602LP 2-ton Low Rider Service Floor Jack is made with an ultra-low profile having a height of only 2.75″ making it the ideal purchase for owners of sports cars, exotics and lowered vehicles. It especially handy for lifting vehicles that have flat tires. It has a 24″ max lifting height making this floor jack one of the highest lifting floor floors available at this price point. Not only will it work well on your low sports car, but it raises high enough to work well on pick-up trucks and SUV's. This is no lightweight floor jack however, weighting in at 104lbs. But if you have a little extra garage space along with a sports car and truck or SUV then you cannot go wrong purchasing the Sunex Low Rider Floor Jack.
Sunex's "Rapid Rise" technology allows max height to be achieved in just 6 1/2 pumps. The entire 36″ long chassis has a low profile design consistent throughout, allowing you to reach far beyond under the vehicle. It's backed by a 1-year "SUNEXpress" Warranty.
Sunex 6602LP 2-ton Low Rider Service Floor Jack Specifications
2.75″ min height is ultra-low and ideal for sports cars, exotic cars, and flat tires

24″ max height is versatile and lifts high enough for pick-ups and suv's

Jack weights 104lbs and has a 2-ton capacity
Low profile 36″ long chassis

Rapid rise technology with dual pump pistons reaches max height quickly in 6.5 pumps

18″ throw is long and reaches all lift points under vehicle

Saddle diameter is 4″

Low profile design is consistent throughout the whole chassis, allowing full reach beyond pinch welds

1-year warranty
Neiko Pro 20272B Premium Low Profile Aluminum Floor Jack
Consumer Ratings (4.3 / 5)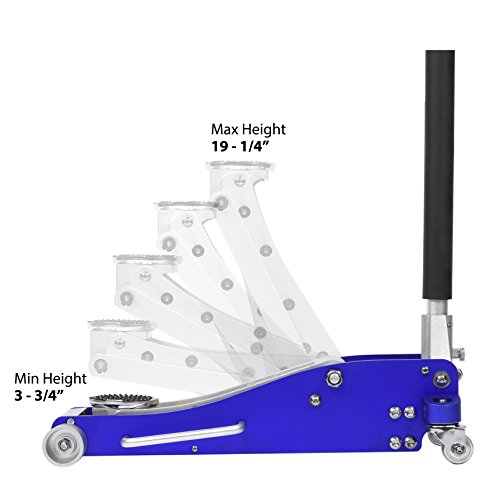 The Neiko Pro Low Profile Aluminum Floor Jack is special when compared to others at this price point, because it's meant for heavy duty use but weighs a considerably less than its competitors in this price point weighting only 57lbs. It'll lift from 3.5 inches up to 19.25 inches and it'll lift up to 6,000 lbs. The Neiko Pro's low profile design allows it to be fit underneath just about any lower ground clearance vehicles.
It's made of aluminum reducing it's weight but Neiko keeps the structure very rigged giving it a lift capacity of 3-tons. As with many other floor jacks at this price point the rubber padded saddle allows you to lift any vehicle without scratching the frame or damaging other components. It's lightweight design along with built in carrying handles make this very versatile. Overall the Neiko Pro is an exceptional floor jack for most any DIYer.
Neiko Pro Low Profile Aluminum Floor Jack Specifications
Constructed from durable industrial grade aluminum alloy with ultra lightweight design

3-tons lifting capacity

Weights only 57 pounds

Dual plunger structure provides quicker lifting

3-3/4" min lifting height to 19-1/4" max lifting height

Equipped with safety valve to prevent overloading beyond rated capacity for extra security

Rubber dotted saddle pad protects your vehicle's frame and chassis from damage

Swivel rear casters for easy positioning under vehicles

Dual sided handles for easy carrying

Ideal for tire changes and auto repair services on sedans, SUVs and racking cars in shops, garages or roadside emergencies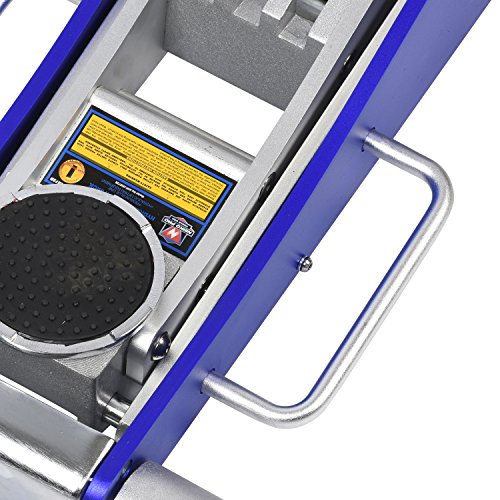 Performance Tool W1645 Professional 3 Ton Low Profile Jack
Consumer Ratings (4.1 / 5)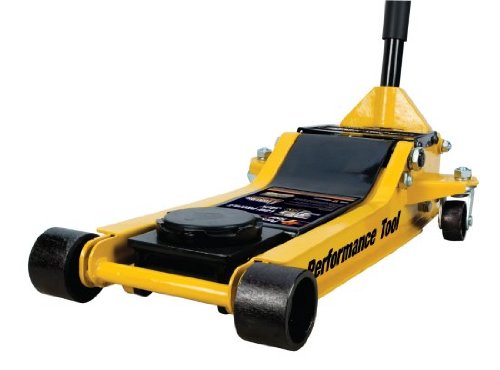 The Performance Tool Professional 3.5 Ton Low Profile Jack is the most heavy duty floor jack on our list weighting in at 100lbs with a 7,000lbs lifting capacity. It can get under 3 1/2″ vehicles raising them up to 20 1/2″. This type of jack would be ideal for bigger lowered vehicles such as pick-up trucks and Cadillacs. The swivel casters help make moving this heavy jack around easy.
Performance Tool Pro 3.5 Ton Low Profile Floor Jack Specifications
7,000 Lbs Load Capacity

Weights 100lbs
Not portable
3 1/2″ min height
20 1/2″ max height

Extra-wide steel casters for stability.

Double-pump mechanism for quick lifting

Rubber saddle protective pad included

Over load protection bypass valve for safety

Swivel casters make for easy maneuverability

Two piece steel handle for a sure grip, equipped with foam bumper to prevent damage to vehicle.

Industrial quality for professional mechanics and hardcore automotive enthusiasts.