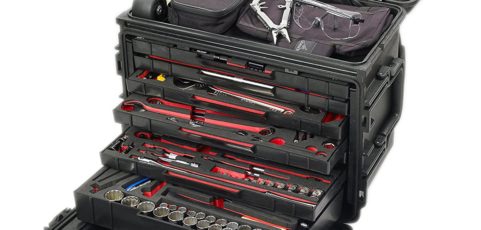 Armstrong Industrial Hand Tools is a leading manufacturer and distributor of manual labor tools. It primarily serves industrial markets, but has since developed a growing demand from users in the aerospace, military, utility, and energy markets. Its products range from wrenches, ratchets, clamps and sockets to specialized tools like screw extractors and flange spreaders. The company also produces professional tool sets, tool boxes, and storage chests.
Brief History
The company has roots dating back to 1890 when four brothers of Scottish descent opened the Armstrong Bros. Tool Co. in Chicago, Illinois. Initially, it served customers as a bicycle repair shop which also manufactured and distributed bicycle parts. But it was ten years after in 1900 when the brothers decided to completely devote their time to manufacturing tools and tool holders.
Today, Armstrong Industrial Hand Tools remains to be one of the pioneers in the tool making industry. It has celebrated 125 years of being in the business in 2015, and boasts a wide selection of about 4,000 different products. It is currently owned by the Apex Tool Group.
Quality Control
The company's claim to fame rests with manufacturing what are recognized as the World's Finest Sockets, World's Finest Ratchets, and World's Finest Wrench. It prides in producing all of its tools with the best material, and through a strict quality control process. Armstrong Industrial Hand Tools likewise promises to deliver hand tools which are reliable, durable, and uncompromising strength.
What Customers Say
Customers applaud the company for producing value-for-money tools and tool sets. They especially like how the company offers a diverse range of tools, which provides them with different options for varying situations. They also like how tools have a clean chrome finish, and how handles are curved to perfectly adjust to a person's grip.
Customer Service is also highly praised. On certain occasions when customers receive defective items, concerns are promptly addressed and replaced as soon as possible. This also owes to the fact that the company promises that all of their items are warranted for life against material and workmanship defects.
On the average, clients have rated Armstrong Industrial Hand Tools with a score of 4.1 out of 5 stars. The statistics is generally affected by the minor setbacks caused by overlooked faulty deliveries, which are often replaced on time. Overall, this score reflects a general satisfaction rating from customers.
Production
The Armstrong Industrial Hand Tools is proud to say that all their products are made in the United States of America. The company promises that its tools are made from quality steel, and only goes through state-of-the-art manufacturing which includes a Heat Treat Process to offer long lasting durability.
For over 40 years now, the company has been producing its tools in its 400,000-square feet manufacturing facility in Sumter, South Carolina. These are then sent to another facility in Apex, North Carolina for consolidation and to further prepare it for distribution to customers.
Armstrong's 5 Best Sellers
Armstrong 52-600 10 Piece Midget Metric Combination Wrench Set
(5 / 5)
The company's 10-piece wrench set is specially designed and manufactured for precision applications. The set includes three 6-point midget wrenches and seven 12-point midget wrenches with a minimum range of 4mm and a maximum of 11mm.
Customers particularly like how the wrenches are made of high alloy steel material which comes at a portion of the price compared to competitors made of the same material. Customers likewise commend the quality and durability of the tool set.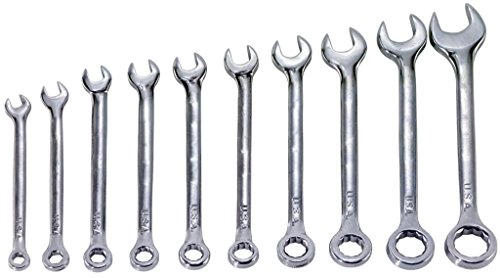 Armstrong 12-973 1/2-Inch Drive Long Handle Teardrop Ratchet
(4.9 / 5)
Armstrong's 15-inch Long Handle Teardrop Ratchet features a 36-tooth design which promises optimum torque with less effort. Due to the torque it generates, customers highly recommend this for users who work on suspension systems. Customers likewise praise the convenient on and off reversing lever to easily switch between forward and reverse modes.

Armstrong 12-992 1/2-Inch Drive Armstrong MAXX Standard Handle Ratchet
(4.3 / 5)
The company's MAXX Standard Handle Ratchet features a unique enclosed head design with no screws and two O-rings to resist contaminants. Its low profile design also helps it reach extremely confined areas. The ratchet also has on and off markings on its reversing lever for safety reasons. Customers praise the tool's hourglass-shaped handle which makes it easy to grip for minimal fatigue. The 1/2-Inch Drive Armstrong Maxx Ratchet Drive Tang Size is fully polished with a Chrome Tooth Count of 60. The ratchet angle is 6 with Quick Release. The Ratchet Head Style is a Teardrop Head with Thickness of 0.750″. Ratchet Dimensions: Standard Head Width (Inch): 1.625 Overall Length (Inch): 10.188 ASME Specification: B107.10m US Federal Specification: GGG-W-641e.

Armstrong 12-994 1/2-Inch Drive Armstrong MAXX Locking Flex Ratchet
(3.7 / 5)
The MAXX Locking Flex Ratchet features a 9-position locking flex which is particularly useful for multi-angle and multi-application purposes. Customers are satisfied with the ratchet head's low profile design which makes awkward locations reachable. Some customers report that the locking flex mechanism tends to unlock due to regular wear and tear, but can be easily adjusted back to function perfectly.

Armstrong SGMTK1 General Mechanics Tool Kit
(4.8 / 5)
Armstrong's 101-pound General Mechanics Tool Kit features seven removable foam-lined drawers and an accessory tools tray. It is especially designed to adjust to extreme weather conditions, and its rugged wheel construction makes it easy to carry in different terrains. It includes a combination of around 173 tools like wrenches, ratchets, pliers, sockets, and other general purpose tools.
Customers agree that they particularly like the tool kit because it contains everything needed to have a complete tool system. They also like how the tools stay in place even when it is flipped to its sides to be rolled down. Although some commented that the tools are not magnetic, they still highly recommend the product because of its durability.
What's in the Box
Drawer 1
Locking extension, 1/4″ Dr., 6″ long 10-927
Locking extension, 1/4″ Dr., 3″ long 10-926
Flashlight. LED. Flexible extension cable. Aluminum case. Magnetic clip.* 2366
Thickness Gage. Blade length 3-1/4″ 70-790
Handle, ratchet, 1/4″ Dr. 10-992
Handle, socket wrench, speeder, 1/4″ square Dr., screwdriver type 10-943
Key set, hex head screw, metric, ball end, 1.5, 2, 2.5, 3, 4, 5, 6, 8, & 10 mm keys* 56194
Key set, hex head screw, inch, ball end, 0.05 to 3/8″ keys* 56190
Mirror, inspection, 1 x 2″ mirror, telescopes to 17″ nominal 70-920
Rule, machinists, 6″ long, 1/2″ wide, graduated in 10ths & 100ths* 616
Screwdriver, offset, ratchet . Two blades on one ratchet handle, 1/4″ & #2 66-598
Socket wrench, 1/4″ square Dr., standard length, 12 pt, 3/16, 7/32, 1/4, 9/32, 5/16, 11/32, 3/8, 7/16, /2, 5mm, 6mm, 8mm, 10 mm, chromium finish
Socket Rail, 7″ Length 16-850
Clips for above 1/4″ Dr. sockets 16-841
Universal joint, 1/4″ square Dr., chromium finish 10-947
Adapter, socket wrench, 1/4″ Dr. to 3/8″ socket 10-952
Tamper-resistant TORX PLUS Bit, T15, 1/4″ square drive 10-873
Tamper-resistant TORX PLUS Bit, T25, 1/4″ square drive 10-877
Wrench, box , starter, half moon, 7/16 X 1/2 27-264
Wrench, box, starter, half moon, 9/16 X 5/8 27-268
Spanner wrench, adjustable hook, 3/4 to 2″ capacity 34-301
Oval sash brush* 71220
Tape Measure 12 ft./3.5 meter, self-retracting, locking blade 68-433
Drawer 2
Rolling head pry bar, 18″ long 70-515
Chisel, Cold, Hand, 3/4″ cut 70-313
File, hand, round, 8″ length, American pattern, single cut, smooth cut 16068
Mill file, hand, flat, 10″ length, American pattern, single cut, smooth cut* GOV15060
File, Hand, Three square, 8″ length, double cut, second cut* 18058
Swiss pattern hand file set, 12 files, 0 cut, 5-1/2″ nominal length* 88260
File handle. Adjustable.* 890
Punch, aligning, 3/16 point size, nominally 10″ long 70-193
Center punch, 3/8″ body size, nominally 5″ long 70-235
Drive pin punch, 1/4″ diameter tip, nominally 6″ overall length 70-131
Drive pin punch, 1/8″ diameter tip, nominally 5″long 70-105
Drive pin punch, 5/16″ diameter tip, nominally 7″ long 70-133
Long pin punch, 3/8″ tip diameter, nominally 8″ long 70-049
Brass punch, 3/4 nominal diameter, nominally 8″ long 70-291
Brass Drift Punch, 1/4″ diameter by 5″ long 70-292
Brass Drift Punch, 1/2″ diameter by 7″ long 70-293
Putty knife, 1-1/2″ wide, stiff blade, cushion grip handle 70-976
Saw, hand, jab. Supplied with one blade. 70-046
Drawer 3
Pliers, heavy duty, diagonal cutting, 7″ nominal length, cushion grip handles 67-109
Pliers, long nose, 8″ nominal length, with wire cutters, cushion grip handles 67-307
Pliers, tongue and groove, 10″ nominal length, cushion grip handles 67-779
Pliers, slip joint, 6″ nominal length, cushion grip handles 67-667
Wrench adjustable, 12″ long, 1-1/2″ jaw opening, chromium finish 28-412
Wrench, adjustable, 6″ long, 15/16″ jaw opening, chromium finish 28-406
Locking pliers. One handed release, 10″ size 67-410
Locking pliers, long nose. One handed release, 6″ size 67-436
Pliers, electrical connector. 9″ nominal length. 67-852
Drawer 4
Combination wrench, standard length, 12 point, full polish, 5/16″, 11/32″, 3/8″, 7/16″, 1/2″, 9/16″, 5/8″, 11/16″, 3/4″, 13/16″, 7/8″, 15/16″, 1″
Wrench open end flare nut, 1/2 X 9/16, 6 point 28-435
Wrench open end flare nut, 3/8 X 7/16, 6 point 28-430
Wrench, open end flare nut, 5/8 X 11/16, 6 point 28-440
Wrench, open end flare nut, 3/4 x 7/8, 6 point 28-442
Drawer 5
Combination wrench, standard length, 12 point, full polish, 7mm, 8mm, 9mm, 10mm, 11mm, 12mm, 13mm, 14mm, 15mm, 16mm, 17mm, 18mm, 19mm, 21mm, 22mm 52-222
Wrench, open end, 15 degree angle head, 1/2 X 9/16 26-067
Wrench, open end, 15 degree angle head, 3/8 X 7/16 26-043
Wrench, open end, 15 degree angle head, 5/8 X 11/16 26-094
Drawer 6
Hinged handle, 1/2″ square drive, nominally 15 inches long. ASME B107.10M 12-918
Hinged handle, 3/8″ square drive. ASME B107.10M 11-918
Locking extension, 1/2″ drive, nominally 3″ long, chrome finish 12-931
Locking extension, 1/2″ drive, nominally 10″ long, chrome finish 12-937
Locking extension, 1/2″ drive, nominally 5″ long, chrome finish 12-936
Locking extension, 3/8″ drive, nominally 3″ long, chrome finish 11-934
Locking extension, 3/8″ drive, nominally 6″ long, chrome finish 11-936
Handle, ratchet, 3/8″ drive 11-992
Handle, socket wrench, speeder, brace type, 1/2″ square drive 12-935
Socket wrench, 3/8″ square Dr., standard length, 12 pt, 5/16, 3/8, 7/16, 1/2, 9/16, 5/8, 11/16, 3/4, 13/16, 7/8, 10 mm, 11 mm, chromium finish
Socket Rail, 10″ Length 16-851
Clips for above 3/8″ drive sockets 16-843
Socket, 3/8″ square Dr. deep, 12 pt, 7/16″, 1/2″, 9/16″, 5/8″, 11/16″, 3/4″, chromium finish 11-324
Socket Rail, 5″ Length 16-849
Clips for above 3/8″ drive sockets 16-843
Hex bit socket, 1/2″ square Dr., 9/16″ hex size, nominal overall length 3″ 12-718
Hex bit socket 1/2″ square drive, 1/2″ hex size, nominal overall length 3″ 12-717
Hex bit socket, 3/8″ square drive, 5/16″, 1/4″, 7/32″, 3/16″, 3/8″, 5/32″ hex size 11-710
Tamper-resistant TORX PLUS� Bit, T40, 3/8 inch square drive 11-890
Socket Rail, 5″ Length 16-849
Clips for above 3/8″ drive sockets 16-843
Universal joint, 3/8″ square drive, chromium finish 11-947
Universal joint, 1/2″ square drive, chromium finish 12-947
Drawer 7
Hammer hand, machinist's, ballpeen, 16 ounce head 69-408
Handle, ratchet, 1/2″ drive 12-992
Screwdriver, #1 cross tip, 3″ nominal blade length. Soft handles. 66-400
Screwdriver, #2 cross tip, 4″ nominal blade length. Soft handles. 66-402
Screwdriver, #3 cross tip, 6″ nominal blade length. Soft handles. 66-404
Screwdriver, 1/4″ flat tip, 4″ nominal blade length. Soft handles. 66-441
Screwdriver, 3/8″ flat tip, 8″ nominal blade length. Soft handles. 66-445
Screwdriver, 5/16″ flat tip, 6″ nominal blade length. Soft handles. 66-443
Handle, screwdriver, ratcheting, with replaceable bit set 66-580
Socket wrench, 1/2″ square Dr., standard length, 12 pt, 3/8, 7/16, 1/2, 9/16, 5/8, 11/16, 3/4, 13/16, 7/8, 15/16, 1-1/16, 1-1/8, 1-3/16, 1-1/4″, chromium finish
Socket Rail, 17″ Length 16-835
Clips for above 1/2″ square Dr., standard length, 12 pt, drive sockets 16-845
Socket wrench, 1/2″ square Dr., standard length, 12 pt, 12 mm, 13 mm, 14 mm, 15 mm, 16 mm, 17 mm, 18 mm, 19 mm, 21 mm, 22 mm, 24 mm, chromium finish
Socket Rail, 11″ Length 16-832
Clips for above 1/2″ drive sockets 16-845
Socket Wrench, 1/2″ square Dr. deep length, 12 pt, 10mm size, chromium finish 39-310
Pliers, Wire Twister, 12″ Length 68-178
Accessory Tools Tray
Socket Wrench, 1/2″ drive, deep length, 12 point, 3/8″, 7/16″, 1/2″, 9/16″, 5/8″, 11/16″, 3/4″, 13/16″, 7/8″
Socket Rail, 8-1/2″ Length 16-833
Clips for above 1/2″ drive sockets 16-845
Socket Wrench, 1/2″ drive, deep length, 12 point, 15/16″, 1″, 1-1/16″, 1-1/8″, 1-3/16″, 1-1/4″
Socket Rail, 8-1/2″ Length 16-833
Clips for above 1/2″ drive sockets 16-845
Combination Wrench, Ratcheting, Reversible, 12 point, 5/16″, 3/8″, 7/16″, 1/2″, 9/16″, 5/8″, 11/16″, 3/4″