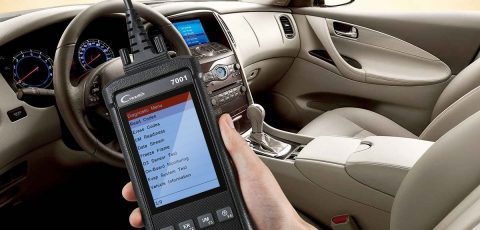 Introduction To The Best Top 5 Selling OBD II Scanner Tools
In this modern age of automobiles most everything is controlled by a central computer aka ECM, PCM, etc and they dictate how parts are to work with each other. Just as important as telling parts of the car to do something, the computer also knows when a part is malfunctioning or when a sensor isn't working within it's normal perimeters.
It's even safe to say that the vehicles of today have sensors to make sure the sensors are working right. All these electrical components work together to make sure the vehicle functionality is correct, but when things aren't correct this could potentially cause fatal problems to the vehicle.
Several years ago OBD2 scanners were expensive tools costing thousands of dollars that usually only mechanic shops had. If you were a DIY'er working on a 1996 or newer car you might of had a friend that could loan you a scanner from their shop, but most likely you had to pay a shop to diagnose the trouble codes or just play a guessing game at what was wrong with the vehicle. Now OBD 2 scanners are inexpensive and available for anyone willing to spend a couple twenties or a couple hundreds depending on the functions you're looking for.
Any DIY'er or hobbyist can now have a OBD 2 scanner and it not only helps diagnose a vehicles problem but it also helps save hundreds of dollars in parts swapping along with the time to do such a thing. Many of the newer OBD 2 scanner models have Bluetooth adapters and capabilities.
With our information and top five chart below we'll help you figure out which ODB2 Scanner mechanics tool is best for you. Each of the top five will be summarized below with links to complete reviews and amazon prices. Reference the Table of Contents below to see if anything interests you.
Top Five Mechanic ODB2 Scanner Tools List
Important Notice
On Board Diagnostics 2 (OBD 2)  took effect in 1996 and any vehicles built before this time will not be compatible with any OBD 2 scanners. Also some of the more basic scanners will not work with some of the more sophisticated automobiles, so be sure to check for compatibility before making a purchase.
Things to Consider for our Top Rated ODB2 Scanners List
Cost
Sure there are ODB2 scanning tools that costs thousands, but those are for the big professional mechanic shops. For the DIY'er most of the functions those come you'll never need to use. So with our Top 5 List we've picked out the best rated scanners that don't costs thousands or even hundreds.
These scanners all work great for the general purpose of simply checking trouble codes, along with some deeper scanning capabilities that one might need like checking engine rpms, spark and electrical voltages.
Features
Even some of the cheapest ODB2 scanning tools have extra features. You've covered all of the features of the top five scanners on our list. If you want to dig deeper into the computer than just trouble codes you have no worries, because some of these scanners can do just that.
While reviewing our top 5 list, you'll see some scanners with bare-bone functionality and some scanners that are feature packed and can tell you MUCH more than you'd typically need to know.
Innova 3100j Diagnostic Code Reader / Scan Tool with ABS and SRS
(4.4 / 5)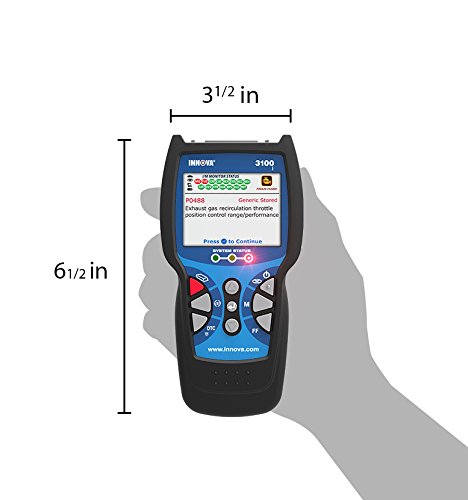 If you've been using INNOVA products, you know they are known for being reliable and possessing a high degree of quality. Here is another product from them that you can put your trust on.
Pros and Cons
Advantages would be:
Ease of use – The screen menu is readable and easy to understand. The codes are also easy to understand. If something gets to the point where it is confusing, you can access the company's support service for assistance.
A lot of information to give – It gives more information about the vehicles than other brands can give.
Cuts down cost – It can cut down maintenance cost and prevents you from having costly repairs in the future.
It is very light.
Some minor issues would be:
This scanner must be removed from the OBD2 link after use.
You will have extra expense for printing scanning results.
The front part of the device is a little complicated for the eyes to look at. You probably need time to get good familiarity with the buttons.
Latest Amazon Price Read the Full Review
Veepeak OBD2 Scanner
(4.4 / 5)
Thanks to code scanners, it is now easy to identify troubles without going to the mechanic. Check out this unit from Veepeak. Customers say it is easy to use, is compact and clear codes up in no time.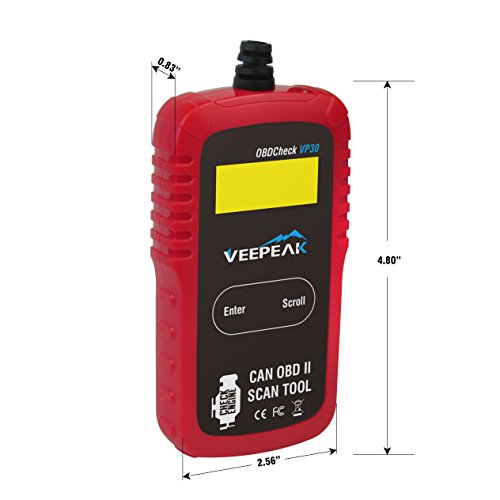 Pros and Cons
Advantages and disadvantages for this product are:
Using it is easy. The LCD display is easily readable and the codes are not difficult to understand.
It's small and light.
For multiple car owners, it is something they can use with all their vehicles.
Some protocols may be difficult for you to understand. In that case, you may need to get in touch with their customer service representative and ask them on how to get started.
The little booklet does not contain all codes. If a code is not written, you will have to perform a search engine check. Hopefully it doesn't give you codes that are not written there many times.
Latest Amazon Price Read the Full Review
Autel AL519 AutoLink OBD II Scan Tool with Mode 6
(4.5 / 5)
The AutoLink AL519 OBDII/EOBD Scanner supports all 10 modes of OBDII test for a complete diagnosis. Featuring the unique patented One-Click I/M Readiness Key, TFT color display and built-in speaker, the AutoLink AL519 is truly the ultimate in power and affordability, allowing users to do their jobs faster. In addition, thousands of troubleshooter code tips help technicians to save diagnosis and repair time.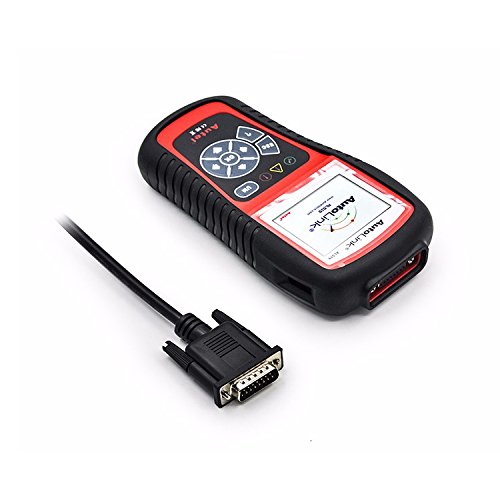 Pros & Cons
Advantages you'll get:
It will save you huge amounts of time money usually spent on visiting the repair shop. If the issue's nothing serious at all, the device can read the code and possibly fix it for you. You'll cut down on car expense and spend the money on other important needs.
There will be no interference happening on other systems of your car when it starts reading error codes and even when it is already correcting your issues.
It is guaranteed to work on all models made from the year 1996 and up. If you are a multiple-car owner, this tool is a good one to consider.
Some minor issues:
The update requirement before first use might give you trouble. If you don't have extra time for that, you need to talk to someone else, probably your assistant, to do it for you.
This device isn't a highly-advanced tool giving everything that you need to know about your car. Don't get frustrated if it can't give you the rpm of your vehicle or other gauges.
Latest Amazon Price Read the Full Review
Actron CP9125 PocketScan Code Reader
(4.6 / 5)

The CP9125 is an easy-to-use tool for novice and moderately experienced do-it-yourself mechanics. Even better, it comes with a 1-year warranty. The highly compact CP9125 fits in the palm of your hand and quickly and easily links to your vehicle. Plus, the tool is updateable, offering compatibility with future vehicles.
Pros and Cons
Pros:
It's easy to use, so it's perfect for all novice and moderately-experienced DIY mechanics. The codes are easy to read because of the wide screen and the large characters on the codes.
Remember that it is up gradable. It means you can use it for car models which will be released in the future.
Take note of the limited warranty. Other units don't have this advantage.
Cons:
Even with the additional codes it can read that are not written on the guide book, the scanner is lacking in reading codes. Check out its ability on the power train codes, if you need a better reading ability.
The cord it comes with and links with the OBD2 system might be too short for you.
Latest Amazon Price Read the Full Review
Ancel AD310 Classic Enhanced Universal OBD II Scanner
(4.7 / 5)

The ANCEL AD310 Scanner works on all OBDII Compliant vehicles. It's affordable, easy to operate and scans faster than Bluetooth OBD2 scanners.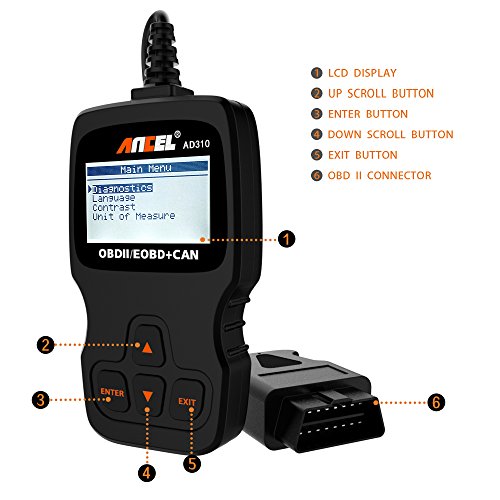 Pros & Cons
One of the pros of this product is its readability. There is no doubt that the display was designed to make instructions easily decipherable. The use of plain language is also very helpful.
Other scanners require using a mobile phone for operations. This scanner does not. For some, that's an advantage because they don't have to have extra expense for a phone to use for this purpose and that they don't have to look for the phone every time the check engine light shows up.
One con would be the small printed letters in the manual. One customer said that the kind of printing renders the manual useless altogether.
Another feature that this scanner lacks is the ability to diagnose a car's ABS system. If you have that kind of need, you have to look at units that accommodate your need.
You also have to check first if it is compatible with your car. It is not compatible with some models from Nissan and other car brands.
Latest Amazon Price Read the Full Review
Conclusion
One of the most common issues that can occur with any automotive engine is lowered performance and decreased gas mileage. Usually these things happen when injectors are dirty, air filters are clogged, sensors go bad or spark plugs are wore out just to name a few. Having the right trouble code scanner can help you fix those problems faster and cheaper. Please comment below if you have any questions.