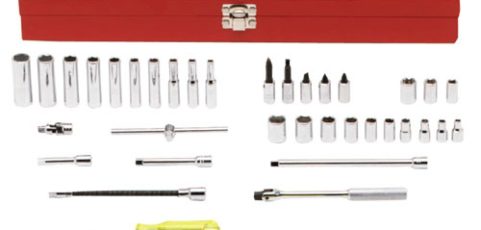 Stanley Proto Industrial Tools, also commonly known as Proto, is an American producer and provider of industrial hand tools. It is especially known for introducing the first ever line of combination wrenches. The company also sells master sets, storage tools, torque tools, and specialty tools. Its current headquarters is in New Britain, Connecticut.
The company's tools are most notable for helping build the Golden Gate Bridge in San Francisco, and the Apollo 11.
Stanley Proto History
The company dates back to 1907 as Plomb Tools. It was founded by Alphonso Plomb, Jacob Weninger, and Charles Williams. Its first location was a blacksmith shop in Los Angeles, California which also made punches and chisels from axles.
The first combination wrenches were designed by Alphonso Plomb and were introduced to the market in 1933. In 1948, the company officially began using the Proto name which is derived from the first letters of the words "professional" and "tools".
Proto is currently owned and operated by Stanley Black & Decker, Inc., which is listed as one of Fortune 500's leading manufacturers of industrial tools and household hardware.
Quality
Stanley Proto prides itself in manufacturing tools which are synonymous with quality and reliability. The company recognizes that its tools must be able to function properly despite harsh climates in heavy duty industries. They promise to have their tools forged from the highest quality of alloy steel for maximum durability and strength.
Customers have expressed their satisfaction with how the tools have a decent build and a professional chrome finish. They also like the fact that its wrenches and ratchets have lasted for years, and only showed minimal signs of regular wear and tear. However, what customers claim to be the best about Stanley Proto tools are its wide product selection and budget-friendly prices.
The average customer score for Stanley Proto products is 4.7 out of 5.0 stars. This reflects how customers are genuinely satisfied with the brand's overall product durability, quality, strength, and usability. Tool sets were the items often receiving less than five stars because some customers claim that the socket holders did not match the size of the sockets. Other than that, tool sets also receive a generally high rating compared to other brands in the market.
Production Process
Stanley Proto proudly claims that during the manufacturing process, it makes sure that all tools meet and exceed the standards set by the American National Standards Institute or ANSI. All their tools are forged from high alloy steel material and is heat treated for high performance and strength.
The company makes sure that their products are manufactured in the United States of America so it can easily supervise the quality control process. The company also recognizes that the growing demand for their products also made them outsource their production from time to time. Nonetheless, they still strive to maintain the same quality as if the tools were made in the USA.
Stanley Proto's Top 5 Best Sellers
Stanley Proto J5249XL 3/8-Inch Drive Premium Pear Head Ratchet
The Stanley Proto J5249XL Ratchet features a unique pear-shaped head which has convenient access to hard-to-reach areas. This 45-tooth gear is 8.5 inches long, which provides balance and high torque capacity.
Customers especially like the J5249XL Ratchet's compact head and professional chrome finish. They also note the ratchet's contoured handle which allows a more comfortable grip.

Stanley Proto J5100 3/8-Inch Drive Torque Adapter Set, 12 Point, 9-Piece
The company's 9-piece Torque Adapter Set is forged from special alloy steel material which promises strength and durability. Customers recommend this product because it offers a more complete set compared to its competitor brands. It also features sizes ranging from 3/8 inches to 7/8 inches.
Customers also like that the storage bar keeps the wrenches in place but also allows easy access to each wrench. However, some customers have reported that they noticed minor chrome plating blemishes on some wrenches, but these nonetheless remained strong and delivered excellent performance.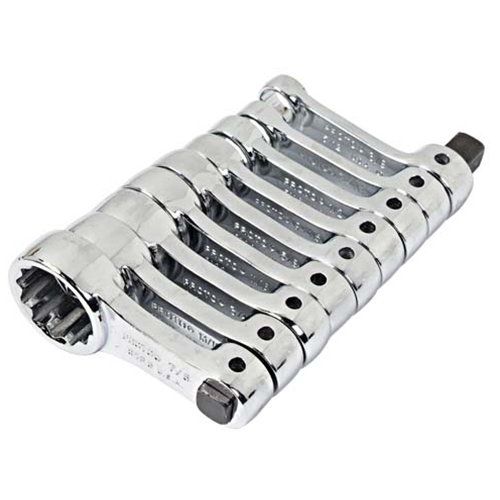 Stanley Proto J5450BL 1/2-Inch Drive Long Handle Classic Pear Head Ratchet
The 16-inch J5450BL Ratchet is made of alloy steel with a black oxide finish. It is built to have a 24-tooth design and allows an arc swing of about 15 degrees to have easy access in narrow areas. It also features a reversing lever design to allow switching
Satisfied clients have remarked how the ratchet's long handle makes it easy to grip. They have also noted that its pear-shaped head is smaller than other ratchets, which is an advantage for reaching deep areas. Some clients have also aired concern about losing a tooth after several uses. However, these are rare cases.

Stanley Proto J7099A 13 Piece 3/8″ Drive Hand Impact Driver Set
The J70990A is a 13-piece driver set containing a driver and 10 bits. It also comes with two bit holders and a case. Customers commend the driver's special design which offers a smooth and easy socket engagement. They also like how it delivers exactly how it is advertised – to loosen bolts and nuts which are hard to remove.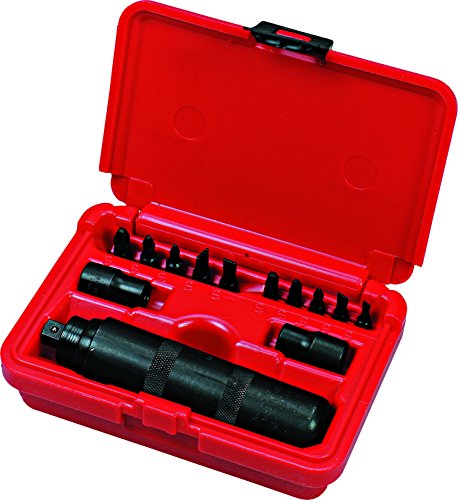 Stanley Proto J49007S2 Roll Pin Punch Set, 7-Piece
This set is made with a Black oxide finish which is specially designed to resist corrosion and rust extending the live of the tools. The roll pin punches are made with a reverse taper to help prevent binding along with a modified parabolic striking end which helps reduce mushrooming and chipping. These punches are a one piece design made from S2 steel that are specially heat-treated providing greater strength and durability. Best of all the Stanley Proto Roll Pin Punch Set is made in the USA!