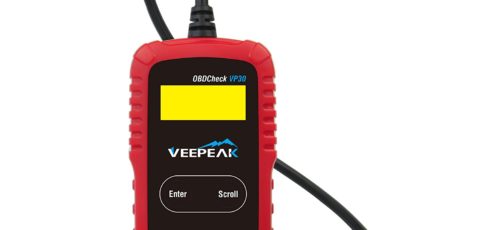 Fixing car problems is costly and time-consuming. Thanks to code scanners, it is now easy to identify troubles without going to the mechanic. Check out this unit from Veepeak. Customers say it is easy to use, is compact and clear codes up in no time. Check out the Table of Contents below if you want to skip through our review.
Unit Size and Display
This scanner is way smaller compared to other units. The dimensions are only 9.6 x 6 x 1.5 inches. It weighs 8.8 ounces. Converted to kg, that will be just less than a quarter of a kilo.
The LCD display is easy to read. It is supported by a backlight and the screen shows only 2 lines every time. You will have to scroll down for looking through the list of identified codes.
Vehicle Compatibility
The scanner matches all vehicles made in 1996 and in the years after. For Canada cars, supported models are those that were manufactured from 1998 onwards. There is no limit on car brands. It supports KWP 2000, ISO, PWM, VPW, and CAN protocols. All imported and domestically-manufactured vehicles are supported.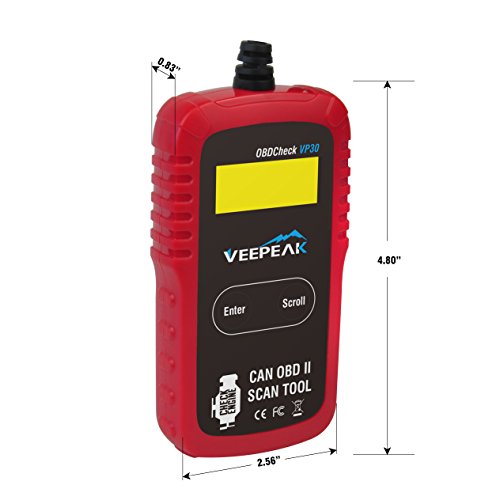 Features and Benefits
This scanner is small in terms of size, but you will be surprised on the magnitude of information it will give you. You just plug it into your OBD2 connector for quick diagnosis of your car's problem. Here are more features:
It can identify engine codes for troubles and erase the codes afterwards. It also checks for DTC codes and the definitions for them.
It can review the I/M readiness of your car.
It your cost-efficient solution because it functions like many expensive scanners. It is one of the cheapest scanners around.
There are no batteries needed to operate this scanner. Power source is your vehicle's battery. Just plug this scanner into your OBD2. Also, it can be operated without an additional device like a laptop or a mobile phone. The device can also be used with additional devices and software.
It comes with a 30-day guarantee. The manufacturer also offers a one-year replacement warranty.
For the benefits:
This scanner is safe to use with your car's on-board computer.
It will save you money and time in times when you need to renew your car's registration. This is because you will be able to assess your I/M readiness and emission readiness using this scanner.
It can save you hundreds in trips to your dealer or mechanic. If the problem is not too serious, this device will just clear the error. It will save you time spent for diagnostics.
It can be used in multiple ways and with or without additional devices.
You don't need to change batteries like you do with other gadgets. Since it doesn't need batteries, you will not have to purchase them or recharge them.
This device will help you ensure that you're engine is in a tip-top shape all the time and keep you from having costly repairs in the future.
It is very easy-to-use. If you are a DIYer, you'll appreciate the simple-to-understand menu and explanations of codes.
You have the warranty and guarantee as your back up. In case it doesn't work with your vehicle or you are not satisfied with its performance, you can return the unit and get your money back.
It has an on/off button, so you don't need to unplug it from the OBD2 link after using.
App/Bluetooth Compatibility
There are two ways of using this scanner. You can plug it into the OBD2 or use your Bluetooth device. Setting up is easy. Just plug the scanner into the OBD2 connector, wait for it to set itself up and then connect your mobile phone or laptop.
For apps, you can try using the Android app smart control or and the torque pro or lite. For iOS users, the supported apps would be OBD car doctor, dashcommand, OBD fusion and so on. Make sure to call Veepeak customer assistance in case you are confused with compatibility. The company has great customer support service.
What Customers Say
Many customers feel good about this product. Here are some of the things said for this scanner.
The low price is something that takes buyers aback. It is too low compared to others. However, because of the high review ratings, they end up buying and eventually using it.
The easy to do operations make it highly recommendable for DIYers.
The Bluetooth capability and the ability to accommodate many apps for android and iOS users have been highlighted a lot.
Some users appreciate that they don't have to unplug it when done with an inspection or a check for codes. There are customers who want to use it as often as they can.
This scanner has also received commendations for being able to provide a lot of information about the vehicle.
A major complaint about this product is that it doesn't work with vehicles of some users. If that is happens to you, all you have to do is ask assistance from customer support. Worst that can happen is that you will return the product because it will not work with your vehicle no matter what you do or despite getting assistance. There are other models you can try, although not as cheap as this one from Veepeak.
Pros and Cons
Advantages and disadvantages for this product are:
Using it is easy. The LCD display is easily readable and the codes are not difficult to understand.
For multiple car owners, it is something they can use with all their vehicles.
Some protocols may be difficult for you to understand. In that case, you may need to get in touch with their customer service representative and ask them on how to get started.
The little booklet does not contain all codes. If a code is not written, you will have to perform a search engine check. Hopefully it doesn't give you codes that are not written there many times.
Conclusion
It is not easy to comprehend why the manufacturer of this scanner is offering it a very low price. When you think about the wonderful features, the functionality and the huge amount of information that it can give, all the more that you will think that it deserves to have a higher price.
The tool's also meant to give you peace of mind in many occasions. You can have your vehicle checked for I/M readiness before renewing your registration. You can have daily checks to assess the condition of your car.
If you know your car is always in a good condition, you will not have to worry about accidents or troubles connected with faults in the engine or in the transmission. You can save yourself from future costly repairs. The device will teach you how to take good care of your car and tell you when parts need to be replaced.