The Williams brand of tools is historically known as the J.H. Williams Tool Group. Today they are part of the Snap-on Industrial Brands group, which includes other notable brands such as CDI Torque Products and Bahco.
Williams is actually one of the most notable brands in the American industrial history. Today, the company manufactures some of the most trusted tools. They distribute tools for home users and they serve the US industrial market as well.
Company History
Matthew Diamond and James Harvey Williams initially founded a drop forging business way back in 1882. The company started out in Flushing, Queens. However, in 1884 the company relocated to Brooklyn. In 1887 the company then changed its name to J.H. Williams & Co.
They were one of the first enterprises to offer drop forged hand tools on a mass produced scale. The business was quite successful and a second factory was established in Buffalo, New York in 1914.
In 1993 the company was acquired by the Snap-On group. In 2011 the company was renamed as Snap-on Industrial Brands.
Williams Brand – The Products
Wrenches: The company offers a rather large selection of wrenches that tackle a lot of different tasks – some maintenance tasks that these tools are designed for vary in difficulty and complexity. Wrenches include offset combination, ratcheting, tubular, adjustable, service, spanner, structural, flare nut wrenches and others.
Master sets: master sets contain pretty much all the tools you need in your tool box. Each set will have all the tools every shop needs. Each set also comes with durable storage systems that make it easier to carry your tools from one job site to the next.
The tools included in each master set will vary depending on which application the tools are for. Williams manufactures general maintenance service sets, general repair sets, specialty tools sets, oil field service sets, and others. If you need a master set that has every single tool used in the trade then you can go for their Mammoth tool set that includes more than a hundred pieces in the box.
Screwdrivers: Williams screw drivers are durable and well-made American products. These are also some of the most highly rated tools in their product range. The company manufactures ergonomic screw drivers, comfort grip screwdrivers, slotted, square shank screwdrivers, Philips, t-handles, ball end hex, magnetized/demagnetized, and ratcheting screwdrivers.
Pipe tools: The Williams brand is also known for their pipe tools, which includes clamps and pliers. A lot of the tools in this product range include precise ground cutting edges. Handles are designed with secure grip. These tools are designed to be durable since they come in contact with a lot of moisture.
Product Rating
The majority of tools in the Williams product line are usually highly rated. Of course, there are a few tools in their list of hundreds of products that have been rated poorly by actual customers. Well, no one ever said that the company was perfect.
Nevertheless, the company has had more than a century of experience in the field of tool craft. That is why most of their products, if not all, are easy favorites by actual professionals. The best of their products have an average rating of 4.5 to 5 stars out of 5.
Best Selling Tools
In this section we list some of the best products in the Williams brand. The list also includes their pros and cons.
Williams 100P-19MD Premium Mixed Screwdriver Set, 19-Piece
(4.6 / 5)

Set contains a comprehensive assortment of screwdrivers to get the job done. Williams comfort grip handle with thumb stop allows for added turning power without discomfort of slippage. Three component ergonomically designed handle provides comfort and maximum grip even with oily hands.
Pros
Includes a comprehensive assortment of screwdrivers
Features ergonomically designed handles for better comfort
Each tool has a thumb stop incorporated with it, which adds to the tool's turning power
Cons
Some sets may have a Philips screwdriver slightly off center, it works but it will look funky in your tool box.
Some screwdriver handles may tend to crack as they age – but you'll have to wait a decade or so before that happens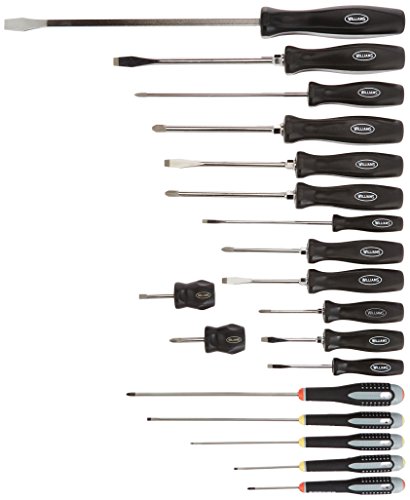 Williams 50661 1/4-Inch Drive Socket and Drive Tool Set, 27-Piece
(4.5 / 5)

Snap-on Industrial Brand JH Williams 27-Piece 1/4-Inch drive socket and drive tool set features professional quality, made of high grade chrome vanadium steel. The sockets feature super torque lobular openings for greater turning power without deforming the fastener. This set is packed in a rugged compact high density polyethylene case that are strong and durable yet lightweight. There are drive tools and shallow 6 point sockets.
Pros
Professional quality and design
Features lobular openings for better torque
Includes tough case for rugged use
Cons
Does not include 12 point sockets
Some ratchets can be a bit stiff if left in the box for a while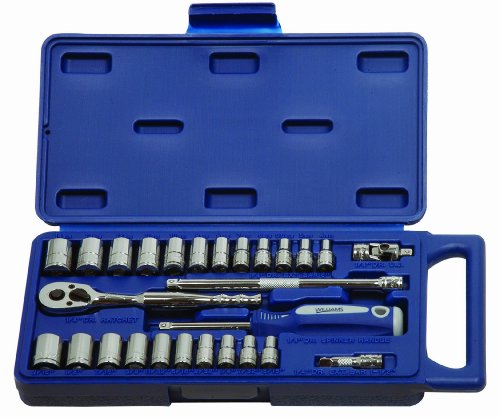 J.H. Williams S-52EHFA Chrome Finish Flex Head Ratchet
(4.9 / 5)

The Snap-On JH Williams S-52EHFA chrome finish flex head ratchet has an overall length of 14 1/4-Inches, has a 1/2-Inch drive, and high polished chrome finish. It is sealed to prevent dust, dirt, and liquids from entering the head and preserving the internal lubrication. It is a forged one piece ratchet that provides strength and safety for industrial applications. There is a smooth comfort grip handle which permits all day use without gloves. The finish is mirror like which is easily cleaned after use. It is designed for tighter tolerances between pawl and gear which reduces metal fatigue and slippage under load. It does not require as many working parts, reducing possible breakage and parts to repair. There is an easy access reverse lever allows user to change working direction quickly and easily with one hand.
Pros
One of the most highly rated tools in their product line
Forged one piece design for better durability
Features a sealed head to keep dust and dirt out
Designed for a tighter pole and gear tolerances
Cons
The handle will feel a bit different when used the first time

Williams WRS-1 Magnetic Ratcheting Screwdriver
(4.6 / 5)

Snap-on Industrial Brand JH Williams magnetic ratcheting screwdriver is 9-Inch in length and has a blade length of 4-Inch. 5 bits are included: 2 slotted, 2 Phillips, and 1 Torx. The handle is ergonomically designed for greater user comfort and control. The hi impact plastic handle for durability and flexibility in all types of work applications. The heavy duty 3 way on off locked ratcheting mechanism allows consistent and smooth operation. The powerful magnetic shank securely holds bit in place before, during and after the job application. The stainless steel shank eliminates problems of chrome chipping or rust. There is easy bit storage in handle and accepts all standard 1/4-Inch hex shank bits.
Pros
Ergonomic handle
3 way ratcheting lock mechanism
Features a magnetic shank
Cons
The ratcheting mechanism on this tool is great but it isn't as smooth as premium and more expensive brands

JH Williams WSC-1390TB 1390-Piece Mammoth Tool Set Complete
(3.7 / 5)

Snap-on Industrial Brand JH Williams 1390-Piece mammoth tool set complete contains the tools to handle almost any job a shop is likely to see, in fractional and metric sizes. It includes a comprehensive assortment of sockets, ratchets, and accessories in 1/4-Inch, 3/8-Inch, 1/2-Inch and 3/4-Inch drive, for both hand and impact use. A full complement of wrenches in a number of styles helps you tackle increasingly complex maintenance tasks. A comprehensive assortment of screwdrivers, pliers, hammers, punches, and chisels, and specialty items such as gear pullers, saws, scrapers, and other tools for industrial maintenance mechanics and tradesmen round out this truly mammoth tool set. This set also includes a tool box.
Pros
The set includes almost every hand tool you'll need in your shop
The box contains a total of 1,390 tools
Cons
This is a rather expensive master set
Read Full Review Here