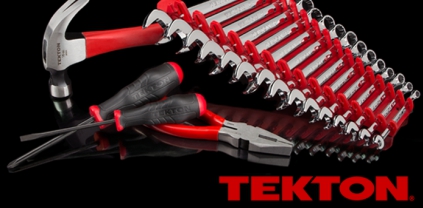 If you're looking for some good quality mechanics hand tools that wont break the bank, then you've come to the right place.
Tekton's quality has improved vastly in recent years and some of their products rival those you'll find on high quality tool trucks that cost 3-4 times as much. Following consumer reviews of Tekton has brought in an overwhelming stream of more and more positive experiences both with Tekton's quality and customer service. Let's face it, customer service is important and unfortunately a lot of big name companies have lacked in that department in recent years.
How Tekton Improved it's Quality
Tekton is a division of Michigan Industrial Tools, which is a family owned and operated hand tool company that has been in business for nearly 50 years. At the beginning of the decade Tekton went through a transformation process and had their Product Research and Design Engineers set out to make small changes in their tools that could vastly improve their quality with little bump in cost.
They've come to build and import some quality tools that can now really stand the test of time. Tekton even backs their tools by their "Always Guarantee".
Tekton Customer Service
It's been said that MID's focus with their Tekton Tool Brand is to focus on the customer and want to make it "ridiculously" easy for customers of theirs to get replacements for broken and defective tools.
So they've came up with the "Always Guarantee". When you come across a defect or break one of their tools and you don't think it's something that should of broke then you can call or email the company. Sometimes all you need to do is email them a picture of the broken tool and in many cases Tekton will have a replacement shipped out that day; Now that's Customer Service! You don't need to jump through 10 different hoops to get a replacement tool then only to find out you need an original receipt which your throw away years ago.
No one really wants to have any reason to ever contact a companies customer service department, but Tekton has made it a very customer positive experience. You won't have to worry about paying for return shipping, authorization numbers, long hold times on the phone or even delays on replacement tools. Consumer's have talked about it and positive feedback keeps rolling in.
Why Buy Tekton Tools?
The quality of most of the tools they offer is right in line with that of the "high end brands" and are sold at many times cheaper in price. Many consumers have even gone as far to say they're "just as good as X brand I buy from the tool truck at 4x the cost".
Their always guarantee and customer service as stated above is one of the best in the business.
Possibly one of the biggest points, is their tool sets don't skip sizes! Why do tool companies do this anyways? These companies are just trying to save money because those sizes "are typically not used". But they'll still charge "full price" pocketing the difference. If you don't have a size, you're going to eventually need to size and you'll have to go out and spend money on individuals or entire new sets. Most of Tekton sets have both SAE and Metric sizes ranging from 10mm to 24mm.
Perhaps one way Tekton could improve it's tool sets is offer multiple 10mm sizes since that is the famous one everyone looses. But, seriously all jokes aside, considering Tekton is a "value brand" they over "high end" quality with most of their tools. Why, most; because Tekton does still offer some "cheap" tools which benefits the type of person only using those tools a couple times a year with light use in mind.
Top 5 Tekton Mechanics Hand Tools
We've created a list of what we've come to believe are Tekton's best hand tools for automotive related repairs. We'll overview each tools benefits, consumer reviews, features and what sets each of them apart from others.
| | | | |
| --- | --- | --- | --- |
| Image | Product | Price | Rating |
|   | TEKTON 15013 1/2-Inch Drive by 24-Inch Extra Long Ratchet with 72-Tooth Oval Head | $ | (4.3 / 5) |
| | TEKTON 1457 3/8-Inch Drive by 7-Inch Quick-Release Composite Offset Ratchet, 72-Tooth Oval Head | $$ | (4.6 / 5) |
| |  TEKTON 13101 3/8-Inch Drive Socket Set, Inch/Metric, 6-Point, 5/16-Inch – 3/4-Inch, 8 mm – 19 mm, 45-Piece | $ | (4.7 / 5) |
| |  TEKTON WRN77164 Extra Long Flex-Head Ratcheting Box End Wrench Set with Store and Go Keeper, Metric, 8 mm – 19 mm, 6-Piece | $$$ | (4.8 / 5) |
|   | TEKTON 4883 1/2-Inch Drive Deep Impact Socket Set, Metric, Cr-V, 6-Point, 10 mm – 24 mm, 15-Sockets | $$ | (4.8 / 5) |
Extra Long Ratcheting Wrenches (WRN77164 & WRN77062)
Consumer Ratings

(4.8 / 5)
Tekton's extra long ratcheting wrenches with flex heads are thing and easy to get into tight spaces and offer tons of leverage due to their length. Wrenches with ratcheting box offer advantages of both speed and agility. These work well in tight spaces that you'd typically have a hard time with a regular wrench running a bolt and 1/8 of turn at a time.
Tekton's flex head ratcheting wrenches are superior than regular wrenches and allow you to not need a direct line of sight onto the fastener you're looking to loosen or tighten. These ends are not reverse-able, but only require you to flip the wrench 180 degrees to be used in the opposite motion. Ratcheting wrenches are a great substitute to be used where sockets will not fit.
Long length offers extreme reach and tons of leverage

Box end heads pivot up to 180 degrees

6-point openings snugly fit hex-shaped nuts/bolts, gripping the flat sides, helping to prevent round-off

72-tooth ratchet gears need only a 5-degree working swing arc

Includes Store-and-Go Keeper with space-saving folding handle and nonslip grippers to lock in wrenches

Store-and-Go Keeper fits in most shallow tool box drawers
Sets and Included Sizes
Metric Set
WRN77164


(1) 8 x 10 mm (# WRN77103)
(1) 9 x 11 mm (# WRN77105)
(1) 12 x 14 mm (# WRN77107)
(1) 13 x 15 mm (# WRN77109)
(1) 16 x 18 mm (# WRN77111)
(1) 17 x 19 mm (# WRN77113)

SAE Set
WRN77062


(1) 5/16 x 3/8 in. (# WRN77003)
(1) 7/16 x 1/2 in. (# WRN77005)
(1) 9/16 x 5/8 in. (# WRN77007)
(1) 11/16 x 3/4 in. (# WRN77009)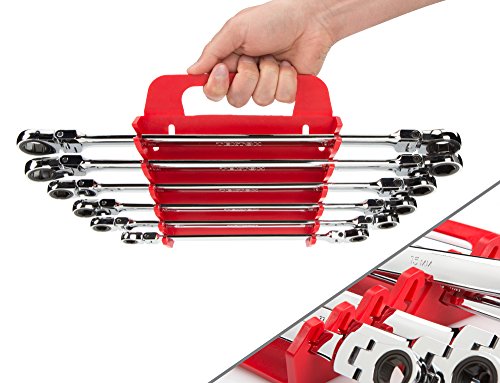 Extra Long Ratchets (3/8″-15013 & 1/2″-15010)
Consumer Ratings

(4.3 / 5)
Tekton's extra long Ratchets eliminate the need for a breaker bar. These 24 inch long bars offer tons of leverage and exceed ASNI ratings by 30%. Most regular ratchets work well with most nuts an bolts. But what happens to ones that are rusty or over tightened? You'll end up needed some extra leverage, which usually means temporarily switching to a breaker bar. Well with these extra long ratchet's you'll already have the extra leverage you need to break loose those stubborn fasteners
These extra long ratchets allow you to reach places that nothing else will, like for example, down near the side of the block near exhaust and steering rack, down near the front of the car and radiator just to name a few. These just simply make it easier to make repairs quicker than regular ratchets do. Your hand will likely stop slipping off the hand as much resulting in less cuts and bruises too.
Features
Long 24″ handle offers extra reach and tons of leverage

72-tooth oval head ratchet needs only 5-Degree swing arc

High-performance chrome-moly ratchet gear delivers up to 5,850 in.-lb. of torque

Lock-on, quick-release drive tang prevents dropped sockets

Made from forged, heat treated chrome vanadium steel with fully polished, corrosion-resistant, chrome plated finish
3/8″ Drive 45-Piece Socket Set (Model #13101)
Consumer Ratings

(4.7 / 5)
This socket set features a 3/8″ drive 72 tooth ratchet with 2 extensions, a universal joint and blow mold case. The sizes range from 8mm-19mm and 5/16″-3/4″ without skipping any sizes. The sockets are 6 point design is which less prone to rounding the heads of fasteners like 12 points and come with deep and shallow sockets.
We wrote a full review on this Tekton 3/8″ drive socket set about a month ago.
Read the Full Review
Included in this set
(8) 3/8 in. drive shallow 6-point sockets (inch): 5/16, 3/8, 7/16, 1/2, 9/16, 5/8, 11/16, 3/4 inch
(8) 3/8 in. drive deep 6-point sockets (inch): 5/16, 3/8, 7/16, 1/2, 9/16, 5/8, 11/16, 3/4 inch
(12) 3/8 in. drive shallow 6-point sockets (metric): 8, 9, 10, 11, 12, 13, 14, 15, 16, 17, 18, 19 mm
(12) 3/8 in. drive deep 6-point sockets (metric): 8, 9, 10, 11, 12, 13, 14, 15, 16, 17, 18, 19 mm
(1) 3/8 in. drive ratchet (7 inch, 72 tooth)
(2) 3/8 in. drive extensions: 3, 6 inch
(1) 3/8 in. drive universal joint
(1) storage case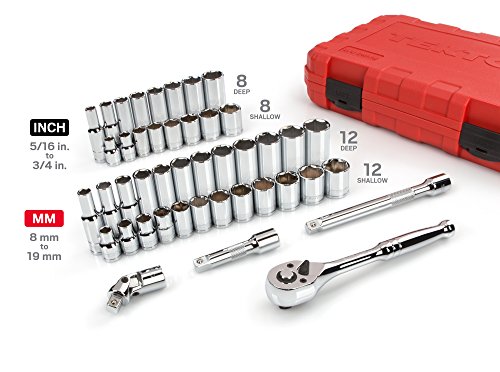 1/2″ Drive Deep Impact Socket Set(Model #4880 & 4883)
Consumer Ratings

(4.8 / 5)
These Tekton deep impact socket sets of course do not skip any sizes ranging from 10mm-24mm for metric and SAE 3/8″-1 1/4″. One of the best features about these sockets is their broach depth. Unlike the higher pried competition, Tekton's broach depth will allow you to go right over a much wider range of nuts and bolts without bottoming out.
They feature a 6 point design that grips the flat sides of nuts and bolts, not the corners, which prevent rounding. These impact sockets are made from forged and heat treated chrome vanadium steel and are coated in a corrosion resistant black phosphate finish. The size markings are laser etched in which makes them permanent; they will not wear off like some of the "leading" brands.
For the money, Tekton's deep impact sockets are simply the best!
Quick-Release Composite Offset Ratchets (Model #1456-1/4″, 1457-3/8″
& 1458-1/2″)

Consumer Ratings

(4.6 / 5)
Composite is comfortable, will not scratch surfaces it rubs against and is not as temperature temperamental as standard metal(Burn you in Summer & Freeze you in winter).
They are still strong since they're made with a steel core and are simply "wrapped or coated" in composite. The 72 tooth design give a low 5 degree swing arc and the quick release button on the head holds sockets in place so they won't fall off. The release button needs to be pressed to take sockets off and to put sockets on.
Possibly the best feature of these ratchets is the composite coating, as mentioned above, it will not scratched the surfaces it rubs against such as the chrome on your motorcycle or press new paint on your hot rod. The last thing you want to do is accidentally swing the ratchet too fast and dinging off a chip of paint!
The steel cord is made of forged and heat treated chrome vanadium and the ratchets feature an offset handle design giving your fingers extra clearance.
Tekton's Warranty vs. Competition
You've probably heard it 50 times, "our tools have a lifetime warranty". But once you actually read the policies of these "lifetime" warranties you come to find out they typically make it near impossible for you to ever even get your broken tool replaced. They'll require you to return the tools to the store you purchased them from, you'll need the original receipt, you'll have to pay for return shipping and then if they deem the tool defective and not from abuse they'll send you  replacement. We all know how this goes and with today's shipping costs on the rise, a lot of times shipping could cost more than just buying another tool.
This is were Tekton shines over most of it's peers. If you have a defective or broken tool you just need to email or call them explaining the problem. Then they'll ask for a picture of the tool in question and usually they'll ship out a replacement tool that day. In some cases they will require you to ship back the tool, but only after you received a replacement free of charge, with a prepaid return shipping package for you to send back the broken tool. That is a true "lifetime warranty", one that doesn't cost the consumer a dime!
Where can I buy Tekton Tools?

Browse Tekton Tools on Amazon Now
Save
Save
Save
Save
Save
Save
Save
Save