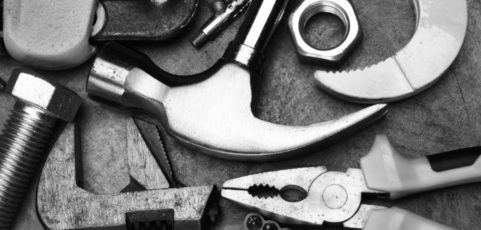 In life, it is good for everyone to know a little bit about everything. You might be a lawyer, doctor or an IT nerd, but despite that, you should have some knowledge about basic repairs; whether it is around the house, your garage or your vehicle, it is good if you can have some hands-on experience.
This will come in handy in situations where you need to make repairs, or if you find yourself in an emergency situation where you cannot get help from someone else. There are people who get flat tires when driving their vehicles, and they have no idea where to start to fix it.
They don't know how to use the jack or the lug wrench. It is all about taking an interest and showing some initiative, and you will realize that for some of these tasks, you don't always have to go out and hire someone to do them for you.
In that regard, it is also important to have the proper tools to help you out in times of trouble. There are many different types of tools suited for different purposes, and wat you need will depend on what you plan to use them on.
In your vehicle, for example, you will want a kit that contains all the wrenches, screwdrivers and sockets that could be needed for any sort of servicing. For the house, you would need tools like hammers, screwdrivers, wrenches and pliers.
There are many companies that make different brands, and it is up to you to make sure that you buy the one that suit you. When buying these tools, you should look at their functionality, durability and the cost. Buying inexpensive tools might initially save you money, but if the quality of these tools isn't good, you will wind up spending more on replacing them.
They will work, but in most cases, they are substandard or will not last for very long. Such products are best bought to use infrequently, if you have the odd job here and there.
However, for heavier duty functions, and very frequent use, you will want a tool that will not only function as it should, but also last for more than a few months. There are companies that offer lifetime warranties on their kits because they are sure about their functionality and durability.
In this article, we are going to review the Tekton 13101 3/8-Inch Drive Socket. This is a socket set that contains both shallow and deep socket depths, 8-9mm. It is a 45 piece, 3/8" drive socket set with every size from 5/16 to ¾".
Each of the sockets has a high torque, 6-point design that grips the flat sides of fasteners, not corners, thus preventing a round off. Five degrees of swing is all that it needs to operate, and it is not limited in tight spaces.
For superior performance and durability, these sockets are made from premium chrome vanadium steel that is plated by a mirror chrome finish. The storage case is strong and has been kept as compact as possible for easy handling.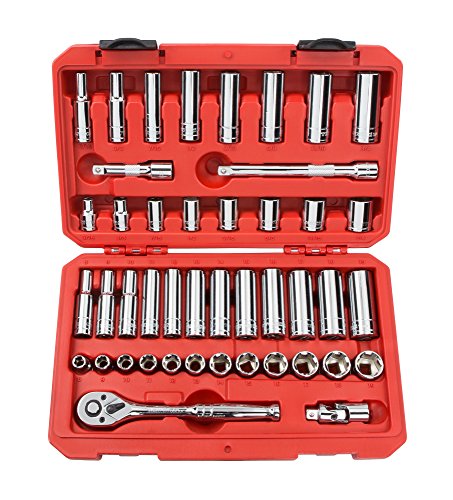 Features
The master set has every size from 5/16" through ¾", and 8mm through 19mm in both the shallow and deep lengths
It includes a universal joint and a 6-inch extra-long extension, plus tools that are not commonly found in other sets
Only a 5-degree working swing arch is needed for the 72-tooth geared ratchet to work
It has a high torque, 6-point sockets grip flat sides of fasteners, not corners to prevent round offs
All the tools in the set are made from high-quality chrome vanadium steel with a mirror chrome plated finish
It comes with a lifetime guarantee
Item weight: 7.6 lbs.
Product dimensions: 12" x 7.8" x 2.8"
Measurement system: metric, inch
Cons
Users are critical that this product is not made in the USA
Complaints about the ratchet too easily slipping in and out of gear
Verdict
This is Tekton 13101 3/8-Inch Drive Socket Set that is a must have for those who work around the house and garage, and those who love servicing their vehicles. The fact that there is a lifetime warranty is a sign that this is a quality product that performs well.