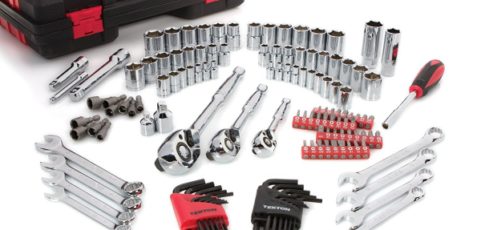 Introduction

All do it yourselfer's need some high-quality tools for around the house projects and in the garage or workshop for vehicle maintenance or roadside emergencies just to name a few. Tekton has designed this Model #1859 135-Piece Tool Set with the DIYer in mind. Included in the tool set are professional-grade ratchets, wrenches, sockets and screwdriver bits. There is an expansive selection of quality and convenience in all in one. The storage case is easy to carry anywhere and can be converted into two tool trays that fit inside a toolbox helping you stay organized.
TEKTON 1859 Wrench, Socket and Screwdriver Bit Tool Set, 135-Piece
Consumer Ratings
(4.7 / 5)
Ratchets and Sockets
Tekton's 1859 tool set comes with three quick-release ratchets. Sockets are attached to the ratchet via the quick-release button holding them in place eliminating accidental dropping of the sockets. Detent notches keep all sockets securely locked onto the rackets. The ratchets feature 72-tooth pear head which only need a 5-degree swing arc which makes it much easier to tighten and loosen nuts/bolts in tight spaces.
Also included in the tool set is a wide range of six point flank drive sockets. Both SAE (Standard American Equivalent) and metric socket sizes. These sockets are designed for firm gripping of the flat sides of nuts and bolts. This tight fit helps prevent rounding of fastener corners. The sizes are permanently etched in and clearly marks.
The ratchets and sockets are built with heat-treated forged chrome vanadium steel and are coated with corrosion-resistant chrome-plated finish for an extended life.
Open & Boxed End Wrenches
The 8 angel ended wrenches included in the tool set feature 15-degree offset box ends and 15-degree angled open ends. This feature helps to get better access into tight locations which might prevent some scraped knuckles. There are four SAE and four Metric sizes included.
The wrenches are precision-machined 12-point box ends. They are made out of the same high-quality forged and heat-treated chrome vanadium steel as the ratchets and sockets. Corrosion-resistant chrome-plated coating helps the polished-mirror finish last.
Magnetic Screwdriver with 36 Bits
Also included in the 1859 tool set is 36 different screwdriver bits and a 7-inch long screwdriver with a quick-change magnetic holder. The handle features a soft, non-slip handle which helps deliver comfort and exceptional torque. The multi-purpose 1/4-inch hex by 1/4-inch drive socket adapter will allow the sockets to be used with the magnetic screwdriver. The bits are made of the same heat-treated forged chrome vanadium as the above tools.
Convertible Carrying Case
This carrying case has multiple uses. It's converts into two trays which can be stored in toolboxes, cabinets, on shelf's and anywhere else you can think of. All of the included tools securely snap into place and will not fall out helping you get them organized. If you've every dropped a box of tools and all of the tools fall out going everywhere than you know that clean up is time consuming.
All Tools Included Are:
Eight combination wrenches:
SAE (inch): 3/8, 7/16, 1/2, and 9/16
Metric (millimeter): 10, 12, 13, and 14
Twenty-two hex key wrenches:
SAE (inch): 0.05, 1/16, 5/64, 3/32, 7/64, 1/8, 9/64, 5/32, 3/16, 7/32, and 1/4
Metric (millimeter): 1.27, 1.5, 2, 2.5, 3, 3.5, 4, 4.5, 5, 5.5, and 6
Seventeen (1/4-inch, six-point) drive sockets:
SAE (inch): 3/16, 7/32, 1/4, 5/16, 3/8, 7/16, and 1/2
Metric (millimeter): 4, 5, 6, 7, 8, 9, 10, 11, 12, and 13
Eighteen (3/8-inch, six-point) drive sockets:
SAE (inch): 5/16, 3/8, 7/16, 1/2, 9/16, 5/8, 11/16, and 3/4
Metric (millimeter): 8, 9, 10, 11, 12, 13, 14, 15, 17, and 19
Twelve (1/2-inch, six-point) drive sockets:
SAE (inch): 1/2, 9/16, 5/8, 11/16, 3/4, and 7/8
Metric (millimeter): 14, 15, 17, 18, 19, and 21
Two spark plug sockets:
Two reducers:
1/2-inch drive (F) by 3/8-inch drive (M)
3/8-inch drive (F) by 1/4-inch drive (M)
Three extension bars:
1/4-inch drive by 3-inch
3/8-inch drive by 3-inch
1/2-inch drive by 5-inch
Three ratchet handles:
1/4-inch drive by 5-inch
3/8-inch drive by 7-inch
1/2-inch drive by 10-inch
Ten power nut drivers:
SAE (inch): 1/4, 9/32, 5/16, 11/32, 3/8, and 7/16
Metric (millimeter): 6, 8, 10, and 11
Thirty-six (1-inch) screwdriver bits:
Six flat bits: one 1/8-inch, one 5/32-inch, two 3/16-inch, one 1/4-inch, and one 5/16-inch
Eight Phillips bits: two No. 0, two No. 1, two No. 2, and two No. 3
Six star drive bits: T10, T15, T20, T25, T30, and T40
Three Pozi bits: PZ1, PZ2, and PZ3
Three square bits: S1, S2, and S3
Five hex drive bits (SAE): 3/32-inch, 1/8-inch, 5/32-inch, 3/16-inch, and 1/4-inch
Four hex drive bits (metric): 3-millimeter, 4-millimeter, 5-millimeter, and 6-millimeter
One 1/4-inch hex by 1/4-inch drive socket adapter
One (7-inch) magnetic bit screwdriver
One convertible carry case
Tekton Always Guaranteed® Warranty
Michigan Industrial Tools has been in business for over 40 years and puts it's customer first with their Tekton tools. If they are broken in anyway or even defective there is no questions asked and it's hassle-free replacement for customers. Their Always Guaranteed® warranty has no time limits, no original receipts required and no fine print. Any customer who owns a Tekton tool that has this warranty can simply call or email the company and will usually have a free replacement shipped out that very same day. This is a rarity nowadays, because so many companies offer these "lifetime warranties" but they make it nearly impossible to even get a replacement.
Pros & Cons
Pros
Heavy quality feel
Great looking durable finish
Solid Construction
Fantastic convertible case
Reasonable range of socket sizes
Driver Socket Locks is helpful
Screwdriver handle makes easier to wield
Affordably priced
True lifetime replacement warranty
Cons
No size-up adapters (I.E. For Torque wrench)

No Deep sockets (It's more of a general tool set)

No Pliers



Conclusion
Sure this tool set might not have everything you'll need to work on your vehicle. But for the price it's a great value and the quality exceeds competitors in the same price range. Really it's designed for the around the house DIY'er and the hobby weekend mechanic, but it does have helpful mechanics tools. Also you cannot beat Tekton's lifetime replacement warranty. Many of our viewers have commented that they've been able to easily get replacements the few times they've broken one of Tekton's tools.
Over 90% of consumers who have purchased the Tekton 1859 Tool Set said they would recommend this to others.
Where to Buy & How much?