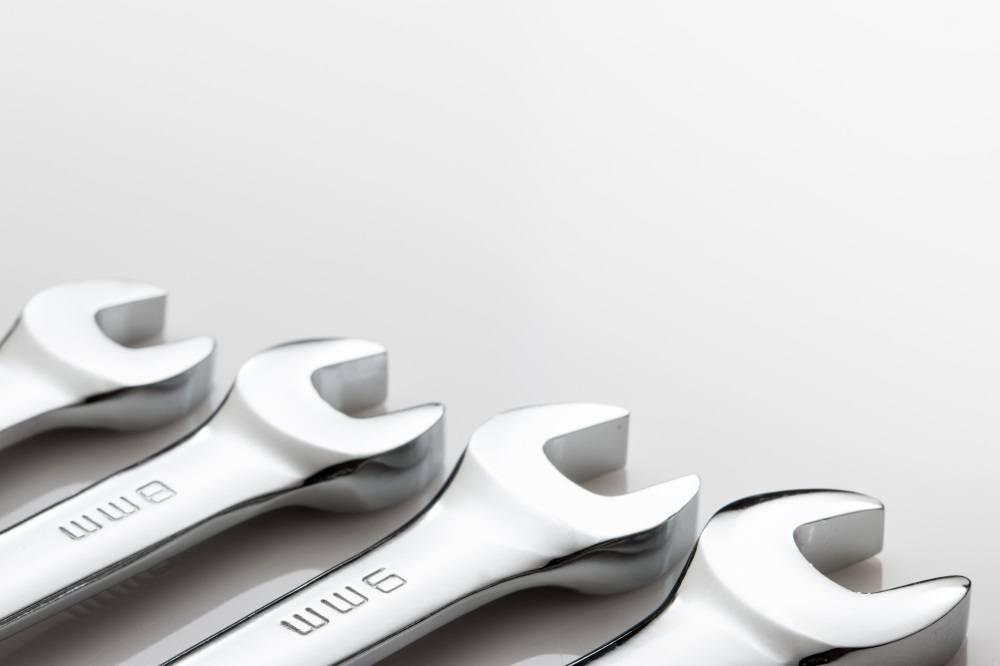 The Stanley STMT71652 123-Piece Socket Set has been designed for both professional and amateur mechanics. Whether you want to make repairs around the house or want a tool kit for your workshop, this set offers you a complete set of metric and SAE sized sockets and drive tools.
Stanley's socket set contains some of the most commonly used tools for easy access when you need them the most. The drive tools are made from high-quality steel and they are polished with black chrome or nickel chrome.
The ratchet handles are thoughtfully designed and they feature a flexible reverse-switch mechanism that can be thumb operated. The extensions and sockets remain locked until they are separated using a quick-release button.
Stanley sockets feature the Max-Drive design which is an exclusive radius corner design. It provides 15 percent more torque to easily tighten fasteners and make the turning of round corners easy.
The Max-Drive also helps in decreasing the fastener wear by reducing contact on the outer 5 percent of the fastener. This helps in enhancing life expectancy level. This also prevents slipping on the rusted or frozen fasteners.
The Stanley sockets, ratchets and wrenches are all made as per Stanley specifications, and each tool manufactured meets and even exceeds the ANSI specifications.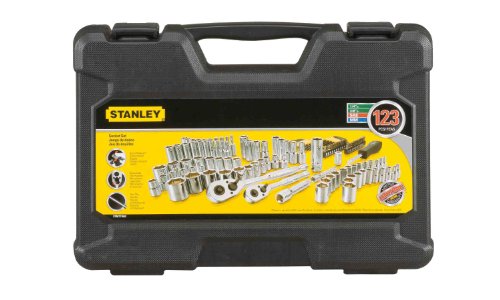 Features:
The tool body is forged with Chrome Vanadium for strength, torque and lasting performance
It features a thumb operated quick release switch for convenient operation
The tools feature a full-body chrome finish that provides protection from corrosion
The tools come with Stanley's lifetime warranty
The tool set comes at a reasonable price
All 123 pieces come well arranged in a compact tool box
Pros:
The Stanley STMT71652 123-Piece Socket Set contains a comprehensive set of sockets so you can do a variety of jobs with ease. This socket tools set comes handy when are working at home or workshop.
At the time of writing this review, the product was available at $48.13 on Amazon which makes it a good buy at a reasonable price.
What we really like about the product is that all 123 pieces snap in securely in the tool box. You would of course not want the tools to fly all over the place when you open the case.
The tools come with lifetime warranty which means that if any of the tools break, the company replaces them instantly without any additional cost to you.
The customer service is helpful and many customers who received slightly tampered products or tools with slight wear on them got their products replaced quickly.
The sockets are properly labeled for easy identification. If you are an amateur mechanic or someone who's just beginning his career in this field, you will find this feature useful.
This socket tools set also works perfectly for auto repair jobs. So, if you want to fix the brake of your car over the weekend then Stanley STMT71652 123-Piece Socket Set will save you boatloads of money. You can use this tools set to do various other types of home repair jobs with ease.
Cons:
Stanley tools have been around for a long time, but the quality has gone down after the manufacturing unit shifted its base to China. Unlike the Stanley tools of yesteryears, the today's tool may feel rough to turn. The tools are also not greased anymore like they used to be before. We would recommend that you grease these tools well before using them for the first time.
Although the socket set by Stanley claims to be a comprehensive kit, we found that it lacks a few sizes such as 1/2 inch drive 3/4 socket, which might be essential for selected projects.
The blow molded case of the set looks sturdy but if you look closer, it appears good for occasional use. If the box is used regularly by professionals, it might get worn out quickly.
Verdict:
Overall, we found the Stanley STMT71652 123-Piece Socket Set a good choice for someone looking for quality tools at an affordable price. The lifetime warranty offered by Stanley makes them absolutely unbeatable!  If you break any of the tools by chance, the company will replace them for you at no extra cost which is simply amazing.
Each tool is thoughtfully designed and perfectly labeled for easy identification. Whether you are a beginner in this field or a professional, you will definitely find this tool set useful.
No wonder this product gives you the best bang for your bucks, so a few downsides can be ignored. Those who have used Stanley products before swear by the brand's name, so if you are looking for a brand you can trust then this is the right choice.
We would not say that it is a complete or comprehensive set for a real mechanic, but this will of course make a valuable addition to a professional's tool collection.