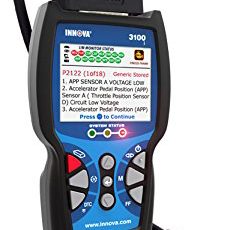 Car code scanners have been helping drivers and owners of vehicles a lot. In this search, consider the 3100j model from INNOVA. If you've been using INNOVA products, you know they are known for being reliable and possessing a high degree of quality. Here is another product from them that you can put your trust on. Reference the table of contents below to if you want to skip through the review.
Unit Size and Display
This scanner's dimensions are 10 x 8 x 1.5 inches and it weighs 2.5 pounds. In kilograms, that would be 1.33.
The display is clear for viewing. The characters on screen are easily readable, so it's a good scanner even for old drivers to use. The keys on this scanner are also easy to use.
Vehicle Compatibility
This code reader works on car models made in 1996 and all newer vehicles. It is not a brand-specific reader. You can use it on trucks, minivans, hybrids, SUVs, etc.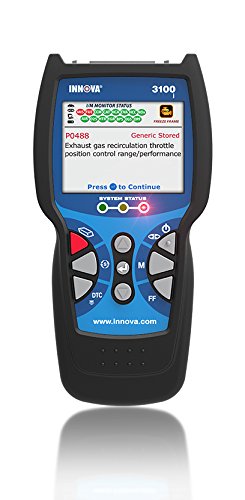 Features and Benefits
This scanner's ease of use makes it a vey ideal tool for entry-level DIYers, while its advanced features can benefit professional technicians. Both types of users will appreciate the opportunities to save money and time.
It can quickly reveal the reasons for the check engine warnings. The codes for errors appear on the screen in as little as 30 seconds.
It reads codes and erases them. Codes related to errors on SRS and ABS can be read and resolved.
The reader also checks a car's charging system. You can do that by using the battery or the alternator testing function in this unit.
It has a procedure for oil reset. Resetting will be easy to do since the instructions are written step by step.
When the MIL light is turned on, this scanner will automatically show the status of the fuel trim, the engine's coolant temperature, etc.
The company has a web-based service. On the site, drivers and technicians will be assisted in diagnosing their problems accurately and quickly. They will be provided with repair costs, verified fixes, difficulty ratings and so on.
Customer support services can be provided. English and Spanish are the languages used for this service. You will be talking with certified technicians when you access this service.
For benefits:
This reader will give you a lot of information. Other scanners only give engine output. This reader will give you updates on other things such as I/M readiness, battery charge, and ABS and SRS information. You will appreciate it giving you a lot of information to help you maintain your car and prevent serious issues happening in the future.
You'll appreciate the hundreds of times it can help you avoid spending money on costly visits to the repair shop. Once you know the code, you can either make it correct the error or go to a shop but also short-cut the process of diagnosing and repairing. In turn, you will get lower fees compared to what you used to pay in the past.
Customer support for this product is excellent. It means that you can get expert advice whenever you need it – with no fees or obligations. All you need is time to give them a call and discuss your issues.
This code reader is a useful help when you need to know the car problem immediately. Within 30 seconds, the code is out for your consideration. In times when you have to know the I/M readiness of your car for state inspection or when you want to know if the car is ready after a repair visit, this little tool will tell you if everything's OK and you can proceed without worrying what can happen.
You have a tool that's not going to let you down. Plus it's usable all the time as all you need to do is to plug it into your OBD2 connector.
You'll also appreciate the time when you discover that you don't have to spend anything just to know what codes mean. Some repair shops charge hundreds of dollars for interpretation and clearing of codes. If you have this tool, you will not have to trouble yourself with these charges at repair shops. The tool will correct the problem without you having to spend a single cent.
App/Bluetooth Compatibility
The specification and description for this product does not mention anything about compatibility or use of Bluetooth devices for added functionality.
What Customers Say
These are what users said about this scanner:
This tool can given them the information that they need within the first minute that they have it plugged and searching.
Some customers can do the repairs without paying for a mechanic's service.
It is a good tool for knowing sensor values such as speed, EGT and GPS.
This scanner is easy to use as they just have to plug it into the OBD2 connecting link. It also comes with a pouch for storing it in when it's not in use.
Pros and Cons
Advantages would be:
Ease of use – The screen menu is readable and easy to understand. The codes are also easy to understand. If something gets to the point where it is confusing, you can access the company's support service for assistance.
A lot of information to give – It gives more information about the vehicles than other brands can give.
Cuts down cost – It can cut down maintenance cost and prevents you from having costly repairs in the future.
It is very light.
Some minor issues would be:
This scanner must be removed from the OBD2 link after use.
You will have extra expense for printing scanning results.
The front part of the device is a little complicated for the eyes to look at. You probably need time to get good familiarity with the buttons.
Conclusion
If you will notice, this scanning unit for cars is way expensive compared to others. However, it comes with a high level of functionality. It is designed not only for entry-level DIYers but also for highly knowledgeable mechanics.
Expect it to give you more information than you need each time. This is an additional help for those who are really expert in fixing car issues. You can call help from the company's support staff whenever you feel like you need guidance. Overall, this is a nice product with a good level of customer support.