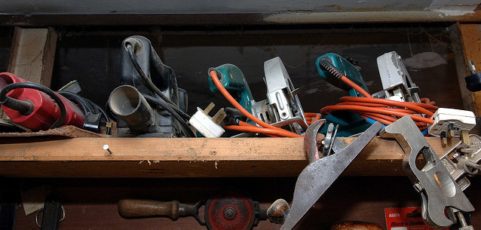 Introduction
Power tools are probably favored more over hand tools. It's easy to see why this happens because power tools are built to work through tough materials easier and quicker. Power tools also perform jobs better than hand tools. For example a circular saw can cut straighter lines faster than you would with a hand saw. These facts prove their value.
Invest in power tools if you want to complete most DIY projects or construction jobs quicker. Power tools also alleviate some of the pressure you face with hand tools because they're doing the work while you simply guide them.
For the ultimate power tool collection browse through these five different products from Craftsman. These power tools are useful and are rated as the best in their classes. You'll discover how these tools are beneficial to work with the moment you try them out.
5 Best Craftsman Power Tools
Best Craftsman Power Tools for Mechanics Reviews
Craftsman C3 19.2 Volt 1/4 Inch Impact Driver Model 5727.1 
Consumer Ratings

(4.7 / 5)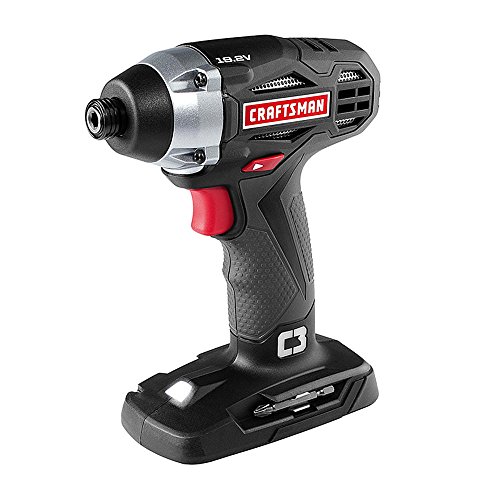 This newest version power tool has the strength to drive through wood, plastic and metal. Driving through those materials are hassle free because of the tool's powerful mechanics.
The specifications include:
IMP: 0-3500. To drive long lags, bolts and screws.
RPM: 0-2500. No load.
Maximum Torque: 1,600

You can control the power tool's speed to generate more accuracy and stability. The quick break function reduces the speed significantly.
Another feature you'll enjoy is the integrated LED work light. You'll see where you are drilling even in dimly lit areas.
The power tool will drive through tough materials and will encounter debris. The body is made with die-cast aluminum to make the tool durable against tough materials and to keep the gearbox safe from any debris.
The power tool was designed ergonomically to help reduce some of the stress your hands acquire when you work with this impact driver.
Included with the power tool are bits. The convenient built in bit storage makes it easier to locate your tools and change the bits when desired. There is a 1/4'' quick connect collect which makes it easier for you to change the bits features.
This driver model is cordless but take note that batteries are not included in the packaging. To operate the tool you'd need one Lithium ion battery. This type of battery can be recharged in one hour.
Pros
Powerful to drive plenty screws in desired materials quickly
It speeds up quickly from the moment you pull the trigger
It's compact for easy storage
Powerful in unbolting too
Cons
The housing for the battery charge can separate from the rest of the body
The driver on the power tool can bend which causes it to wobble
There is no speed selector on the power tool for you to choose the exact speed you want
The included bits aren't effective
What Consumers Say about the Craftsman 1/4 Cordless Impact
I've had a chance to use this impact driver now for a few weeks and could not be happier with it. My only regret is that I didn't buy it sooner.

This driver makes easy work of driving screws and changing the bits is easy too. If you're looking for a solid impact driver I would recommend this one.

Love this thing!! Full disclosure, this is my first impact driver, so my only frame of reference is a cordless drill. I bought this one because it works with some old Ni Cad batteries I already had from a cordless drill set. My project was removing and replacing about 30 deck boards. Even with the old Ni Cad batteries, this tool worked great

.

I have several of the Craftsman C3 tools but had not purchased the impact driver. I have another brand driver that I had been using. I installed over 300 screws today building a fence and it did well.

Nice impact gun for the price. I use it for light automotive work almost every day and am very happy. It is compact enough to get into some tight spaces and is comfortable to hold. With the lithium-ion battery it is light and lasts all day.
Summary
This power tool helps you to drive through various materials without effort. You can rapidly construct whatever you're building. The holes are shaped almost perfectly so you can insert all the different bolts and screws effortlessly. This all makes for effortless DIY projects.
More info about the Craftsman 1/4 Cordless Impact on Amazon
Craftsman 4 1/2 In. Small Angle Grinder
Consumer Ratings

(4.3 / 5)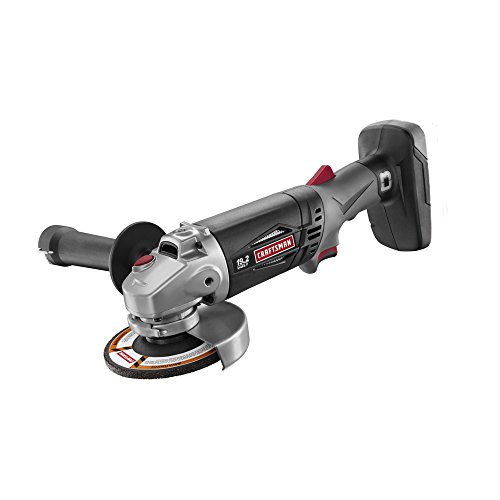 All DIY projects—which need a grinder—are completed fast with this Craftsman's power tool. The speed and strength of this grinder also make some tasks easier such as:
Grinding metal materials
Removing rust or paint
Cutting through material such as metal and aluminum
The mechanical specifications include:
The cordless feature allows you to move around your workspace. You don't have to waste time plugging, unplugging and moving an extension cord which can also pose safety risks. The power tool weighs 5.1lb which contributes to its portability. It can also be easily stored away.
A 19.2V battery operates the tool and is sufficient to give it the power you need to complete home or work projects.
This grinder is designed to help you with your DIY projects:
Included in the kit are a metal grinding wheel, spanner wrench and side assist handle.
The tough metal gear case construction makes the grinder durable and long lasting.
Built into the grinder is a convenient slide switch with a lock on.
The spindle lock helps you to change the accessories easily. The spindle size id 5/8'' threads per inch (TPI).
Two position side handles to give you greater control.
The grinder's 4 1/2'' disc cuts through heavy duty materials. You must only apply pressure to guide the tool. To alleviate some of the strain you face the power tool is designed ergonomically. This helps you to maximize your productivity while reducing fatigue and discomfort.
Pros
User friendly
Cuts through hard materials with ease
Other discs can be used on this grinder if they fit well
Effective in removing set in dirt from items such as a grill
Cons
Battery doesn't last for hours as stipulated
Quite heavy to handle for its size
There is no dial to control the speed and adjust it to what you need for specific materials
Can't use other assorted batteries with this power tool as it can cause damage
What Consumers Say about the Craftsman Small Angle Grinder
Another great addition too the Craftsman C3, 19.2 volt tools. I have not been disappointed by any of them as long as I've run them on the large Lithium Ion batteries.

This tool is awesome. I used it to cut tiles. I Just finished install 600 square feet of tile. This tool works so good. I would recommend to any body.

Used this for 4 hours. I was grinding steel, stainless, and aluminum. For being cordless, I am happy with my purchase. One charged on the battery lasted about an hour of contentious use.

A great portable option for the little 'out of the way' quick grinds. Will be one of the most used of my C-3 tools. Is all as I expected.

I couldn't get this from Sears, so I am so glad I found it online, this tool works great!
Summary
This Craftsman's grinder provides versatility and if you're an owner you can also discover other practical uses for it. It's heavier than what you'd expect for its size. However you can operate and hold it with ease when you're cutting materials, rust and stubborn paint you don't want to see. It's a practical answer to many challenges.
See more Details about the Craftsman Cordless Angle Grinder on Amazon
Craftsman C3 19.2v Brad Nailer
Consumer Ratings

(4.8 / 5)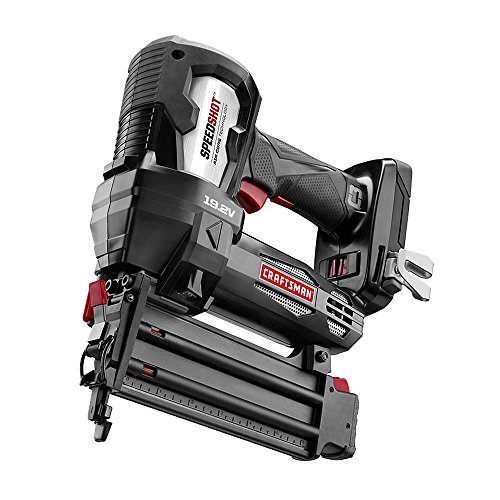 This brad nailer doesn't need any compressors or hoses which contribute to an almost quiet operation. You don't need the loud operation sounds to prove to you how effective and powerful this tool is.
You receive five fasteners with a tool gauge capacity of 18ga. The lengths of the fasteners include:
5/8''
3/4''
1 3/4''
1 1/4''4
2''
You'll find a strip feed type and adjustable depth control.
This power tool is portable and enables you to move around the project with ease. The cordless nail gun operates off one Lithium ion battery which can be recharged in one hour. The battery and the charger are sold separately.
The power tool has various functions and features to assist you in completing the work tasks quickly.
The brad nailer has two modes:
Sequential nail guns require the noise of the gun to be depressed into the materials before the trigger can be pulled to release the nail.
Contact nail guns work faster. The trip and the trigger need to be depressed simultaneously to release a nail.
Tool-less jam releases to remove clear nails easily.
The nail gun is equipped with two LED lights to light up the work area.
Adjust the drive depth to attain a proper setting for the nails.
The tool is embedded with a low nail indicator to inform you when you need to reload.
One belt hook included which can be placed on the right or left side of the gun.
Included in the kit:
500 nails
Belt clip
Operator manual
Pros
Batteries are long lasting
Doesn't have the noise that an air compressor nail gun does
It's easy to carry this power tool without the added compressors or hoses
Penetrates through tough materials easily
Cons
The cartridge is made of plastic and can be loose. This causes the slide to jam with the nails.
It can jam within less than 10 shots
The tool is heavy and not very balanced which impacts its efficiency
Replacement parts have been discontinued
What Consumers Say about the Craftsman C3 19.2v Brad Nailer
I bought this for doing some renovations around the house. I refinished all my floors and put in a lot of 1/4 round. I'm finding myself using this more and more for miscellaneous projects. I love the portability of this. I don't have to drag my air compressor through the house anymore. A must have for a homeowner.

I have viewed a few trim nailers and this was the best for my situation. I have trimmed a few rooms without any problems and the battery holds a couple of hours of nailing.

Works well… seems like it should last beyond the batteries. It will be nice not to have to carry around a compressor.

Love this for having around the house. No need for an air compressor or dragging hoses around. Does a great job.

Great product! We used this to put up a pallet wall in our living room. Works great and the nailer is strong enough to get the job done. Battery lasted a few hours for us, and will recharge in about an hour.
Summary
This brad nailer proves why power tools are superior to hand tools. All you need to do is hold the nailer in place and pull the trigger. You don't have to use a hammer to insert nails into materials anymore.
More info about the Craftsman C3 Cordless Brad Nailer on Amazon
Craftsman C3 ½" Heavy Duty Impact Wrench Kit Powered By 4ah XCP Cordless Tools High Torque
Consumer Ratings

(4.6 / 5)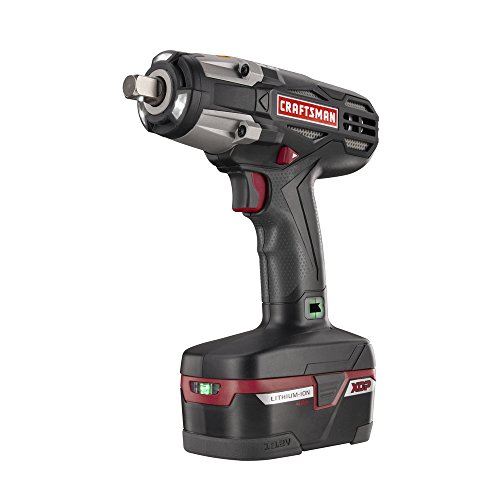 The cordless benefit ensures that you don't have to carry any hoses when you work with this power tool. You need one Lithium ion 19.2V battery to power this product. The battery ensures the tool works effectively without it losing power.
This power tool is built to be powerful. The specifications include:
RPM: 3000
IPM: 3000
Torque: 300
There is only one speed setting which is powerful when fully accelerated.
You can insert or remove stubborn bolts with ease and as quick as possible. The most demanding jobs are completed almost effortlessly. Since you might be using this tool for long periods its design intends to bring you comfort to reduce the stress on your hands:
The microtexture grip helps you to firmly hold the tool for precision.
The texture of the grip is also comfortable to hold onto.
Other features of this power tool that assists you in doing a better job include:
1/2'' square anvil with detent pin retention which performs up to 3000 impacts per minute
Three LED lights to illuminate the work area
The kit includes:
A compact wrench
2 Volt Ah XCP Lithium batteries
CH2030 multi chemistry charger
Pros
Strong to pull out bolts for small DIY projects
Helps with changing tires
Easy to handle and carry
You can see darker areas better because the LED lights are bright
Cons
Doesn't have the torque power as advertised
Not long lasting
Doesn't remove most bolts easily as intended to
Not intended for professional or commercial use where your need to use this every day because it can get faulty fast
What Consumers Say about the Craftsman C3 1/2″ Cordless Impact
Great tool! I purchased the tool fearing it wouldn't come with a battery and charger (since it doesn't show it in the product description) but to my surprise, both were inside the packaging.

If you're a track day individual that likes to swap from early morning sport, to afternoon slicks, or just need to move tires around a fair bit for what ever the reason, the Craftsman C3 is an outstanding portable impact gun that can easily handle breaking lugs with over 100 lb/ft torque.

Charge time is reasonable considering the amount of usage you get out of a single charge. Would highly recommend adding a unit to your track or 4×4 weekend kit.

Works great, it really makes many jobs easier than doing them by hand. Has more than enough torque for the average lug nuts, and DIY jobs.

Awesome tool for an awesome price! Takes lug nuts off with ease and made quick work of my strut bolts and mounts as well. I used this to replaced my rear shocks and front struts on my car, the job would have been impossible without this tool. Highly recommended!
Summary
This power wrench kit also shows why powered tools must be used. It secures all bolts and nuts in place no matter the material it's inserted into. Your project will have a strong structure once you're finished building it.
More Details about the Craftsman C3 Cordless Impact on Amazon
Craftsman C3 19.2 Volt 5 1/2 Inch Circular Saw Model CT2000
Consumer Ratings

(4.3 / 5)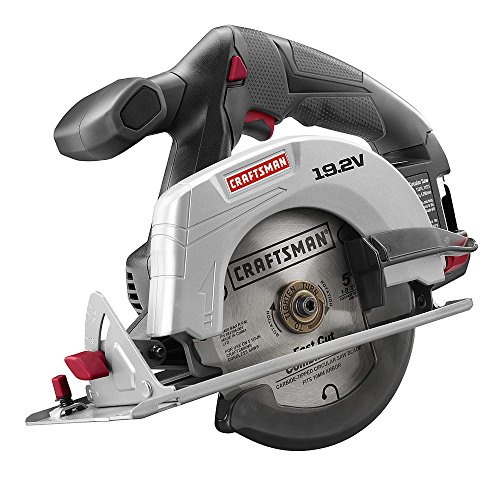 Once again this Craftsman power tool has the power to help you get any tasks done. The bevel cut capacity provides versatility when dealing with a project that needs different types of cuts.
The powerful motor that produces up to 4700 RPM guarantees that the blade cuts fast and clean through tough materials.
How the tool is designed and constructed improves its power & versatility:
0-50° cut capacity for accurate miter and bevel cuts. This measurement gives you the ability to cut straight, curved or tilted cuts.
You can quickly adjust the depth of your cuts.
18 tooth carbide blade tip cuts in precision and faster.
This power tool is cordless and needs one battery. The inventors of this Craftsman power tool redesigned the side mounting battery interface. It offers two advantages:
Improves the balance of the power tool
Increase the user's comfort
Pros
It's lightweight and convenient to carry
Effective for small DIY jobs
You can control the direction well
Easy to store in the workshop or in the car
Cons
Doesn't cut through all tough materials with ease
The battery makes the power tool weak
It overheats too quickly
The battery lasts less than 10 minutes on a single charge
What Consumers Say about the Craftsman C3 Circular Saw
I bought this as an alternative to my standard sized circular saw for quick jobs. As soon as I took it out of the box I snapped in one of my 19.2v batteries and cut some wood. It's very light which is a plus for handling but a minus for cutting perhaps. It gets through standard wood with no problem and the included blade gives a good enough cut.

I was REALLY happy with the price. It came with blade, saw, instructions and I had it ready to go within a minute or so. I have not tested this on a big job yet, but anticipate it being a go-to in my garage.

I use this tool all the time in my wood shop. It has enough power to do most small cutoff jobs and the cordless convenience really comes in handy.

I was a little iffy in ordering this. But was presently surprised when it lived up to my expectations and then some!

I'm replacing my original 10 year one. I finally wore it out after years of hard use. Great saw, cuts true, durable and very good run time on a lithium battery. Love it!
Summary
If you want precision cuts then this is the power tool to consider. The different level bevels ensure that it cuts the materials accurately. There is always a perfectly cut finish.
Find out More about the Craftsman C3 Circular Saw on Amazon
Final Verdict for Craftsman Power Tools

If there was one word to commonly describe these power tools it would be convenient. The convenience can't be stressed enough. They all are cordless which help you to move around or in and out of work areas with ease. They perform their relevant tasks in a short amount of time so you can easily keep to your planned timelines.
One message you should take away is that Craftsman and its power tool range help you to complete jobs with ease. It's no longer necessary to struggle with commercial or DIY projects. Tools make it easy and Craftsman's quality ensures the tools will service you well for long. What are you purchasing first?